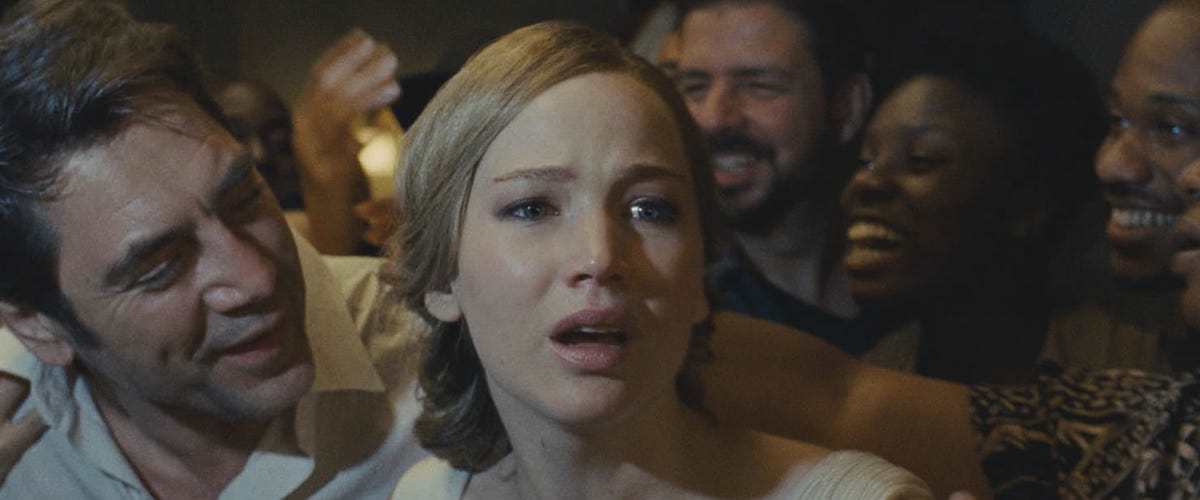 BGH's Best Horror Movies of 2017
As Winter crests here in 2017, the BGH crew has taken a step back to examine not just their lives -- which, to be clear, are always in need of examination -- but also the state of horror cinema. And with the turning of the page on another year here at BGH headquarters, the crew has determined that the state of horror is strong. Perhaps as strong as it has been in years.
To wit, 16 voters cast ballots for this year's BGH Best Horror Film of 2017 and 31 total films were named by at least one voter. However, when one scans through the list of films that missed the top 10 it is possible to imagine an alternate year with a shallower pool of films where some of these end up on many more ballots. Whether you prefer thoughtful zombie epics (The Girl with All the Gifts), comicly gory homages (The Babysitter) or even high-concept locked-door sci-fi thrillers (Life), the list of movies to miss even an honorable mention in 2017 feels remarkably strong.
That said, those films that do populate the best of the year as selected by BGH's team have little in common beyond their exceptional quality and clarity of vision. In some cases these films augur the arrival of new voices and fresh perspectives on the horror genre, while others tangle with the most vital issues of our time. One trend embodied by these films is the continued evolution of distribution opportunities that have translated to more and different films making their way to fans of all kinds. It should be no surprise that 2017 saw the release of one of the biggest box office successes in the history of horror alongside many smaller, direct-to-consumer gems.
If the world feels more adrift or out-of-control to many, we likely shouldn't be surprised at the strength and depth of a genre focused on reflecting our insecurities, anxieties and fears back to us. If the world continues to spin wildly on its axis in 2018, at least we can hope the films are as strong.
---
Honorable Mentions
The Void
Practical monster effects and a powerful cult mythos deliver the goods in this low-budget genre love-letter.
BGH Review | Podcast
Votes: 6
1st Place Votes: 0
Super Dark Times
Capturing the look and feel of a time period can be a tricky proposition, but Super Dark Times executes that move perfectly as it relates to the underappreciated mid-90s. It also manages to capture some enduring truths about adolescence amidst all the darkness.
BGH Review | Podcast
Votes: 6
1st Place Votes: 0
---
The Top 10
10. Creep 2
Were you insufficiently creeped out by Creep? Good news: there's a sequel, and it too is fairly creepy. Mark Duplass repises his role as the titular creep, and crowd favorite Peachfuzz even makes a triumphant return.
BGH Review | Podcast
Votes: 8
1st Place Votes: 0
9. The Shape of Water
Guillermo Del Toro returns to the hearts and minds of the BGH crew with this fairy tale about finding love in the face of monstrous circumstances. While not a necessarily a classic horror film, it is both graphic and effecting -- though thankfully more of the latter than the former. Less widely seen by the BGH crew, those that did see it had a strong reaction, which carried the day even amongst a crowded field.
Votes: 4
1st Place Votes: 3
8. Raw
This French coming-of-age tale offers a fresh, nuanced take on a tale that has been heavily covered throughout the history of horror. Garnering points both for style as well as inventiveness, Raw made the crew squirm as much as any film this year.
BGH Review | Podcast
Votes: 5
1st Place Votes: 0
7. A Dark Song
A small, well-honed film that in previous decades would have had to settle for being discovered as a cult favorite, A Dark Song is a testament to the power of the new distribution channels to best serve genre fans the best the film world has to offer. With only two actors and one location, A Dark Song conjures a world of pain, loss and the hope of (evil) redemption.
BGH Review | Podcast
Votes: 8
1st Place Votes: 1
6. mother!
As controversial a film as could be found in 2017, mother! saw Darren Aronofsky again challenge audiences with a highly stylized film chock full of symbolism. That the film is gorgeously shot, well-acted and expertly constructed meant that even if the message didn't resonate it was hard to deny the deftness of Aronofsky's craft.
BGH Review | Podcast
Votes: 9
1st Place Votes: 0
5. Split
The Shyamalan-aissance continued in 2017 with this tense and gripping follow-up to one of the director's earliest works. With excellent work from the likes of James McAvoy and The Witch's Anya Taylor-Joy, Split managed to find the sweet spot between some heavy plot development and atmospheric suspense and action.
BGH Review | Podcast
Votes: 14
1st Place Votes: 0
4. Happy Death Day
This neo-slasher, with its PG-13 rating and familiar premise, appeared to have a lot working against it in 2017, but it was arguably the most pure fun we had this year at the theater. While only cracking a few top 3s, Happy Death Day appeared on nearly every ballot -- a testament to its broad appeal.
BGH Review | Podcast
Votes: 14
1st Place Votes: 0
3. The Blackcoat's Daughter
Like A Dark Song, Blackcoat feels like a that revelatory "cult classic discovery" from a previous era. Springing from the mind of Oz Perkins, son of Anthony, Blackcoat has the polish of a far more seasoned director. We can only hope that Perkins continues to mine the genre that is his legacy.
BGH Review | Podcast
Votes: 14
1st Place Votes: 0
2. It
Heading into the year as one of the genre's most anticipated titles, It delivered not only on the nostalgia that many carry for the original made-for-TV film but also managed to transcend the baggage that is carried by any theatrical Stephen King adaptation. Through a mix of excellent acting, well-honed pacing and balanced effects, It sets a new template for exploring some of the back catalog of the horror literary icon. Next up: the conclusion of this Derry, ME opus.
BGH Review | Podcast
Votes: 12
1st Place Votes: 0
1. Get Out
Get Out and Jordan Peele are the film and the filmmaker that we need right now. More relevant than could possibly have been predicted when it was greenlit, Get Out arrives at a moment when our political environment feels as dark and even desperate as it has in a generation. This film mainstreamed a progressive reading of racial politics, and deployed the language of genre to provide a measure of cinematic redemption. The only downside to this monumental success is that Peele has set a high bar for himself as not only an artist but also a political voice for our times.
BGH Review | Podcast
Votes: 16
1st Place Votes: 12
---
The Worst 3
3. The Bye-Bye Man
For those who caught this turd upon initial release, as it slunk through theaters in early 2017, it would be nearly inconceivable that other films would prove more atrocious. However, here we are...
BGH Review | Podcast
2. Rings
Perhaps 2017 is the year we can declare the VCR once and truly dead. For Samira at least, it was time to find a new vehicle. Unfortunately, the results were aggressively worse than any previous entries.
BGH Review | Podcast
1. Friend Request
Social media: first it ruined American democracy, then it gave us this hot mess. Maybe we should all just call it quits in 2018. If only they hadn't killed off AIM.
BGH Review | Podcast