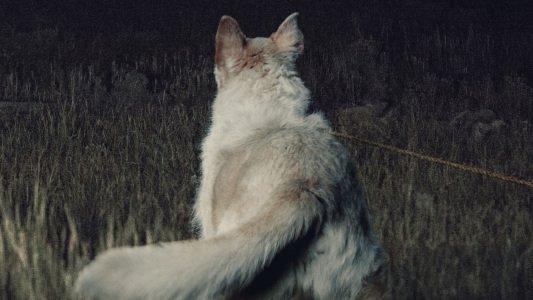 It Comes at Night (Movie Review)
Trey Edward Shults's sophomore feature It Comes at Night trades in the Cassavetes ala Carpenter aesthetics of his debut Krisha to join the ranks of morose, contemplative post-collapse fiction. While George Miller torched the wasteland with Furiosa and Turbo Kid spun BMX doughnuts around decapitated heads, Shults's film is a closer counterpart to John Hillcoat's adaptation of The Road, recent release Here Alone, and other A24 releases Into the Forest and The Rover. Everyone's second favorite television brutality slog, The Walking Dead and Naughty Dog's The Last of Us represent other key cultural touchstones. From this glut of misery births forth yet another story of what happens now that the world is set a light.
Set in a secluded house in rural New York It Comes at Night picks up in media-res as a family euthanizes Bud (David Pendleton), a grandfather stricken with an unnamed disease. Through obscuring respirators Sarah, Bud's daughter played by Carmen Ejogo (Born to be Blue, Alien: Covenant) tells him she loves him and that he can let go. Shortly after, father and son, Paul (Joel Edgerton also Executive Producing) and Travis (Kelvin Harrison, Jr) burn Bud's body. After the incident, a stranger, Will (Christopher Abbott, James White, Martha Marcy May Marlene) discovers the family's home while offering a trade. Eventually Will's wife Kim (Riley Keough, American Honey, Mad Max: Fury Road) and their son Andrew join the family and the two groups strike a tenuous partnership that blossoms into friendship. But when a few eerie circumstances jeopardize the safety of the house the group's bond is tested.
It Comes at Night, like its myriad predecessors, utilizes its central threat to heighten the stakes of social interactions. The disease is a thing to be feared but what turns out to be more terrifying is other people. Suddenly conversations attempting to identify a person and their intent hold potentially deadly consequences. Upon Will's arrival, Paul ties him to a tree and offers water or death for answers Will could not possibly verify. The interactions between Paul and Will are imbued with a rich caginess by Edgerton and Abbott, each offering some version of tense sincerity and appeals to family while setting their jaws to hold their breath or prepare to bite. Travis meanwhile approaches the stranger with a tempered curiosity, his youthful naiveté sloughing off but not yet in its entirety. These performances as well as the work from Ejogo and Keough are captivating and nuanced but the film never overcomes the familiarity of the setup. The driving dramatic elements are obvious and derivative to a level the narrative doesn't quite overcome.
Despite this Shults's ability to convey interiority of his characters keeps It Comes at Night from being more than a reheated genre piece. From the film's early moments, the director establishes a sense of literal layers and separation between the close family unit. Beginning at a moment of extreme intimacy, the death of a father/grandfather, the film slowly positions its primary perspective with Travis. As his grandfather's funeral pyre burns, the camera slowly pushes in on an image of the flames reflecting in his facemask, a moment of sorrow forever marred by the utility of survival. Shults and cinematographer Drew Daniels carry over the strong visual sense established in Krisha, employing subtle zoom lenses, tracking shots, and hovering third person perspectives to great effect. The cinematography gestures toward the lingering, slow death that creeps in unexpected places while also collapsing space around characters, particularly Travis. Throughout most of the film, the focus is not on survival but on Travis negotiating the emergence of grief and sexuality in the context of his specific world world.
As the film crescendos to its finale Shults can't quite find an out, choosing instead to fall back on the presumed immorality of its characters when faced with survival. Plot elements reemerge not so much to offer closure but to add to an uneasy ambiguity. This would be effective suspense play but Travis and his "families" are forced to look into a void that offers exactly what has come before. It Comes at Night ultimately offers a well-crafted experience of character subjectivity but within the frame of pat narrative.