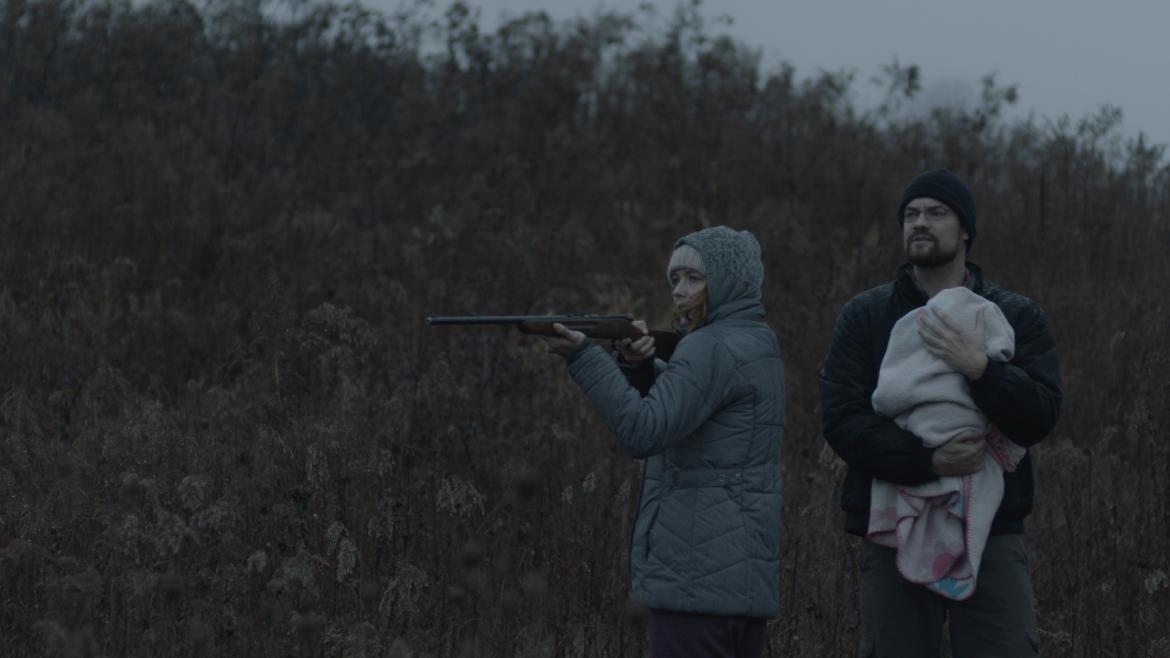 Here Alone (Movie Review)
Today, zombie films are released about as fast as Danny Boyle's sprinters in 28 Days Later. Inevitably, that means sifting through some rotten, but also invigorating flesh-eating flicks. As Boyle's film arguably rebirthed the subgenre, and with The Walking Dead (although rapidly losing merit) having given much depth and timeliness to a worn subject, standards have grown. It's why AMC's spin-off Fear the Walking Dead landed with a resounding dud: it chose to pretentiously reinvent the wheel and could not steer its narrative into a coherent direction. Why? Zombie films have become ingrained in the cultural zeitgeist; building a universe that is conceptually unaware of what preceded it is hardly believable to a contemporary audience.
Enter Rod Blackhurst's Here Alone: a minor success on the festival circuit, garnering the Audience Award at TriBeCa in early 2016. Lucy Walters plays Ann, one of few known survivors after a viral plague wiped out most of humanity, turning them into flesh-crazed maniacs. For what seems like years she has foraged in the woods and raided nearby houses for food, all while evading the infected. Yet, when she stumbles upon an injured Chris (Adam David Thompson) and his stepdaughter, Olivia (Gina Piersanti), Ann's quaint existence is ruptured by pangs of lust and jealousy she must combat alongside the living dead.
Hushed and meditative, Here Alone relies more on atmosphere rather than spurts of violence to drive an economic script stretched thin for its running time. Walters carries Ann with poise and an empathetic vulnerability, as flashbacks frequently detail her journey to become a survivalist. Yet, sadly, her interactions with Chris and Olivia are one-dimensional for the weight the script gives them. While Here Alone does not try to dismantle expectations, its greatest flaw is failing to bring much liveliness to its what it's selling. Despite the "we are our greatest enemies" tale still ringing quite vibrantly, Blackhurst's characters are uneven, and their choices without much resolve, frequently leaping to conclusions in melodramatic fashions.
Here Alone is one of few instances where the backstory justifies more exploration. Even though the flashbacks we glimpse of Ann's journey from meek mother and housewife to stoic survivalist strike emotional chords, they cannot erase scenes of zombie attacks that stumble about with predictability. It is why Ann's arc falls short of compelling, and instead leaves a stale taste that overshadows her accomplishments.
While misguided plotting leads to a less-than-revelatory and profound conclusion than desired, the film is gorgeously photographed by Adam McDaid. Desaturated grays, greens, and browns highlight the muted naturalism the characters subside in, and Walters' performance makes an otherwise dreary and uninspired plot touching. Here Alone is far from poor: it is competently made and deservedly worth note for having a strong female character spearhead an otherwise male-dominated subgenre (Alice aside). But a reliance on convention (and carnal ones at that) in an era of meaty, character-driven zombie flicks was, perhaps, too safe for a slowly rotting subject that is (again) in need of a fresh spin.