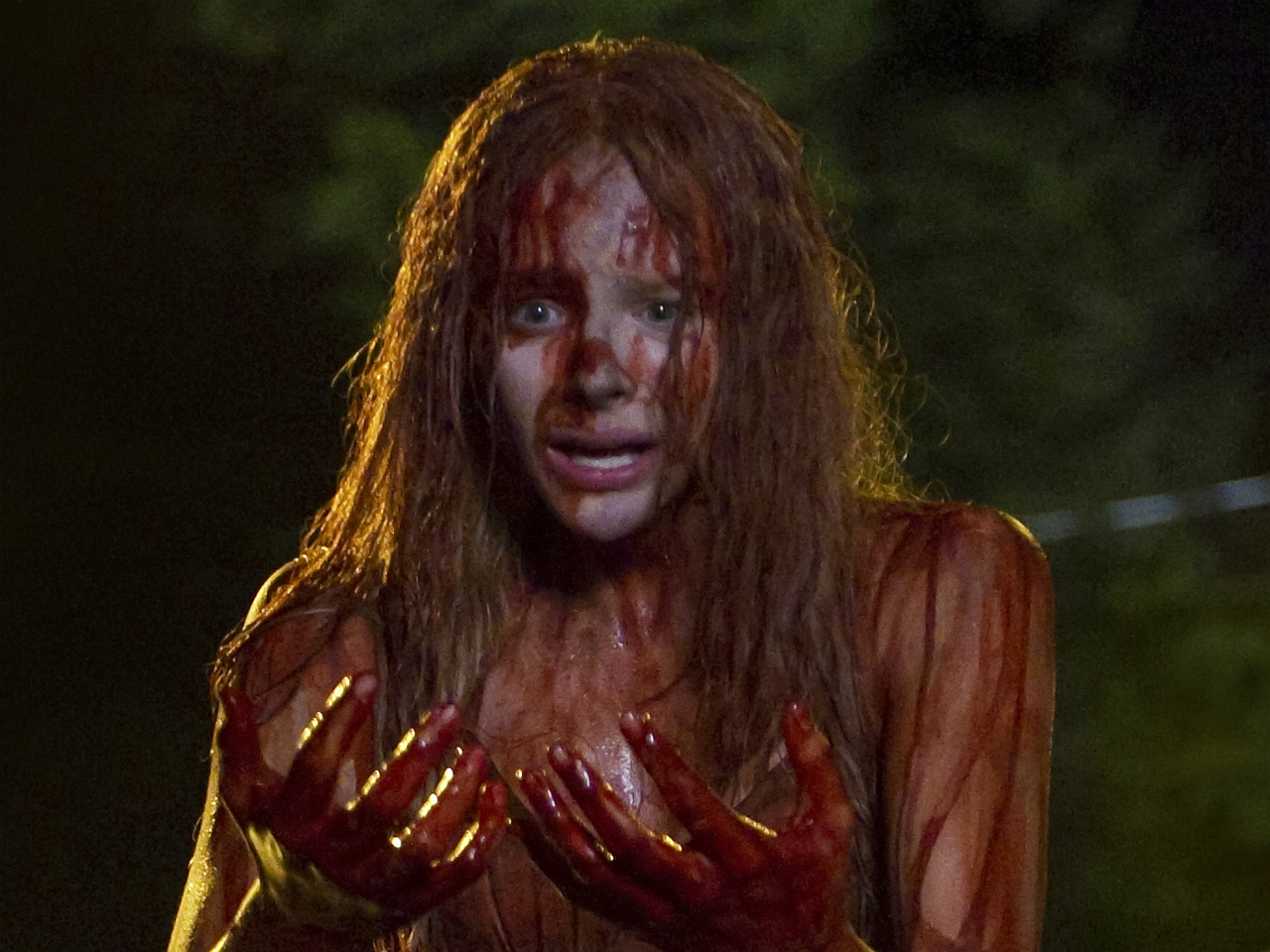 Bloody Good Halloween Horror Movie Choices for 2013
Halloween season is officially underway! And for all the like minded 'Halloween People' out there this is a time of joy, celebration, and triumph as the waves of 'normies' flock to each one of us for opinions on what to watch throughout the scariest of seasons.
Though we will always have great suggestions and fun picks to throw their way, we're not always 100% caught up to date with the best options during the season. So here at BloodyGoodHorror we have a listing of some of the strongest suggestions theatrically, rental wise, and even the most up to date Netflix Instant suggestions.
---
October's Theatrical Horror Offerings
October 4
Gravity
Director: Alfonso Cuarón
Cast: Sandra Bullock, George Clooney, Ed Harris
The Skinny: Alfonso Cuarón is back in the SciFi game with what could be a legitimate Oscar contender; especially considering the two heavyweight stars in Bullock and Clooney. Playing on the fear of infinite darkness that space provides, "Gravity" is sure to thrill and terrify audiences with its disaster movie simplicity.
October 11
Machete Kills
Director: Robert Rodriguez
Cast: Danny Trejo, Michelle Rodriguez, Mel Gibson, Jessica Alba
The Skinny: Back to business for Rob Rodriguez and Danny Trejo, "Machete Kills" reunites a cult fan-base with its favorite Latino antihero. Sure to be full of gore, sex, and sleaze it's also the perfect return vehicle for Mel Gibson before his bad guy renaissance continues in "Expendables 3" next year.
October 18
Carrie
Director: Kimberly Peirce
Cast: Chloë Grace Moretz, Julianne Moore, Judy Greer, Ansel Elgort
The Skinny: A great cast gave great promise for this remake of Stephen King's classic story; but a shoddy trailer has sparked significant backlash. "Carrie" will likely hold strong against no competition and draw in plenty of the teen audience, but its quality (or lack thereof) is in major question.
Haunter
Director: Vincenzo Natali
Cast: Abigail Breslin, Sarah Manninen, Stephen McHattie, David Hewlett
The Skinny: A limited release from IFC Midnight, "Haunter" appears to be another solid entry in the spooks and specters craze sweeping the nation throughout 2013. Vincenzo Natali is also a very marketable horror presence considering his history with "Cube", "Ginger Snaps" and most recently "Splice".
---
October's DVD & Blu-Ray Releases
October 1
This is the End
The Skinny: A smorgasbord of modern Hollywood comedy royalty assemble for this laugh riot comedy about the end of the world, demons, and crude humor. Danny McBride steals every scene and the cameos work to great effect throughout.
Dead Before Dawn
The Skinny: A bunch of college kids accidentally unleash an evil curse that causes people to kill themselves and turn into Zombie Demons, aka ZEMONS!
Fright Night 2
The Skinny: Posing as a sequel but acting as yet another remake, "Fright Night 2" casts 'Gerry' as a female and spins the narrative differently while adhering to the formula.
October 8
The Purge
The Skinny: A family is held hostage for harboring the target of a murderous syndicate during the Purge, a 12-hour period in which any and all crime is legalized.
Europa Report
The Skinny: An international crew of astronauts undertakes a privately funded mission to search for life on Jupiter's fourth largest moon.
Curse of Chucky
The Skinny: After her mother's mysterious death, Nica begins to suspect that the talking, red-haired doll her visiting niece has been playing with may be the key to recent bloodshed and chaos.
October 15
Maniac
The Skinny: As he helps a young artist with her upcoming exhibition, the owner of a mannequin shop's deadly, suppressed desires come to the surface.
The Colony
The Skinny: Forced underground by the next ice age, a struggling outpost of survivors must fight to preserve humanity against a threat even more savage than nature.
Jug Face
The Skinny: Jug Face tells the story of a pregnant teen trying to escape a backwoods community when she discovers that she may be sacrificed to a creature in a pit.
October 22
The Conjuring
The Skinny: The critical and financial horror smash hit of the summer, "The Conjuring" tells the story of paranormal investigators Ed and Lorraine Warren who work to help a family terrorized by a dark presence in their farmhouse.
October 29
R.I.P.D.
The Skinny: A recently slain cop joins a team of undead police officers working for the Rest in Peace Department and tries to find the man who murdered him.
Monsters University
The Skinny: A look at the relationship between Mike and Sulley during their days at Monsters University -- when they weren't necessarily the best of friends.
Byzantium
The Skinny: Residents of a coastal town learn, with deathly consequences, the secret shared by the two mysterious women who have sought shelter at a local resort.
---
October's Best New Netflix Instant Options (As of October 1st)
The ABC's of Death: Twenty-six masters of the horror genre were each given a letter of the alphabet around which to concoct a story about death in this audacious anthology film that explores the terrifying, humorous and poignant aspects of the journey we all must take.
Aftershock: A dim American tourist traveling in Chile convinces three attractive young women to accompany him and his friends to party in a coastal city, but the fun stops when a major earthquake devastates the area and they must fight for survival.
American Mary: Medical student Mary Mason is becoming dissatisfied with her path in life, mostly because she's piling up massive debt. But when she's offered a lucrative opportunity to get involved in extreme body-modification surgeries, she jumps at the chance.
The American Scream: In the sleepy town of Fairhaven, MA, The American Scream follows the creative minds behind three local homemade haunts and their spirited, passionate and sometimes harrowing efforts in igniting their town's Halloween spirit each year.
Antiviral: This wild sci-fi vision imagines a freaky future where diseases caught by celebrities are put on the market for injection by their obsessed fans. Virus dealer Syd March makes a big mistake when he gives himself the same bug that killed a superstar.
The Awakening: In post-World War I England, a boarding school haunted by a boy's ghost calls on Florence Cathcart, who disproves hoaxes for a living. But Cathcart senses something truly strange about the school, leading her to question her belief in the rational.
Bad Kids Go to Hell: At the exclusive Crestview Academy, six students serving Saturday detention begin falling prey to a series of gruesome "accidents" at the school. The dark roots of the carnage remain a mystery as the bodies pile up in this gory black comedy.
The Bay: From director Barry Levinson comes this gruesome tale of ecological horror that follows unfolding events in a seaside Maryland town as a deadly menace infests the bay and turns residents into hosts for mutant parasites.
It's a Disaster: After gathering for Sunday brunch at one of their homes, four couples realize they are stranded together as the world may be coming to an end during an apocalyptic crisis. Nevertheless, they continue to deal with their various relationship issues.
The Jeffrey Dahmer Files: Stripping away the headlines and hype, this documentary spotlights the people who surrounded serial killer Jeffrey Dahmer during and after his arrest. Comments by neighbors and police create a portrait of Dahmer that's disturbingly normal.
John Dies at the End: Promising a trip that transcends time and space, a drug called Soy Sauce is sweeping the landscape -- and quietly robbing users of their humanity. Now, it's up to a couple of slackers to stop the psychotropic invasion before it's too late.
Kiss of the Damned: Styled after the glossy vampire flicks of the 1960s, this thriller finds undead Djuna giving in to her lust for screenwriter Paulo. Enter Djuna's sister Mimi, whose own hunger for Paulo's blood turns the local vampire community on its pointed ear.
My Amityville Horror: In this riveting documentary, Daniel Lutz discusses what happened in 1975 when his family was plagued by supernatural happenings at the notorious Amityville house in Long Island. Psychologists, reporters and eyewitnesses examine Daniel's testimony.
The Pact: Feeling obligated to return home for the funeral of the mother she despised, Annie soon senses an evil presence in her childhood home. As she seeks answers about her mother's death, Annie is forced to face demons from her past.
[REC] 3: Genesis: The third chapter in the blood-chilling REC franchise begins with protagonists Koldo and Clara about to be wed, when several guests begin falling ill. The scene quickly turns ghoulish as those infected by a demonic virus begin to go lethally mad.
Room 237: Exploring various theories about hidden meanings in Stanley Kubrick's classic film The Shining, this fascinating documentary presents fans' and conspiracy theorists' ideas about messages regarding genocide, government conspiracy and history.
Rubberneck: Obsession is a dangerous emotion for a socially awkward scientist who's still craving his comely colleague months after their one-night stand. But his feelings only intensify when she starts seeing another co-worker.
The Silence: When Sinikka goes missing from the same spot where another girl was killed 23 years earlier, investigators work to unravel the parallel mysteries.
Storage 24: In this creepy thriller, an emergency power shutdown in London leaves four friends trapped by random circumstances in a cavernous storage facility. Before long, the group realizes that something lethal is inside the darkened warehouse with them.
V/H/S: Hired to steal a rare VHS tape from a secluded house, a group of petty crooks breaks in and discovers a corpse surrounded by TVs and stacks of tapes. Now they must watch each horrific and bizarre video as they search for the correct one.
---
So there you have it, go out and educate 'Normies' and 'Halloween People' alike with a vast array of exciting and interesting horror offerings all month long!