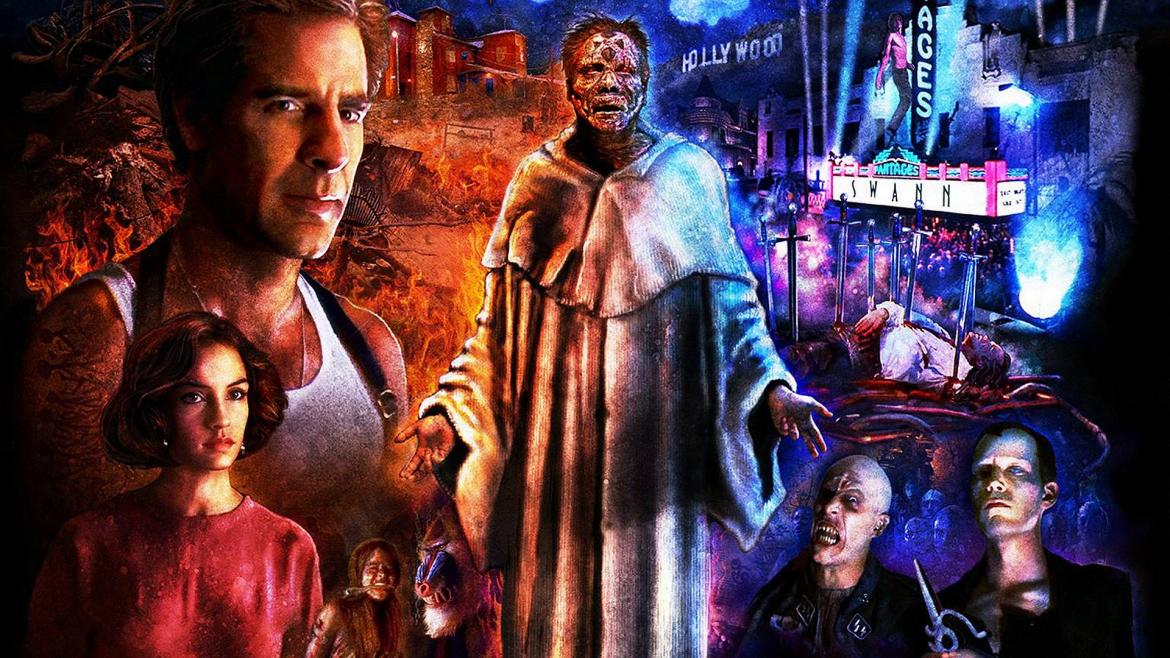 Lord of Illusions (Movie Review)
Who says the mid-'90s was a terrible time for horror?

Clive Barker is one of the most successful horror writers of his generation, and was able to transition to movies by writing and directing the brilliant Hellraiser in 1987. He was never quite able to match the success of Hellraiser, though, as the follow-ups, Nightbreed and Lord of Illusions were plagued by studio interference and low box office receipts. As with many things in life, however, lack of popularity doesn't necessarily mean poor quality.

Lord of Illusions is a story which melds two different worlds: that of the hard-boiled private eye and the supernatural. Scott Bakula's Harry D'Amour becomes embroiled in the lives of an illusionist named Swann (Kevin J. O'Connor) and his wife, Dorothea (Famke Janssen). During a performance, Swann seemingly dies. Dorothea hires D'Amour to investigate Swann's death, with D'amour eventually discovering that Swann isn't just an illusionist; he's able to perform real magic. He was also part of a cult, which had years earlier killed their powerful leader, Nix, who is returning from the grave to exact his revenge.

Lord of Illusions failed to make much of an impression on moviegoers in the late summer of 1995, only bringing in $13,000,000 on a $12,000,000 budget. As a huge fan of Hellraiser, I was in the theater upon Illusions' initial release, and left feeling massively disappointed. So disappointed, in fact, that I hadn't revisited the film until now. It's strange how time and point of view can shape ones view of entertainment, as I was very impressed with Barker's work this time around. For starters, the cast is quite good. Bakula was a huge star in the 1990's, appearing every week in living rooms around the country as Sam Beckett in TV's Quantum Leap. The likeable Bakula was presumably attempting to change his image a bit by playing a darker character, and he is convincing as Harry D'Amour. Janssen is captivating as Dorothea and O'Connor and the late character actor Daniel von Bargen are effectively creepy as the two magicians. For someone with so few directing credits, Barker is competent behind the camera. Effects, though limited, are solid as well, with only some dodgy CGI (which was probably cutting edge at the time) seeming particularly dated in 2017. Best of all, Barker tells a compelling story by taking the well-worn trope of the private investigator helping out the beautiful dame in distress and throwing said private eye into a world of real-life magic over which he has minimal control. His gun and fists are of little use in this alternate universe, forcing him to find other means to survive.

The 1990s are viewed by most horror fans as a low point in genre filmmaking, with Scream credited as finally saving horror from itself. But there are hidden gems to be found in that era, and Lord of Illusions is one of them. Hellraiser still gets plenty of acclaim today, despite the quality (or lack thereof) found in its sequels, and Nightbreed has gained cult status. Lord of Illusions is rarely mentioned, though. That, and the fact that Barker's difficulties in Hollywood have kept him out of the director chair since '95 are a shame. His final film deserves more attention and modern horror could use more of his unique vision.