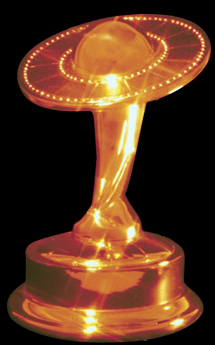 Saturn Award Nominees Announced
So last night I learned two things. First I learned that "The Dark night" was nominated for 11 Saturn Awards this year. And second, that apparently for the past 35 years the Academy of Science Fiction, Fantasy & Horror Films have held something called The Saturn Awards, which honor the past years film, TV and DVD releases.
Not surprisingly "The Dark night" leads the nomination tally. "The Curious Case of Benjamin Button" and "Iron Man" also had good showing with 9 and 8 nominations respectively. They also have a number of site favorites up for awards in different categories. "Dexter", "Let the Right One In" and "The Strangers" are all possible winners of a creepy gold orb trophy. Hell they even nominated "Jack Brooks Monster Slayer" for best DVD release. This is probably the only time we'll see old Jack nominated for anything so enjoy it while you can folks.
There a number of shenanigan worthy nominations out there also. Did you think "The Mummy: Tomb of the Dragon Emperor" was the best horror film last year? Me either but it's on the list of nominations along with "The Happening". That little fact combined with "Indiana Jones and the Kingdom of the Crystal Skull" being nominated for Best SciFi film leaves little doubt in my mind that the apocalypse is upon us. Harrison Ford nominated for best actor? Let me close the window, there's a swarm of locusts outside. Shia LaBeouf up for best supporting actor? Oh shit it's raining frogs.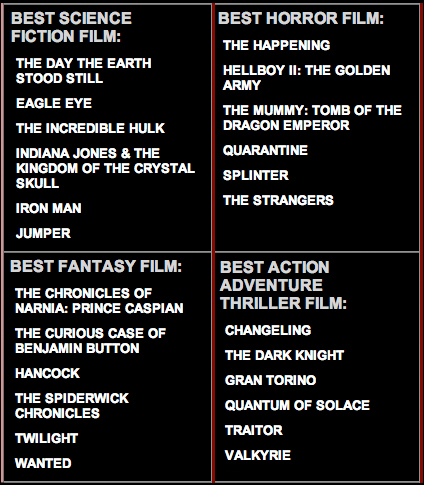 The results will be announced on June 25th, so stay tuned. Me, I'm pulling for "The Chronicles of Narnia: Prince Caspian". If there is anything that's going to stop the apocalypse it will be that movie.