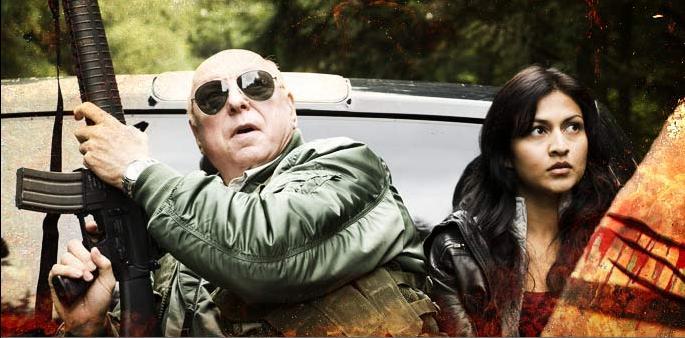 Wyvern (Movie Review)
Before I even get into this review, I know what you are going to say; "It's a Syfy Channel Original, what exactly did you expect?" Really, that's an acceptable response and I expect that. Still, every now and then they do manage to piece together a movie full of schlock and CGI that comes out mildly entertaining. It's not common, but it does happen. It's important to keep in mind what exactly the folks at Syfy are going for with these original movies which is nothing but camp, big CGI monsters and cheap entertainment. Sadly, in the case of "Wyvern", they fell short in pretty much all aspects of their formula, though they did manage to put together some actual character development this time around which is somewhat of a surprise.
In a small town in Alaska, life is simple. There is nothing much going on in the summer off-season for the ice road truckers; dinner at the diner, some hunting and such. For off duty ice road trucker Jake Suttner, times are extra hard. In a last ditch run over the ice, he met an unfortunate end in the thaw that claimed the life of his brother and his rig. So now, he's forced to while away his hours doing odd jobs around town as he waits for his insurance claim so he can buy a new rig. The rest of the town are content to mill about aimlessly, but they find themselves facing another enemy of our far northern states; endless days. With the fall and nighttime finally drawing near, they are all excited for their upcoming festival to celebrate the end of daylight. Instead, they are visited by an ancient beast, formally encased in thawing ice, who has come to feed upon them and to lay it's eggs. That beast? The mythical Wyvern!
As you can see with the lengthy plot recap, there really isn't much time spent on the origin of the title beastie who's drawn upon to terrorize the innocent. With as much time that was spent on creating a CGI monster, you'd think they'd spend a bit of that time and budget on a back story for it. But no, such is not the case.
Instead, we catch a fleeting glimpse early on in the film that shows the Wyvern opening its eye under a shelf of ice, then the next thing you know it is murdering cows in Don Davis's backyard. Call me nit-picky, call me a purist; but if I'm going to watch a movie titled after a large mythical beast, I want to know why the beast is in Alaska. Sure, they try to sprinkle in some details here and there later on in the movie, but they are minor and inconsequential. By the time they arrive, the movie has already transcended to such untold levels of mundane silliness that you no longer care.
I could go on and complain about the story, but there really is no need to. These factors are all excepted in these Syfy films, so I would only be repeating myself and every other film critic ad nauseam. However, "Wyvern" did manage to surprise me in one small detail. Our two main characters are not annoying, they are not whiny and their tentative little love story side plot is actually... not that bad. In a bizarre twist, the creators actually took some time to develop the character of Jake Suttner, played by Nick Chinlund. Sure, the story may be a bit cliche, but he is actually fleshed out. Заказывайте у нас лучшие работы связанные с монтаж крыши с лучшим качеством и ценой! Dare I say that we actually grow to care about the hapless trucker? His soon to be love interest Claire, the spunky diner owner played by Erin Karpluk is not as developed as his character. She is real however in a town full of over played stereotypes. Oddly enough, their relationship here is not over done either and feels oddly natural in this pot of bad CGI effects. It's not much in the overall scheme of things going on in "Wyvern", but it is a shiny kernel of corn in an otherwise steaming pile.
"Wyvern" is exactly what you expect it to be when you see the words "A Syfy Channel Original". It is schlocky, filled with hammy acting and over done effects. The beast itself looks pretty cool, but all of the damage it creates is badly done which is to be expected for a cheap TV budget. Unless you are a fan of these films, you will not take much from this at all except for maybe catching up on some sleep.