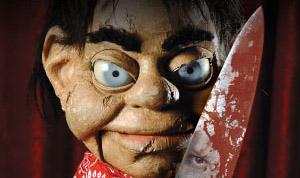 Triloquist (Movie Review)
While they've never quite made it into the upper tier of horror movie monsters, evil dolls have been a presence in midnight movies for almost as long as genre-staple baddies like vampires and werewolves. They've appeared in undisputed genre classics ("Poltergeist", "Magic"), sustained a few major franchises ("Child's Play", "Saw"), and, maybe the biggest sign you've made it in the horror genre, inspired loads of low-budget schlock ("Waxwork", "Demonic Toys"). There's something inherently wrong and creepy about a figure that looks alive but isn't that makes killer dolls, dummies and puppets a natural fit for filmmakers eager to play on the fear that there might just be something sinister going on beneath those dead, blank eyes.
Automatonophobics (look it up, kids) who check out "Triloquist" for a cheap thrill will probably find themselves wondering if the filmmakers are as hollow-headed as the dummy in the movie. The fact that this is the latest opus from the writer and director of "Leprechaun" should give viewers a good idea of what they're in for: a mish-mash of comedy and horror so lame and tepid that Lloyd Kaufman probably wouldn't release it out of the fear that it would sully the good name of Troma. In fact, "Triloquist" more than lives up to its pedigree by making a movie about a magical killer Irish dwarf with a penchant for visiting outer space and the hood (twice) seem intelligent and well-crafted in comparison.
"Triloquist" is essentially "Natural Born Killers" meets "Howdy Doody" with a healthy dose of straight-to-unrated-DVD level "comedy". The film manages to test viewers' patience before it even properly begins. The first fifteen minutes mostly consists of three back-to-back music video-style montages giving us the full backstory on Angelina and Norbert, the last of the great Triloquist family of, erm, ventriloquists. First we see their mom, a plastic surgery disaster who looks like an aging porn star, commit suicide in a seedy motel room while the two kids are tucked into bed along with their talking dummy friend named, erm, Dummy in a bit of script-writing laziness that underlines just how little this movie actually tries.
Next we're treated to a grainy black and white sequence set to a showtune that looks like the director turned his camera to the "artsy/indie" setting. Here the kids and Dummy are shipped off to a grabby uncle who is in the film exactly long enough to drink beer, molest his niece and get killed by Dummy with a roll of Saran Wrap. The third straight music montage (this time set to coffeeshop alt-rock) keeps the grainy black and white and shows the results of this traumatic Rob Zombi-an upbringing. Norbert is a childlike mute who dresses like Dennis the Menace playing cowboys and indians, and Angelina has grown into a booze-swilling, loud-mouthed, jailbait psycho.
With the long, lame stage-setting over, the movie proper finally begins and the three of them head on a murderous, cross-country trip to Vegas, the promised land of ventriloquist acts. Eventually, as if she's just realized that the movie needs a plot, Angelina comes up with a plan to carry on the family name by kidnapping a girl and having Norbert impregnate her. Randomness and incest ensues, culminating in a twist that, if I cared enough to rewatch the movie, I'm pretty sure is actually narrative cheating on a massive scale.
To call this movie a mess would be too kind. The story is convoluted and shamelessly stolen from a number of other movies. The acting is mostly awful, particularly from Payden LoPachin, who as Angelina manages to get out-acted by a foam puppet and a mute who just pulls faces. Even the film's style feels slapped together, ranging from unfunny attempts at comedy to unscary attempts at horror.
The sheer "slapped-together" nature of this film is maybe most evident in one scene where Larry Manetti of the 80's Tom Selleck show "Magnum PI" makes a cameo appearance as himself long enough to say who he is and presumably for the viewer to delight in seeing an actor from Magnum PI twenty years after the show's cancellation. The obvious problem is that the film's target audience probably isn't old enough to have ever seen Magnum PI and even those who might be familiar with the show probably remember it more for mustaches, Hawaiian shirts and Ferraris than the supporting cast.
On the scale of bad movies, "Triloquist" manages to skip over "so bad it's good" and go full circle back to "bad" again before ending up somewhere between "godawful" and "unwatchable". A small audience of cinematic masochists and schlock-lovers might enjoy it despite, or maybe because of, its flaws, but anyone hoping for a passable entry into the killer doll subgenre is best advised to stay far away.