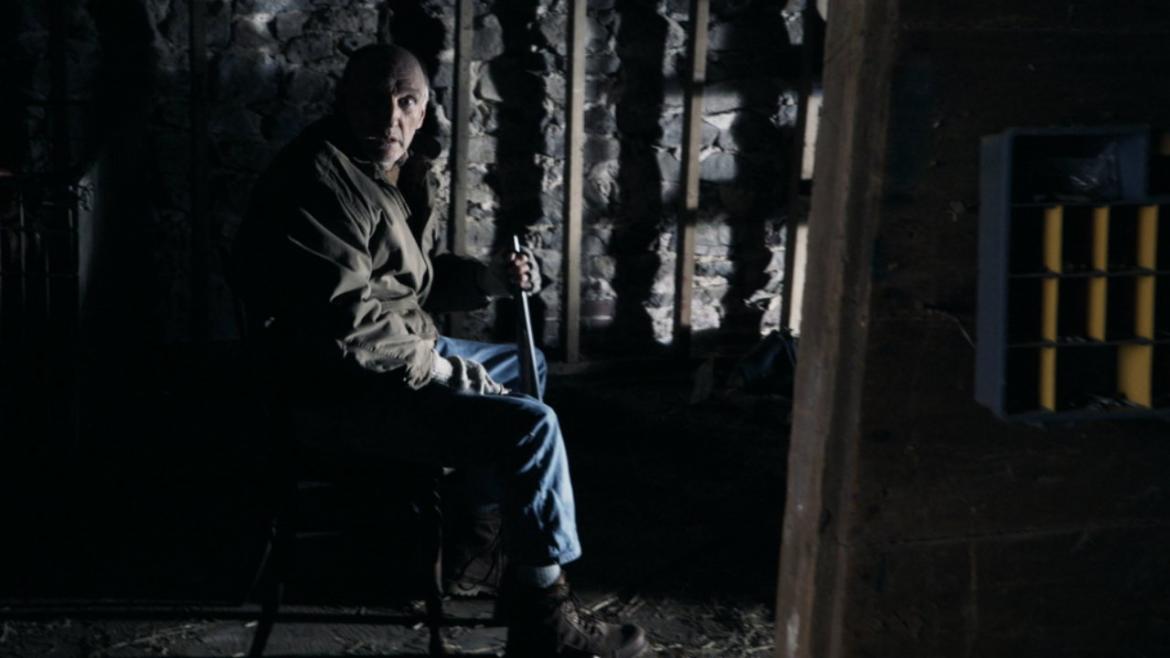 The Visit (Movie Review)
If there's any phrase scarier than "You're going to spend a week with creepy elderly relatives," it may be "M. Night Shyamalan has a new movie out in theaters." Or at least that was the case before his newest offering, The Visit. I'm as ardent a Shyamalan skeptic as anyone, but the wild humor and newfound self-awareness here may bring many back to the fold.
Paula Jamison (Kathryn Hahn) hasn't seen her parents since she ran away from home at 19. Now it's 15 years later, and her parents have finally chosen to make amends--most especially, they want to meet their grandchildren, Rebecca and Tyler (Olivia DeJonge and Ed Oxenbould). Paula still has reservations about a reconciliation, but she agrees to send her kids to spend a week getting to know the parents she left behind.
What Rebecca and Tyler discover, almost right away, is that something is terribly wrong with their "Nana" and "Pop Pop". When Rebecca breaks her grandparents' strict curfew to sneak extra cookies on their first night, she finds Nana walking in a trance through the dark house, vomiting on herself with every other step. As the week goes on, Rebecca and Tyler try to bond with their grandparents despite troubling signs--the creepy shed they aren't allowed to enter, Pop Pop's paranoid conviction that he's being followed, Nana's erratic mood swings and violent midnight wanderings. There's only so much they can write off as typical addled old people problems before they realize they're in grave danger.
There's a similarly surprising discovery in store for audience members like yours truly who wrote off M. Night Shyamalan for good years ago. For several movies in succession he's been humorless, defensive, and way too self-serious. How The Visit, a consistently suspenseful (and seriously funny) B-movie horror flick emerged from that lineage is bewildering, but here we are. In terms of gross-out scares and gags, Shyamalan hits the ground running, and though he's circling the same geriatric subject matter he never runs low on ideas--let's just say fans of Sam Raimi circa Drag Me To Hell will find a lot to enjoy.
The cast is crucial to The Visit's success. Kathryn Hahn's breezy self-deprecation is hugely welcome in a Shyamalan film, and Peter McRobbie and Deanna Dunagan are equally convincing whether they're lovable or creepy-as-hell. Though Dunagan (a Tony winner for August: Osage County, whaddya know) lays it on thick, her performance as Nana is the film's centerpiece: if we remember anything about this movie in ten years, it will be her. And credit must be given to the child stars--so often the worst part of any horror movie. Oxenbould and DeJonge are naturals who deliver far better work than most horror fans are used to seeing from actors their age.
It's becoming redundant to comment on the found footage style and its place in horror--it's a gimmick that's here to stay, let's face it--but Shyamalan comes up with some new tricks. The Visit is framed as a documentary shot by Rebecca and Tyler about their mother, and because each has their own camera, he crafts several scenes using parallel editing between their footage. While many directors concoct tricks like this to fall back on traditional movie-making, Shyamalan is conscious that each camera represents the perspective of a character seeing something the other can't. A notable example is a game of hide and seek under the porch that's interrupted by Nana's bestial, frenzied crawling; he uses it well, too, in the climax, when Rebecca and Tyler are pursued separately, their paths crossing and diverging as they run for their lives through the house.
Maybe low expectations are required for The Visit; mine were rock-bottom, and this turned out to be the most enjoyable Shyamalan movie I've seen in a decade. It's sure to have its haters, but it's ready made for a cult following.