The Red Riding Trilogy (Movie Review)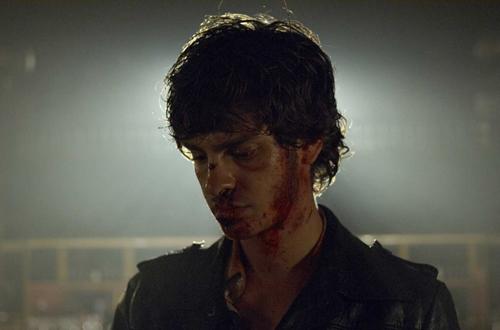 There is no place bleaker in the televised world than England's industrial north (and beyond). If you have neglected your UK murder dramas over the last decade and a half you have truly missed out on television's most doleful and grimy assortment of policeman, serial killers and psychologists. Some of these series like the Clive Owen vehicle "Second Sight" (which is decidedly downbeat) were actually based in London. But it isn't until these tales of crime solving curmudgeons are relocated to the cold, provincial North that we really begin to see the anatomies of human despair and the contemptibly flawed personas which help to mold arbiters of justice whose methods and mores are scarcely different from those of the brutal killers they pursue. Whether it's Ken Stott's boozy, brooding and brilliant Edinburgh sleuth "Rebus", or Robson Green's turn as the enmeshed odd-ball psychologist Tony Hill in "A Wire in the Blood" once the stories head north there is always significantly more than a killer to deal with. Unfriendlies, from police to potentates always muddy the investigations, and time and again aid in revealing the shadow side of the investigating protagonist. The "Red Riding Trilogy" is a fictional film trinity set against back stories from real life serial murder cases like The Yorkshire Ripper. Even more than many UK whodunits the "Red Riding" murderers themselves are merely agents of stress that help to unveil a carcinogenic architecture of corruption where a serial killer represents the most transparent and avoidable threat to a beleaguered working class population.
"Red Riding: 1974" is directed by Julian Jarrold, a veteran of dark episodic BBC series like "Cracker" and "Touching Evil". The film sets the table for the proceedings by introducing us to the cops and community figures of West Yorkshire as they try to deal with the death of 10 year old Clare Kemplay; who was found raped and murdered a short time after her disappearance. Into an environment of secretive, hard-bitten detectives and battered citizens comes a cocksure young reporter from Yorkshire named Eddie Dunford. To the chagrin of both the local gentry and constabulary, Dunford starts connecting dots between Clare and two other girls who disappeared in 1969 and 1972. Down at the nick, a confession is coerced from a developmentally delayed man named Michael Myshkin. Eddie finds himself being warned off of his investigation when he questions the result of the Myshkin interrogation. But it isn't until he proves to be a pill to unscrupulous local business magnate John Dawson that things truly hit a boiling point for young Dunford. Eddie presses on but his hubris and his relationship with the mother of one of missing girls cloud his vision and ultimately he pays a steep price for his principled and self-righteous search for answers.
"Red Riding: 1980" is directed by Academy Award Winning documentarian James Marsh ("Man on a Wire"). This installment sees things get a little deeper as Chief Constable Paul Hunter is brought in from Manchester to help solve the 4 year, 13 body Yorkshire Ripper case. A seeming straight arrow and family man, Hunter brings on a colleague named Helen Marshall with whom he has previously had an extra-marital affair. The two set about the task of tracking the Ripper and eventually start to rekindle their feelings. Unfortunately, the West Yorkshire cops are none too pleased with Hunter and Marshall's snooping around, especially in non-Ripper cases that seem to point to departmental malfeasance. Eventually, The Yorkshire Ripper is nabbed by a passing patrolman, but by this time Hunter has lost too much and continues to pry into the department's dirty laundry, this choice puts him firmly in the crosshairs of corrupt cops with few allies to watch his back.
"Red Riding: 1983" is directed by "Shop Girl"(2005) director Anand Tucker .The final installment sees a young girl go missing again, stirring the ghosts of 1974. Michael Myshkin's mother views the new disappearance as proof that her son is innocent. She implores solicitor and longtime neighbor John Piggot to take Michael's appeal but he refuses. Meanwhile Detective Chief Superintendent Maurice Jobson is having a crisis of faith. His protracted involvement in covering up the department's dirty linens and the handsome lifestyle he has enjoyed because of it can no longer keep the wolves of his conscience at bay. A third puzzle piece reemerges in the form of a troubled boy named BJ who may hold the keys to unmasking Clare Kemplay's killer and helping locate the missing girl. As the story approaches its terminus, Piggot takes Myshkin's case, Jobson starts opening up the department's collective secrets box to help find the missing girl, and BJ heads for the home of the suspected child killer to exact his revenge.
The "Red Riding Trilogy" is such good television that it got a theatrical release in the states. That said, it is not flawless, it possesses an endpoint that may be a little flowery for any viewer who has spent close to 5 hours in the bone-snapping blackness of its West Yorkshire universe. The films also draw together a seemingly endless number of characters and subplots, making it all a bit hard to follow at times, especially if the not-always-easily-negotiated accents cause the U.S. or Canadian viewer to lose info along the way. None of this should keep those interested from watching the trilogy. For any drawbacks herein are far overshadowed by the best cast and the finest acting you'll ever see on TV, a completely devouring portrait of inescapable human corruption and a synthesis of emotionality that belies the involvement of three separate directors. This is dark stuff, rendered with the utmost professionalism and the right amount of style; it produces the kind of unsettling power you won't get in 90% of the straightforward horror films of today. If you want material in the same vein that does skew a little more horror, "A Wire in the Blood" would be my first suggestion albeit a much bigger time commitment. After that, spend some time with "Red Riding"; a good heroless, spirit-crushing tale of brutality expertly told.