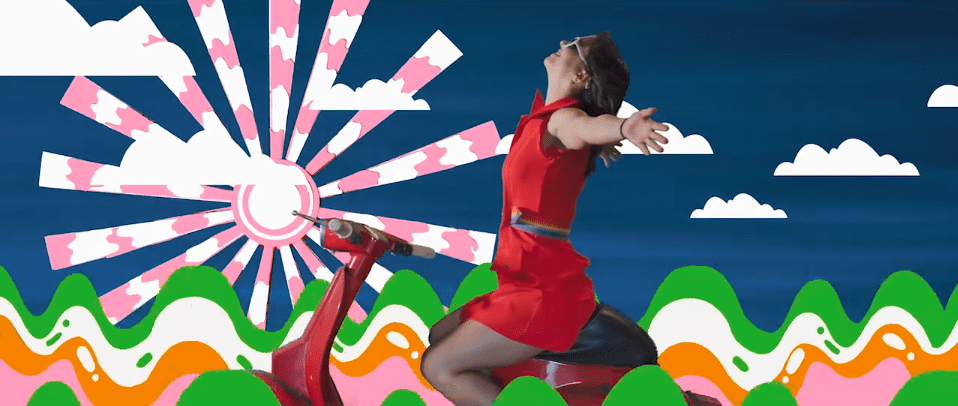 The God Inside My Ear (BAFF 2018) (Movie Review)
Trippy and bizarrely engaging; that's perhaps the easiest way to describe Joe Badon's The God Inside My Ear, a character study that charts a character's mental disintegration complete with a stalking telemarketer, a talking pup, and an evil plotting ceramic gnome. The seemingly random quirky weirdness does help propel the film over the course of 97 minutes, but sort of fizzles out in the last act.
Anchored almost entirely on the shoulders of Linnea Gregg who stars as Elizia who begins a downward spiral of depression and mental deterioration following a sudden breakup with her boyfriend. Her emotional instability begins expectedly enough just trying to and failing to understand the motivation behind the breakup. Quickly, Elizia begins to hear voices which leads to belief in conspiracies, as well as a growing fear of a man calling himself "the telemarketer" stalking her with the help of a possessed ceramic gnome.
This all must sound a bit aimless and confusing. That's because it kind of is. A lot of the film's more bizarre aspects feel like a filmmaker forcing in some indie arthouse weirdness for the sake of having indie arthouse weirdness. These inclusions don't necessarily hurt the plot, but feel somewhat inconsequential to Elizia's journey, though there's no denying the joy in watching Gregg react to the weird things happening to her.
A great deal of the film's enjoyment hinges on the performance of Gregg. Seeing as how this is her first feature it's remarkable the array of emotions and sensibilities she's able to switch on and off throughout. She goes from an emotionally broken victim of a breakup, to a sedated retail cashier at a fragrance shop, to a dead-eyed conspiracy pusher, and various iterations of those types over the course of her arc. What is essentially a character study with bits of low-budget quirkiness (shot for a reported $8,000) benefits from Gregg's versatility. The actress is charming and surprisingly adept at juggling multiple tones.
The God Inside My Ear chugs along with a freeform jazz drum solo bridging each scene to the next adding to its frenetic disjointed pace. At times it's tough to pin down a tried and true genre that Joe Badon is going for, but given all the genre knickknacks stuffed in here it seems destined for some form of cult horror niche and a unique calling card for Linnea Gregg as she builds on her career.
Screened as part of the Buried Alive Film Festival 2018.