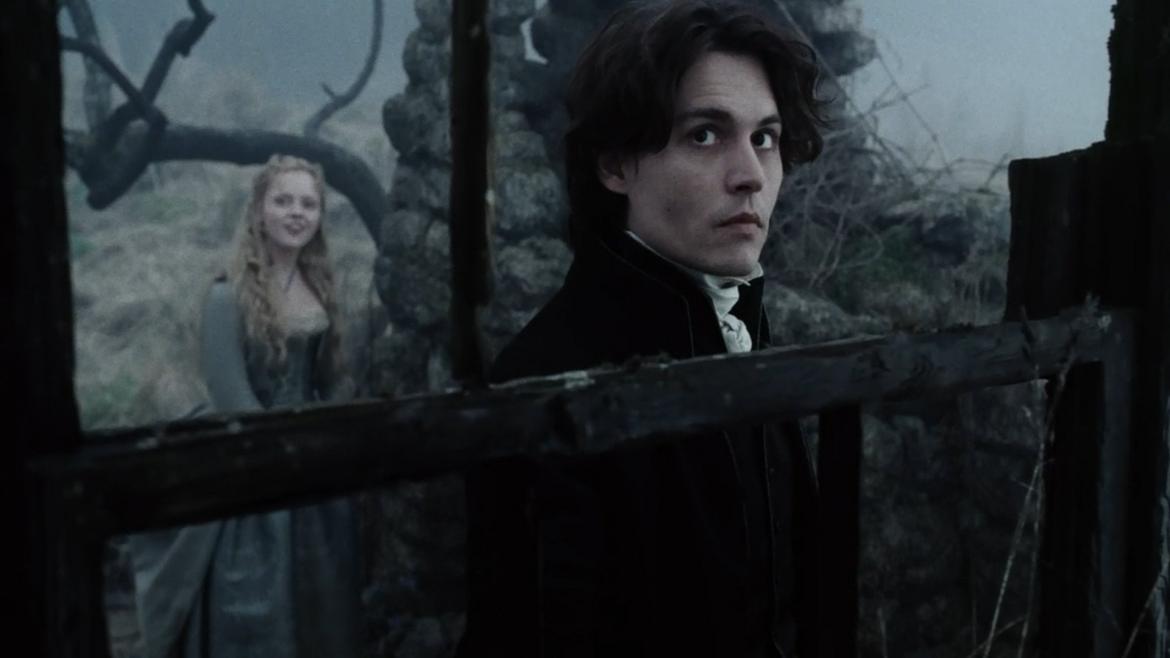 Sleepy Hollow (Movie Review)
Few films capture the essence of the month of October better than 1999's Sleepy Hollow. This should come as no surprise given the forces bringing it to life. The film is based on Washington Irving's short story "The Legend of Sleepy Hollow," a tale which itself is responsible for one of Halloween's most quintessential images – a lone, headless specter on horseback. Then there's the film's director, Tim Burton, a man whose general aesthetics couldn't be better suited for spooky season.
Sleepy Hollow – which was written by Kevin Yagher – uses Irving's 1820 story as its core. Katrina Van Tassel (Christina Ricci), daughter of Sleepy Hollow's wealthiest resident, is still being pursued by two suitors. Tough-guy local Brom (Caper Van Dien) and faint-of-heart out-of-towner Ichabod Crane (Johnny Depp) each still have eyes for her. This love triangle is still set against the tale of a decapitated Revolutionary War soldier who may or may not return from the grave in search of his missing head.
In Burton and Yagher's version, there is no doubt about the Headless Horseman's authenticity. Not with the trail of equally-headless bodies he leaves behind. Also, in their version, the Horseman's quest for revenge has implications far beyond restoring his missing head. Here, Crane – who was a school teacher in Irving's world – has been repurposed as a New York City detective dispatched to Sleepy Hollow to sort through the tangled web of ghosts and small town conspiracies.
Depp's anti-action hero action hero is the human focus of Sleepy Hollow. Crane, with his familiar Burton pallor, is an ever-present enjoyable enigma. He fearlessly goes toe-to-toe with his superiors in New York and throws serious shade at Brom within seconds of meeting him. Yet, Crane recoils in absolute horror at a spider and can't (understandably) stop fainting when confronted by the Horseman. His shortcomings as a hero are ably supplemented the more traditional derring-do of Ricci's Van Tassel and Marc Pickering's Masbeth, a young boy who lost his father to the Horseman. It's a joy to watch the sweet if only slightly offbeat family unit the trio forms as the film progresses.
As good as those three (and the rest of the admirably deep cast) are, the visual stylings of Burton are often the true treat. With Sleepy Hollow, Burton has managed to create a feature length piece of Halloween décor. The film is packed with these iconic seasonal images – the lonely mansion perched atop an empty field, the vicious-looking scarecrows, the twisted and gnarled trees. Burton bathes these elements in an ashy pallet. Quite often, our only reprieve from the bleak color scheme is the vibrant orange of pumpkins or the dark red of a blood spatter.
Sleepy Hollow is Burton and Depp at the top of their games. Updating an iconic work like Irving's is no easy task, however they, along with their excellent cast and crew, nail it. The result is nothing short of mandatory Halloween season viewing.