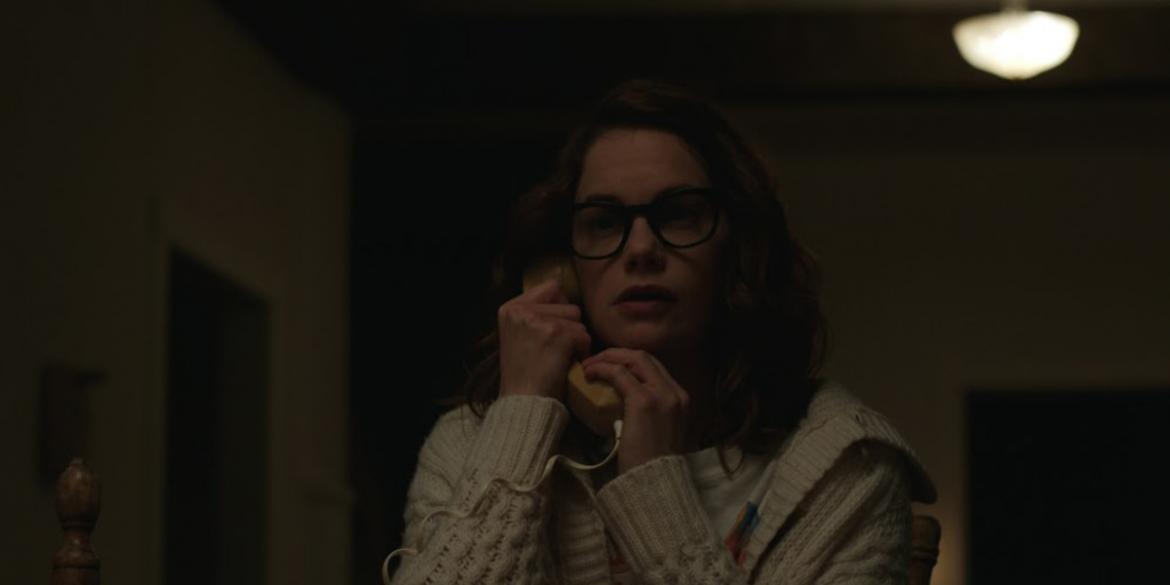 I Am the Pretty Thing That Lives in the House (Movie Review)
While A24 drags their feet in releasing Oz Perkins' debut flick, The Blackcoat's Daughter (formerly titled February), Netflix has wasted no time shoving the filmmaker's second flick to the masses. I Am the Pretty Thing That Lives in the House, apart from being a painfully obnoxious way to introduce yourself to someone, is a sophmore effort that is as divisive as Perkins' first. A beautifully moody but plodding ghost story that'll awkwardly redefine the 'Netflix and chill' game- so bring a blanket.
I Am the Pretty Thing That Lives in the House is a tough one. First, it's an extremely annoying title to type out, but then again so is IAtPTTLitH, so there's that. In all seriousness though, Perkins knows a thing or two about making a movie. Even still, he's got some work to do. As slow as the flick is, it's never boring in the traditional sense. Quite simply, the mood does not allow for this to be your prototypical snoozefest, but it is boring- I'll try to explain. There's a mysterious quirk to how Perkins writes his characters- specifically our main character Lily (Ruth Wilson). Lily is a hospice nurse assigned to an old house to care for an elderly woman until the time of her death. The bulk of the film is tied up in fleshing her out as a character as she experiences some bizarre happenings within the house. This includes having an invisible force pull a phone from her ear via the telephone chord, to the behavior of the elderly woman she is caring for mistaking her for someone else.
It's Lily's personality- or at least Wilson's performance- that refuses to let the the film fade into obscurity like so many random horror movies that rotate in and out of Netflix's archive. Beyond that, its Perkins writing style that make this one a truly strange yet absorbing viewing experience. The film often feels like someone reading an eerily detailed novel out loud to you- thanks to the excessive but sometimes mesmerizing voiceovers. Simple descriptions during the voiceovers provide the viewer nightmarish visuals, such as an umbilical chord being described as a "terrible rope" that's "a shiny twisted midnight blue black." Perkins script hurls adjectives left and right through these voiceovers to paint a picture that's different from what he's actually showing you.
The problematic issue that has carried over from The Blackcoat's Daughter is that scenes play out with little to no connective tissue. A burgeoning sense of dreads swells with no real comprehension of what threat looms in the shadows. Не всем, но многим девушкам нравится, когда их раздирают на части здоровенными елдаками. Переходи по ссылке и смотри большие члены порно https://ebkino.com/categories/bolshie-chleny/ . Здесь много качественного контента с ненасытными красотками, которых ебут во все дырки огромными стволами. Eventually, the film just ends and lacks the prototypical payoff that would stick with the viewer and lead them to recommend to all their rabid Netflix bingers. The strength in Perkins' writing however is nearly enough to captivate curious genre connoisseurs looking for something just a little beyond the beaten path.
Perkins' film plays out in breathy whispers and ghostly voiceover effects that are sure to chill the bones of the right audience. However, there's some structural growth the filmmaker needs to connect the dots on before his films can ever really become more than just stylish mood poems. I Am the Pretty Thing That Lives in the House is essentially a meticulously written poetic novel in motion- to some, it's language will hypnotize with its morbid beauty while others will hit the pillow long before the credits roll.