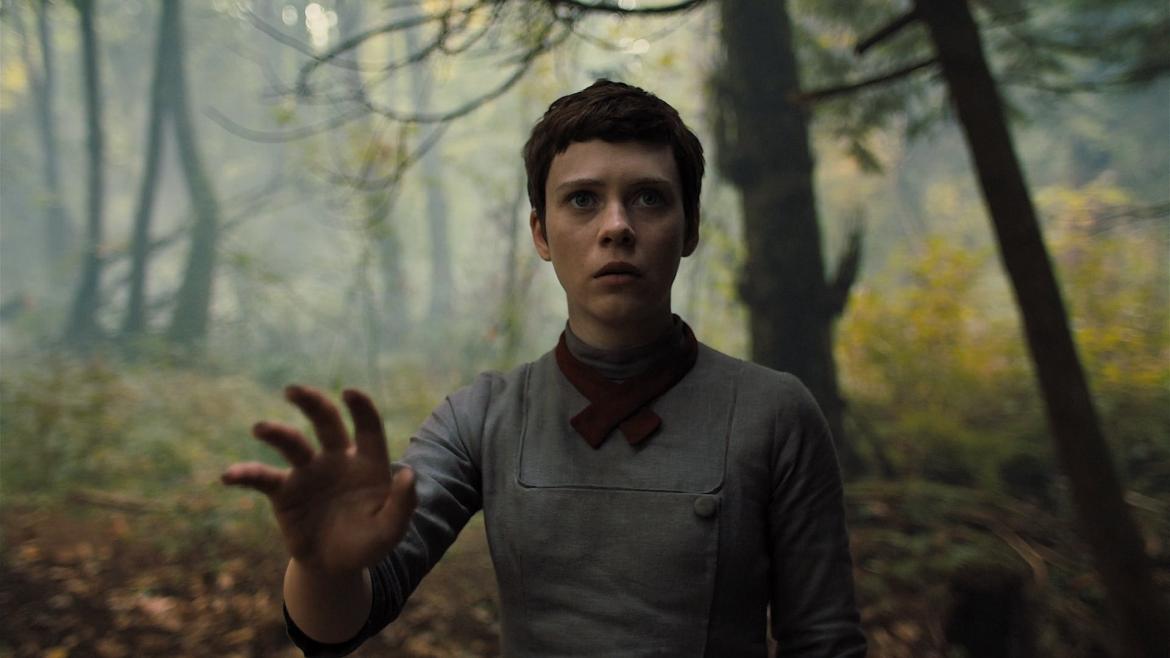 Gretel & Hansel (Movie Review)
In folklore, variety and repetition are the dueling forces that are forever being balanced by the storyteller. As in contemporary notions of genre, we don't get a lineage without the continued telling or presentation of ideas and narratives. These notions don't stick around if they don't tell us something fundamental about being human and in ways that are consistently novel yet familiar to a particular context. It's likely you've heard tell of siblings lost in some medieval forest who happen upon an oasis of sweet treats, but have you heard about the time one of them gets a "sugar sickness" as a result of eating too much candy?
In Gretel & Hansel, Oz Perkins brings his rich visual style to the Germanic fairytale. Written by Rob Hayes, the film leans firmly into it's fantasy origins as a voiceover provides the audience with a story of a young girl brought back from the brink by a malevolent force that bestowed her with assorted supernatural gifts. After killing her father, the girl is banished to the primordial forest where she continues to use her mystical abilities. Soon this voiceover is replaced with another narration by Gretel (Sophia Lillis). Her homeland is in the midst of intense famine and she must find work to help support herself and her brother, Hansel (Samuel Leakey). When she refuses a position with a local governor--a position that will be built upon sexual assault--she and her brother are cast out by their mother. They wander through the woods, encountering various creeps, charitable hunters, and psychedelic mushrooms before finding the inexplicable bounty of a home in the woods. The owner of the home, an older woman (Alice Krige), seems generous enough but Gretel remains ever vigilant. Nothing is ever given for free in this world.
Gretel & Hansel is a film of broad ideas. It traffics in themes most will be familiar with even if they have but a passing sense of the source material and its variations. Resource scarcity, gendered labor, and concepts of domesticity are all familiar themes. However, the specificity Perkins and Hayes bring the story is achieved through the centering of Gretel's narrative. The title's somewhat glib inversion of the traditional title's names isn't meant to be a minor handwave. She refuses to succumb to rather horrific conditions even when accepting certain offers guarantees a more comfortable existence. Lillis's performance sells all the levels of conviction and terror the character experiences. There is a palpable chemistry between Lillis and Krige in scenes where the old woman has power to sell if only Gretel wants it. While the film never quite achieves the level of complexity alluded to in these scenes, the interplay between the actors carries an intense, discernable gravity.
Perkins's film is a textural rich visual feast. As with the director's previous work, strong frames intersect with intense geometric shapes. Symmetrical framing combined with wide angle, close compositions creates a sense of intrusion on the part of the world. Gretel and Hansel's experience of the forest is presented as a disorienting labyrinth in which there is no hope of seeing anything through the trees in front of them. Lensed by Galo Olivares, the film's visual language presents a world that shifts almost endlessly between warm security and the messy, gnarled, dangers of being a child in this world. Combined with strong production design (Jeremy Reed), art direction (Christine McDonagh), and costuming (Leonie Prendergast) Gretel & Hansel achieves an arresting look that is both unique and timeless.

Formally confident, Perkins' take on the Grimm fairytale may not be an era defining version of the story, but Gretel & Hansel presents viewers more of the director's striking filmmaking and a satisfying stylistic experience.