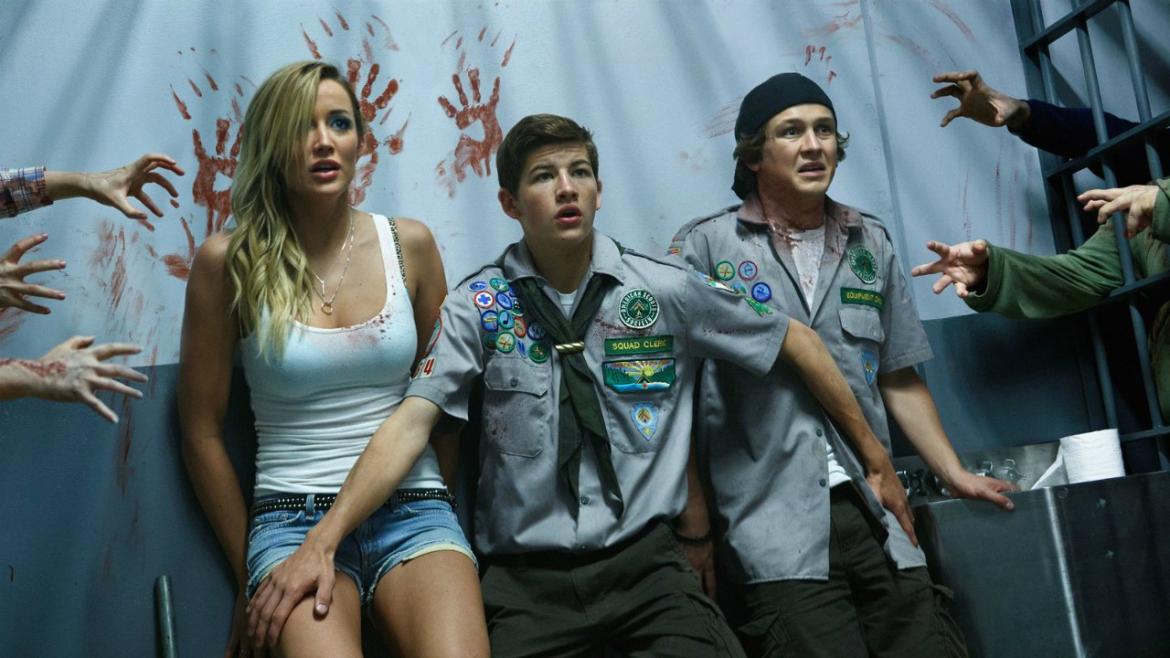 Scouts Guide to the Zombie Apocalypse (Movie Review)
When it was first announced that a new zombie comedy was forthcoming and it's title (originally) was Scouts Vs. Zombies, we all probably thought the same thing...the scouts are still a thing? After that thoughts likely flocked to the next logical feeling- oh boy..another zombie comedy. Changing the title to Scouts Guide to the Zombie Apocalypse sure does make the film sound a little less boring, sadly the execution can't quite match the same enthusiasm.
With Christopher Landon (Paranormal Activity: The Marked Ones) on board to direct, Scouts Guide follows a trio of high school scouts: Ben (Tye Sheridan), Carter (Logan Miller), and Augie (Joey Morgan). Ben and Carter have had it with their time in the scouts and stick around mainly because of their buddy Augie and because they feel sorry for Scout Leader Rogers (David Koechner). While on a camping excursion Ben and Carter plan to ditch Augie when he goes to sleep to attend a huge party in order to salvage some cool cred. However, the town is slowly being taken over by a zombie outbreak that forces them to put their scout skills and friendships to the test.
Face the facts, Zombieland has spoiled genre fans to the point that most zombie comedies have very little to add to the fold anymore. This fact is no less poignant with Scouts Guide. Save for the fact that Landon's film happens to have a charming and funny scene involving zombie cats, there just isn't much here that hasn't been done before. Unless of course you count watching an old lady zombie trying to bite the inside of a teenager's rear end but can't because her teeth were knocked on the floor seconds earlier- can't say I've seen that before. Scouts Guide to the Zombie Apocalypse is sure enough full of immature teenage humor in relation to its content matter, but it's far more likely to appease the audience members sneaking in after buying a ticket to something else than anyone old enough to buy a ticket proper.
If a break can be given to Landon's film, it's that he gives it the good ol' college try, but like his work on the Paranormal Activity franchise, his ideas only marginally liven up a tired idea for short periods of time from start to finish. The trio of leads manage to deliver some valid moments of buddy comedy and coming-of-age "awe" moments while also delivering some cool gore moments alongside the gorgeous Sarah Dumont, but the juvenile humor derails any momentum gained by its redeemable moments.
With Scouts Guide to the Zombie Apocalypse Landon's style is simultaneously a decade or two too late and on the nose with the maturity of today's youth. The characters do everything but make sweet love to baked goods or hoot and holler at naked girls in the school shower all while zombies are looming around the corner. Yet, If you wanna see a high school boy scout use a frail old zombie penis as a bungie chord, well, then consider your weekend schedule full.