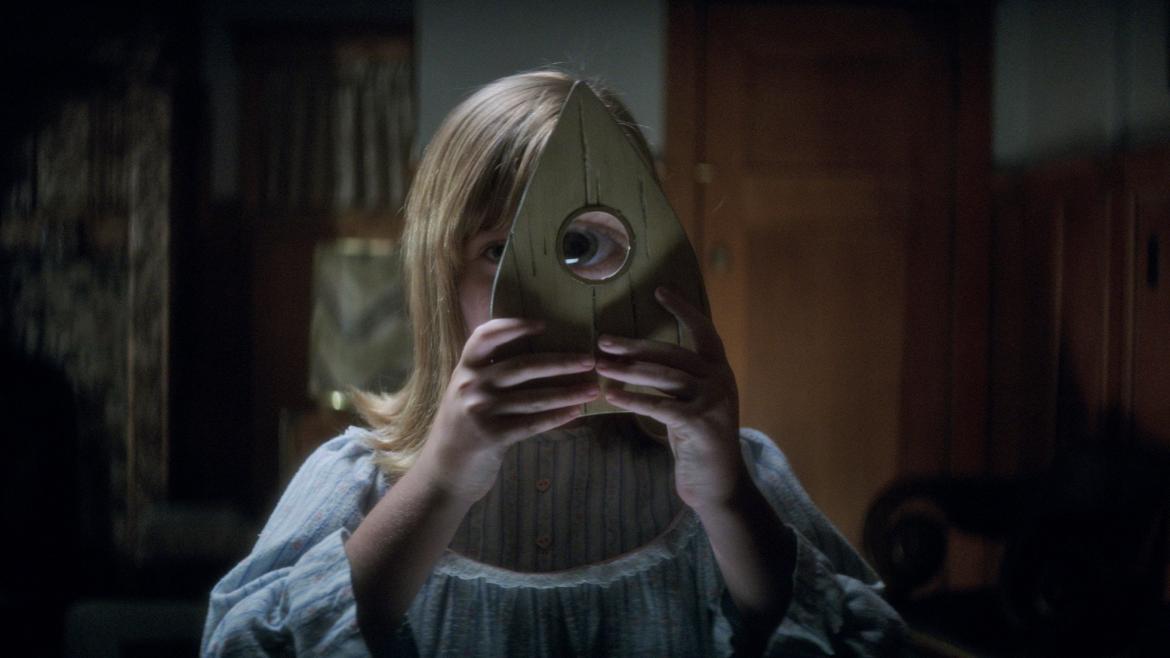 Ouija: Origin of Evil (Movie Review)
It's World Series time so here's a seasonally-appropriate analogy for Ouija: Origin of Evil. During its first trip to the plate, the Ouija franchise left its bat in the dugout and eventually struck out on three pitches. Or so many critics say. Some of us may have "missed" it due to the uninspiring trailer and poor word of mouth. So it's a bit of a surprise when, during its second at bat, the Ouija franchise suddenly crushes a home run.
In baseball, such a change might get chalked up to good coaching – and perhaps something more nefarious. In this case, the credit goes to a near-total overhaul of the cast and crew. In comes the excellent duo of writer/director/editor Mike Flanagan and his writing partner Jeff Howard. In comes an almost totally new cast. These changes give us a movie that is infinitely scarier and more emotionally-resonant than either its predecessor's reviews or its "scary trip through a board game factory" title would indicate.
The origin story here isn't that of the game, but rather the stitched-mouth ghost girl from the first film. To tell that story, Flanagan and Howard take us back to the mid 1960's where we meet phony psychic Alice Zander (Elizabeth Reaser) and her two daughters: boundary-pushing teen Lina (Annalise Basso) and cutie-pie-turned-actual-psychic-turned-monster Doris (Lulu Wilson).
In true Flanagan/Howard fashion, the initial source of the Zanders' torment isn't supernatural. Even as she, in her mind, brings comfort to others by pretending to connect them to their lost loved ones, Alice struggles with grief over the loss of her husband. When an Ouija board, initially brought into the home as a prop, seems to offer a true connection to him, Alice and Doris dive in. However, Doris can actually do the things Alice has pretended to, and her abilities make her an attractive target to whomever – or whatever – is reaching out to them.
Ouija: Origin of Evil is very reminiscent of an earlier Flanagan/Howard effort, 2013's Oculus, and not just because of the glassy-eyed spirits. In Origin of Evil, grief – in terms of what it can make people do and what it can make them ignore – and tragic familial breakdowns are again central to the story. The skill with which Flanagan and Howard weave these threads into a movie about a board game is matched only by the performances of the three ladies who make the threat feel substantial.
In his roles as director and editor, Flanagan again shows off his ability to bring the spooky. Some scares he builds up to slowly, while others he tosses out with a wicked nonchalance, like eerily contorted faces lurking in the background or smash-cutting to a demon enjoying TV as only a demon could.
Ouija: Origin of Evil is by no means perfect. It feels like it's stalling at times or at least belaboring points that don't require it. Considering this franchise's own origin story, that's not a huge complaint. Mostly, this is a nerve-wracking ghost prequel with a shockingly strong heartbeat that deftly calls to mind many supernatural tales that came before.