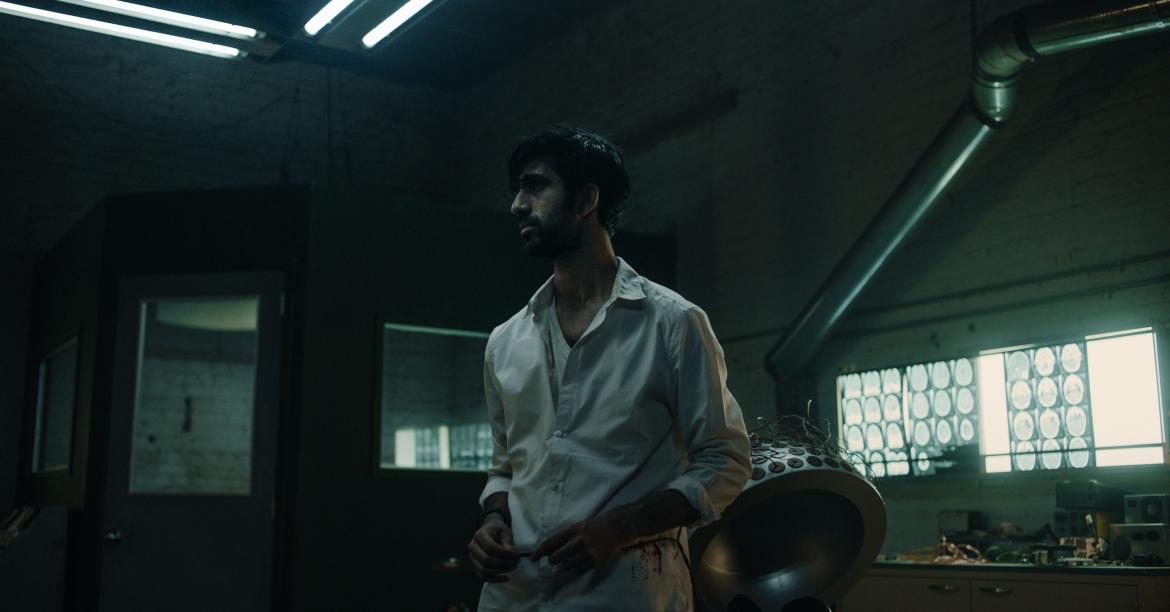 Minor Premise (Fantasia Film Festival) (Movie Review)
Editor's Note: Bloody Good Horror returns to the Fantasia International Film Festival to review some of the fest's 2020 virtual offerings. We would like to thank Fantasia for allowing us access to review these films.
---
Minor Premise, the feature directorial debut from producer Eric Shultz, is a heady science fiction, mad scientist story. The tug-of-war of cerebral ideas and coherent cinema are a tricky beast for a first time director to tame and Shultz mostly pulls it off, though it's intellectual nature is a bit abrasive.
Determined to escape his father's shadow, Ethan (Sathya Sridharan) begins using himself as the focus of a dangerous experiment. Utilizing a prototype machine meant to pull and extract memories, Ethan believes he can isolate the areas of the brain responsible for human behavior and thus find a way to remove negative behavior or traumatic experiences to improve one's quality of life. In the process, Ethan instead pits 10 fragments of his consciousness against one another which threatens to tear the troubled scientist apart for good.
The high concept premise essentially finds Ethan as both protagonist and antagonist. His experiment causes the 10 areas of his brain to function for 6 minutes at a time every hour. Cinematically this sets up a showcase for Sridharan to show the audience what he's got. All areas of the brain coalescing together is what makes us, us. Those traits separated are exaggerated and so Sridharan's performance is actually 10 characters rolled into one actor, each with their own identifying energy—some subtle, others not so much (looking at you, Libido). What makes Ethan a complicated anti-hero is that he's fighting to restore his better self against the more carnal and destructive aspects of his brain.
Minor Premise is an ambitious mind bending sci fi drama/thriller that uses detailed and complicated machinations to create a narrative that's a struggle to pin down scientifically, but feels naturalistic in its presentation. Beyond the science, the film is exploring themes of control (or lack thereof) and accepting one's self, flaws and all. There likely isn't a human on Earth that wouldn't want to be able to isolate their fears and insecurities and get rid of them for good. However, what Shultz presents is that those characteristics are what make us who we are and once we come to terms with those we can be better versions of that self. Not exactly a singular position to take, but it's the heightened premise and execution that makes it unique.
Minor Premise is a cerebral mind bender that for better or worse comes across as being smarter than its audience. The scientifically charged script is loaded with all the energy of a caffeinated and coked up mental patient. Minor Premise's twitchy energy makes it at least one science lecture you won't fall asleep in.
Screened as part of the 2020 Fantasia Film Festival.