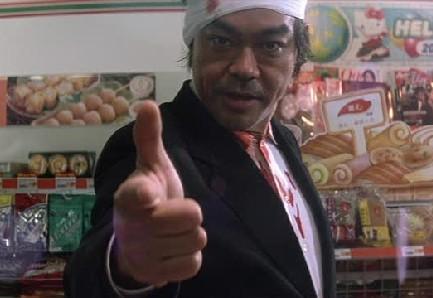 Mad Detective (Movie Review)
On the whole, police procedural dramas, be they for theater or television, bore me. I've never been a huge fan of "CSI" or its unruly stable of half-hearted knock-offs, and while I can appreciate the unpredictable nature of "Law & Order," it's never been a show I would seek out on my own. Movies tend to fare worse than their small screen counterparts; unless something new and original is being delivered to the proverbial table, there's a very slim possibility that my attention will be held firmly in its cinematic grasp. From what I've been told, I'm in the minority on this one.
Johnnie To and Ka-Fai Wai's 2009 murder mystery "Mad Detective" (aka "Sun taam"), on the other hand, is the sort of quirky, off-beat crime saga that appears to have been tailor made for my highly unusual tastes. The filmmakers have taken an extremely familiar setup and stylishly slapped a unique coat of paint all over it, thereby disguising its simplistic origins from individuals like myself who often balk at movies which use the same formula over and over again. It's briskly paced, it's funny, it's surprising -- in other words, this isn't your typical procedural thriller.
The film opens with eccentric inspector Chan Kwai Bun (Lau Ching Wan) literally throwing himself head-first into yet another complex murder investigation, a case which he promptly solves by viciously assaulting a pig corpse and then tossing himself down several flights of stairs inside a suitcase. His victory, however, is abruptly cut short when he slices off his own ear as a present for his retiring boss. It's not really surprising that this ghastly event gets him dishonorably booted from the police force.
Five years later, Bun is asked to assist fledgling detective Ho Ka On (Andy On) with a particularly perplexing case involving a missing cop, his missing gun, and a string of armed robberies, the latter of which resulted in the deaths of several security guards and a sales clerk. Despite urgings from his wife, Bun reluctantly accepts the mission, once again utilizing his unique abilities to decipher the pending mystery. As the plot thickens and Bun's unusual behavior becomes more of a burden than a blessing, the young officer must decide who believes more: the unstable detective, or the man they suspect of murder.
It's fairly easy to figure out whos, the whys, and the hows in "Mad Detective" -- the experience is more focused on the journey than the destination. It's much like "Columbo" in that regard; it's obvious who the culprit is, but your overall enjoyable is derived from watching the detective -- in the case, one who has the ability to see an individual's "inner personality -- connect the dots in their own weird way. It helps matters considerably that Lau Chang Wan is fun to watch, especially when the movie takes a few moments to explore the lighter side of this otherwise dreary situation.
To and Wai's direction, meanwhile, is top-notch, and their pacing couldn't be smarter. There are no superfluous scenes here; the film is lean, mean, and quick, though never chaotic or hard to follow. The two directors play well off one another, and the marriage of styles is never an issue or a hindrance. To, of course, brings his patented, tried-and-true brand of "policemen in peril" intensity to the project, while Wai infuses the script with a bit of the supernatural. The word "seamless" occasionally springs to mind. Зрелые дамы сношаются лучше всех. Эти милашки просто созданы для интимных забав. О том, как сношаются знойные мамки порно повествует во всех подробностях, откровенно. Это стоит внимания зрителей.
"Mad Detective" is easily one of the sharpest Hong Kong thrillers of the last ten years. I experienced and same mixture emotions I did after watching David Fincher's genre-defining masterpiece "Seven" for the first time, a set of feelings I've been looking to reconnect with for quite some time now. Veteran directors To and Wai blend their sensibilities with expert craftsmanship, allowing stars Andy To and Lau Chang Wan to infect their respective characters with a believability rarely seen in films of this nature. Were it not for a few minor hiccups towards the end of the picture, I wouldn't have had a negative complaint to record. Here's hoping the upcoming American remake will do the film justice.