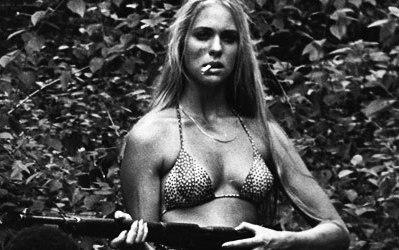 Machete Maidens Unleashed (Movie Review)
Mark Hartley probably has more fun making documentaries than anyone else working in that medium. It all comes down to subject matter. In his first film "Not Quite Hollywood" Hartley and crew tackled the grimy Aussie genre films of the 1970's and 80's and in their latest they highlight similar films made in the Philippines during the 60's, 70's, and 80's. These films never quite reached the artistic level of the best exploitation flicks from Australia or even those from U.S., but they did have the requisite sleaze to carve out a little drive-in space in middle-America. Fortunately for fans of such fare, Mark Hartley not only possesses a passion for this kind of subject matter his penchant for research and his music video pedigree form the perfect tool belt for creating a historical document about movies that were filled to bursting with cartoon violence and nude babes in peril.
"Machete Maidens Unleashed" starts from the beginning, documenting the odd, early marriage of ex-pat American producers and actors and hungry young Filipino directors ready to make a mark in world cinema. From the outset the draw of the sultry island empire for filmmakers was the ability to make films quickly and cheaply without union, governmental, or studio interference. The first films from the Philippines to find a home in dive theatres and drive-ins across the U.S did well enough that the king of fast and cheap, Roger Corman decided to set up shop there. Corman's crew cranked them out as fast as humanly possible; always compromising quality and often endangering life and limb. Horror, Women in Prison, Midget Spy movies and Blaxploitation were all highly successful subjects for Corman and his battery of native born helmsman. Eventually volatile political climates and diminishing box office returns following the home video revolution sank this cash cow neck deep in jungle quicksand. But what is clear from this documentary is that while it lasted, this industry was a full-tilt carnival ride that could only have existed in that place at that time.
If you saw and enjoyed "Not Quite Hollywood" then you should have a pretty good idea what you are in store for with "Machete Maidens Unleashed". The first half of the film is a rapid riff, and while it follows a basic chronology it makes plenty of allowances for humorous asides. Hartley draws in an impressive group of experts and accomplices. The late R. Lee Ermey, Joe Dante, Sid Haig, Pam Grier, Colleen Camp, Jayne Kennedy and show stopper John Landis join many others in a manic memory parade. Hartley doesn't only draw the enthusiasm from his talking heads he uses witty and titty editorial choices to keep up the machine gun pacing well past the 45 minute mark.
The only area of drag on this whole lusty jungle adventure is the passage about the production of "Apocalypse Now". Though it marks the biggest and most significant moment of film production in the Philippines it seems a bit of stretch to try and put it cheek by jowl with the other films being discussed. That said the segment contains enough amusing anecdotes and interesting participant impressions that the target audience of 'Machete Maidens', namely film geeks, likely won't mind sidetracking on one of the greatest American films ever made.
The side track is not completely unmotivated. The thing that 'Apocalypse' shares with many of these films is the role that Dictator Ferdinand Marcos and his military played in getting things done. This subject along with a lively, well-constructed discussion on the suspect feminist qualities of these booby epics add some much needed context and criticism to the celebration. Without these more probing passages "Machete Maidens Unleashed" might have just seemed like a party retrospective that could only serve to whet the appetites of the cinematically intrepid to seek out some of these outlandish films. Another considerable strength here is that Hartley knows when and where to cut bait. The film clocks in at 84 minutes and uses almost every bit of that time in an entertaining way. If you are partial to a more sober-minded documentary, one without a parade of handsome females jiggling for their art, then this may not float your boat. If, on the other hand, you are a bit of a film geek like me and or you just want to see a lot of shapely breasts and bad monsters then you will scarcely do better than "Machete Maidens Unleashed". Hartley obviously had a blast making this and odds are you'll do the same watching it.