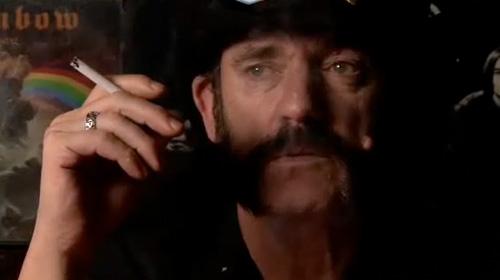 Lemmy (Movie Review)
Lemmy. The name alone invokes the stereotype of the man himself. His image is ubiquitous; the cowboy hat, the leather boots, the Marlboro reds, the swaggering visage.
Lemmy. One of the Fathers of Metal. A lifelong legacy of unflinching dedication to rock and roll. A pillar of the music community since the heady days of Hawkwind. An archetype unto himself. Lemmy isn't "like" anyone. Rather, people try to be "like" him. They usually fall short.
Lemmy. As Lars Ulrich is quick to point out in this new documentary, the name itself "should be a verb."
Greg Olliver and Wes Orshoski went to great trouble over a reported period of years to follow Lemmy Kilmister and plainly document his life. The resultant product, "Lemmy: 49% Motherfucker, 51% Son of a Bitch" is a clear, lucid portrait of a man that many revere as a low level deity.
The documentary is set during the recording and producing of 2008's Motörhead studio album "Motörizer," and follows Lemmy about on his various adventures while allowing others to speak for and about the central figure.
What is revealed is the image of a singularly uncomplicated man, who would prefer not to talk about himself altogether too much. Others who make cameos in the documentary such as Dee Snider, Scott Ian or Nikki Six speak to the high rafters about how Lemmy defies convention, makes his own rules, shapes modern music and is in general regarded as one of the world's most formidable badasses.
Cameos in the documentary like Steve Vai, Ozzy Osbourne and Joan Jett give lengthy testimonials concerning Lemmy's natural and unthinking defiance of standard practice or the opinion of others. In layman's terms, they laud Lemmy for simply not caring what anyone else thinks about him. Yet, the reverence afforded Lemmy is circular in its ironic nature. Musicians and people in the music universe lionize Lemmy for his ability to be unconcerned with other opinions, while he likely doesn't care much about theirs either.
Curiously enough, more often that not, the actions that we see Lemmy partake in are in stark contrast to that standard. He plays video games, loves the Rainbow Bar trivia game and will take a minute to talk to anyone who wants to talk, or take a picture with anyone who asks. The bartenders at the Rainbow speak of him almost as an old family member; they call him personable and use other adjectives that aren't normally associated with the conventional badass. Dave Vanian of The Damned spins a story about Lemmy's fascination with "one-armed bandits." Indeed, we see Lemmy in Las Vegas playing the dollar slots two at a time with pacified eyes.
The documentary does an outstanding job of portraying Lemmy as the most irregular regular guy you could ever want to meet. His rebellious image is simply that; an illusory image. Lemmy successfully projects the rebel stereotype more because he *isn't* trying to be a rebel than many who build their entire life around that falsehood. Lemmy isn't living an image, he's simply living.
There is a singular scene in the documentary that catches Lemmy as his most candid and while nothing shocking is revealed at a result, the true essence of Lemmy is on full display. We see him in a recording studio flanked by Dave Grohl as they record a cover of Chuck Berry's "Run Rudolph Run." Previously in the film, we see Lemmy define the Beatles as the most important and best band ever, while he believes that Little Richard is the greatest vocalist in the early days of rock and roll. After a recording session, the duo of Lemmy and Grohl are lounging around, just plain bullshitting about those same topics, with Lemmy, a subtle tone of admiration in his voice, making the same arguments again and sounding exactly like a fan.
We see throughout the documentary that Lemmy is a man dedicated to his core values of music; he tells a caller on "Loveline" that his greatest musical influences are the same now as when he was young. His fandom for rockabilly, country and rock alike are all folded into his persona.
There are only two moments where we see even a slight dent in the armor of Lemmy's countenance. The first comes amidst the stories of his drinking prowess, as Jim "Reverend Horton Heat" Heath explains how trying to keep up with Lemmy more or less resulted in alcohol poisoning, while others talk about Lemmy passing around bottles of Jack Daniels like they were bottles of beer. There is a quick cut to Lemmy himself, where he clearly has been asked a question about his hearty (to turn a phrase,) lifestyle and he responds quietly: "I don't want to advertise a lifestyle that killed a lot of my friends."
The second moment comes late in the documentary, as Lemmy's son Paul tells a story about his dad losing a sweetheart at age 17 to a heroin overdose. Phil surmises that Lemmy may have never gotten over it, and that that incident may have contributed to his father's gruff exterior. Lemmy, when asked, largely discounts the effect the story had on him and imparts sophical wisdom about the relationships of men and women. But watch his eyes while he gives his answer. Lemmy will not look at the man off camera who has put the question to him. He makes direct eye contact in every other instance, but not in this one. It's an interesting conundrum that Lemmy puts himself in, as he earlier tells the fan on "Lovelive" that events influence you more in your teen years. Yet here he tries to deny that claim concerning his departed girlfriend.
"Lemmy" does an excellent job of telling Lemmy's story without superlatives. Oliver and Orshoski go to great lengths to simply show the man as he is, which speaks to the power of his very presence. The cameos are well placed and allow other friends and musicians to fill in the gaps that Lemmy doesn't talk about himself. Throw in a few amazing anecdotes and stories both new and old, and the viewer is given a complete tapestry from which the picture of Lemmy Kilmister's fascinating life becomes clear.
There are a couple of flaws to be aware of. First is that the filmmakers showcase a borderline creepy interest in Lemmy's love life, past and present. Though they never go into detail (and thank God for that,) there are more conversations about Lemmy's thoughts on love and lust than there are on Motörhead's Guiness-record-setting loudness.
The lack of screen time devoted to Phil Campbell and Mikkey Dee is curious. I know that they also questioned it in interviews after the documentary began screening, and their concern is valid. When painting a complete portrait of Lemmy, who would know him better than the two men who have spent the most time with him over the past two decades? While the documentary doesn't necessarily suffer from their absence, their insight, if offered, may have given a deeper look into the man Lemmy is in everyday life, deeper even than the very candid remarks of the Motörhead road crew.
The lasting image of "Lemmy" is during a sound check, when the viewer sees Dee walking away from the Marshall stacks while protecting his ears with his hands. There, behind him, Lemmy stands defiantly in the face of the sound, playing away and letting the noise wash over him. Just as so many others are quick to point out how Lemmy defies convention, we see him in that fleeting shot defying nearly everything, including the sheer force of music itself.
It is fitting that out of all the cameos and all the stories, known Lemmy disciple James Hetfield is given the final comment. He says: "I don't know how old he is, and I don't care. He could be a hundred years old. The fact that he's up there still doing it is an absolute inspiration for us. We got nothing to complain about, and everything to look forward to."
Such is the legacy of Lemmy Kilmister.