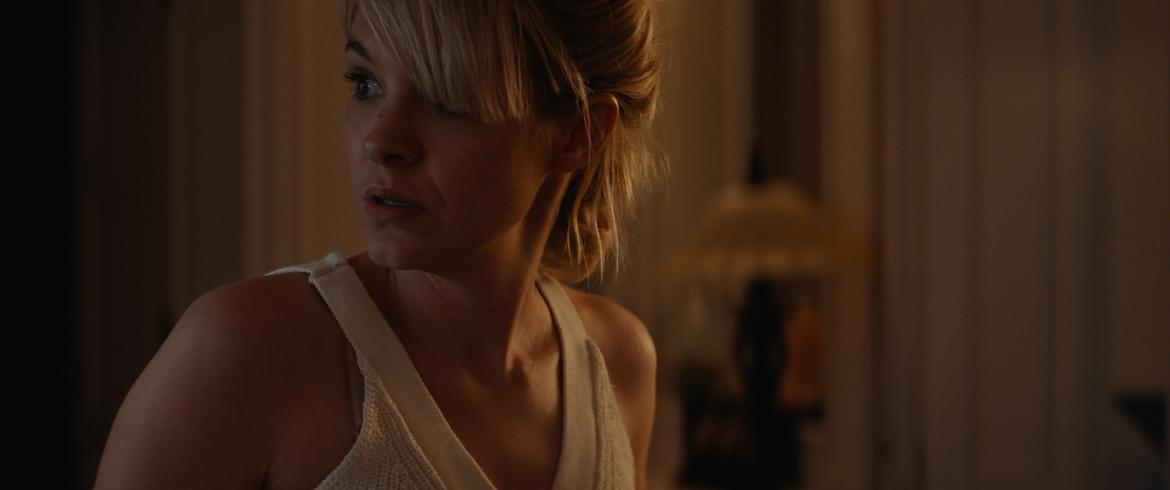 Lucky (Movie Review)
Editor's Note: Bloody Good Horror returns to the Fantasia International Film Festival to review some of the fest's 2020 virtual offerings. We would like to thank Fantasia for allowing us access to review these films.
---
Brea Grant has acting credits stretching back to 2007 but her work over the last couple years may endear her to genre fans for years to come. As Abby in the spectacular After Midnight, Grant was able to craft a lived-in performance in spite of spending most of the film as a memory. Now in 2020, Grant is premiering her new directorial feature 12 Hour Shift at Fantasia alongside Natasha Kermani's Lucky which she also wrote and stars in. Heavy on metaphor, Lucky is a timely film and a fresh take on the modern slasher.
Grant stars as May, a self help author working extremely hard to secure a deal on her sophomore book. One night a masked stranger breaks into her home and tries to kill May and her husband, Ted (Dhruv Uday Singh). A struggle ensues and the intruder is seemingly killed but then mysteriously vanishes. Naturally shaken, May is thrown off by everyone's nonchalant reactions to the events, especially her husband's. He tells her this has been happening every night and that it's "just the way things are now." Sure enough, the killer returns day after day, showing no signs of injury from any previous encounter as his attacks escalate. With no one taking her seriously, May realizes she must take matters into her own hands if she's to survive.
What starts as a home invasion thriller quickly evolves into something more complicated. Grant's surreal writing style presents a world just slightly off center. Audiences are left to decipher if they're in the midst of a supernatural/sci-fi premise or if there's something else at play. Then all the pieces slide into place and Grant's canvas is a bit more clear. The facade of what we are witnessing slowly crumbles in each scene as the characters devolve from facsimiles of real people into metaphorical representations of societal scale.
The discourse surrounding Lucky will likely revolve around what the film is saying. Though it doesn't ever quite get around to finding a cathartic release for its message, this is an extremely interesting and ambitious way to vent the rage of being a woman in patriarchal society. The film is focusing on the dangers women face on a day to day basis, being attacked in their homes and on the street, how they aren't taken seriously by their spouses, authority figures or in the workplace. If you hadn't caught on by the finale, the layers are completely peeled away as Kermani and Grant lay them out so as not to leave any stone unturned.
Brea Grant owns the screen in Lucky and Natasha Kermani's direction gives the script exactly what it needs to thrive on screen. While Lucky's broad ambitions may prove a bit too on the nose for many, it is still a sleek and inventive pseudo slasher that cuts deep and in all the right places.
Screened as part of the 2020 Fantasia Film Festival.