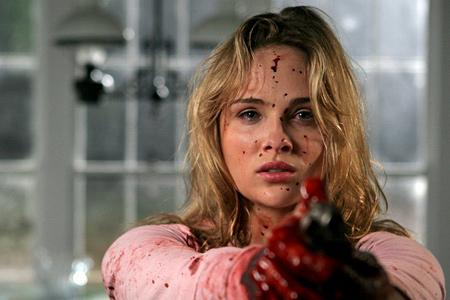 Kill Theory (Movie Review)
My cinematic adventure through the ingloriously wonky world of the After Dark Horrorfest has been interesting, if nothing else. Overall, I've been pretty disappointed with this year's line-up, with only three out of the eight being worthy of recommendation. Even with lowered expectations, I couldn't figuratively stomach the majority of the presented features, which may ultimately say more about my increasingly peculiar taste in film than anything else. Then again, what did I really expect from a distributor that frequently bestows worldwide distribution upon some of the worst drek the genre has ever witnessed? Silly me for giving them the benefit of the doubt once again.
Hot shot Hollywood producer Chris Moore's 2009 directorial debut "Kill Theory" is an interesting way to wrap up the series. I purposely saved this particular pelicula for last, as it looked to be the most ill-fated and hopelessly generic pickle in the jar. Not surprisingly, my sardonic assessment wasn't too far off the mark, though I must admit that the picture was a bit more entertaining than I'd anticipated. The premise is tired, yes, but Moore seems to understand this, injecting his familiar concept with an abundance of gore and a handful of mean-spirited surprises. You're probably just as shocked as I am.
Stop me if you've heard this before: A group of college kids journey to a secluded house in the woods for some much-needed sex, alcohol, and relaxation. Unfortunately, their isolated holiday soon turns into an evening of unspeakable terror when they're forced to cater to the homicidal whims of a demented madman. Unless these close-knit friends savagely murder one another by six in the morning, this highly unstable puppet master will murder all of them without a hint of humanistic hesitation. As these pampered twenty-somethings scamper to find a way out of this potentially bloody predicament, they quickly discover that their friendships may not be as strong as they once believed.
Given that Moore has been in the movie business for quite some time now -- he did, after all, produce "Reindeer Games" -- you'd think he'd know better than to churn out a motion picture as tepid and predictable as "Kill Theory". He has, essentially, borrowed every slasher convention employed in the past five years and crammed them all into one breezy 85-minute jaunt into genre predictability. The only element that's even remotely original is the pecking order; attempting to decipher who will die next keeps you watching even when the story has effectively run its course. The frequent and abundant gore is welcomed, especially if you take pleasure in watching a small collection of douche bags bleed to death.
Since likeable characters are few and far between, some of your time will be spent waiting impatiently for these shallow, two-dimensional characters to meet their maker in a variety of grisly ways. The cast does an admirable job of making you violently hate them with every fiber of your being, even when their actions gravitate away from unchecked narcissism. Since satisfaction is derived purely from these cruel and unusual encounters, those looking for depth and meaning should look elsewhere for entertainment. On the other hand, those who prefer to watching dead horses being flogged should have nothing to complain about.
"Kill Theory" isn't the worst entry in the latest round of After Dark releases, but it's certainly not the best. The film rests comfortably in that shaky middle ground between "mildly entertaining time-waster" and "I can't believe I watched the whole thing without falling asleep". Moore isn't the world's worst director, though I wouldn't suggest that he quit his lucrative day job anytime soon. As far as slashers go, it's honestly not that bad, and if you're just in the mood to watch a gaggle of morons whine and cry and kill, you could certainly do worse. Fans of depth, quality, and originality, I'm afraid, will have nothing to do but stare at Taryn Manning. Good luck with that.