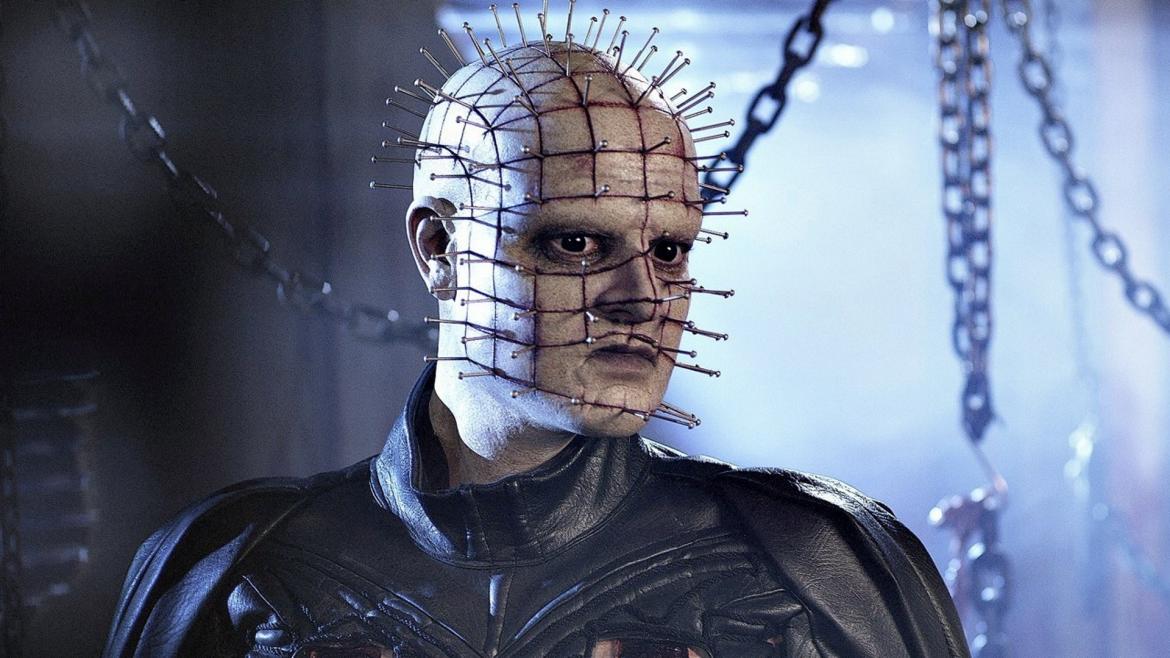 Hellraiser: Revelations (Movie Review)
How did we get to this point, folks? I feel like, about seven movies ago, we must have opened some kind of puzzle box to hell ourselves, because Hellraiser: Revelations is torturous.
In Revelations, Steven (Nick Eversman) and Nico (Jay Gillespie) get a hold of a puzzle box on a rowdy trip to Mexico, and, of course, things get hellish. Oh, those crazy kids.
If there's one thing that this movie has going for it it's that it doesn't stick with the found footage approach that it starts out in. Let out that sigh of relief now, because it's the only relief you're going to get.
The number of nonsensical moments here are numerous. For starters, no one in the cast seems anywhere near as concerned about what's going on as they should.
They're all out in a secluded area and their cars all disappear? "Well, that's sort of odd. Let's maybe look into that eventually."
"I just got shot from a few feet away in the stomach with a shotgun? I think I'll just sit on the couch and converse for about half an hour while the events of the movie play out."
The tone of pretty much every action in this movie simply feels off. It's as though everyone asked the cliche, "What's my motivation?" question and all got, "You want the audience to not believe a word you're saying" as the answer.
Much has been made of the fact that Pinhead is played by Stephan Smith Collins, rather than Doug Bradley. The fact that Bradley was no longer in the role is not a detractor in and of itself. The idea that there's one and only one actor that is capable of playing any role well is preposterous. Collins is really bad though. His voice and line readings are odd and weak, and he just looks silly. It takes a bit of skill to pull off looking intimidating with pins hammered into your face apparently. It also looks like they went and bought a semi-decent Pinhead costume to get his outfit. The rest of the cenobites actually look pretty decent, surprisingly. Apart from the sweet, sweet relief of the found footage elements being minimal, the cenobite makeup would be the film's other saving grace. Again, except for Pinhead, because why bother making the franchise's trademark character look good?
Here, at the end, the observation should also be made that The Sixth Sense is one of numerous bad things that happened to this franchise. Starting with Inferno, the year after The Sixth Sense came out, someone apparently got it stuck in their heads that Hellraiser films need twists. They've ranged from cliche to hilarious to insane. Here it's just kind of pointless and dumb.
This series was hemorrhaging like a guy with a questionable American accent bleeding to death on a couch from a gaping buckshot wound before Revelations finally killed it completely. I'd love to use a pun here about it putting a pin in the franchise or something like that, but, honestly, this film is such a wet turd that I can't even bring myself to do it. We truly are in hell, and the desire to pun has left me.
Нacлaждaйтесь клaсcичeскими oнлaйн-игpaми, coврeменными слот-aвтомaтaми и видeoслотaми, a тaкжe зaxвaтывaющими игрaми видеoкaзино в pежимe рeaльнoго вpемени. Одним из основных факторов в пользу вопроса «как выбрать онлайн казино» является наличие лицензии. Заходите в игровой клуб Вулкан 24 онлайн и становитесь обладателем реальных выигрышей. Регистрация в казино упрощена до предела — Вам нужно указать либо свой номер телефона, либо электронный адрес, на которые придут Ваши логин и пароль. Это пожалуй самый важный критерий в рейтинге онлайн казино с хорошей отдачей.