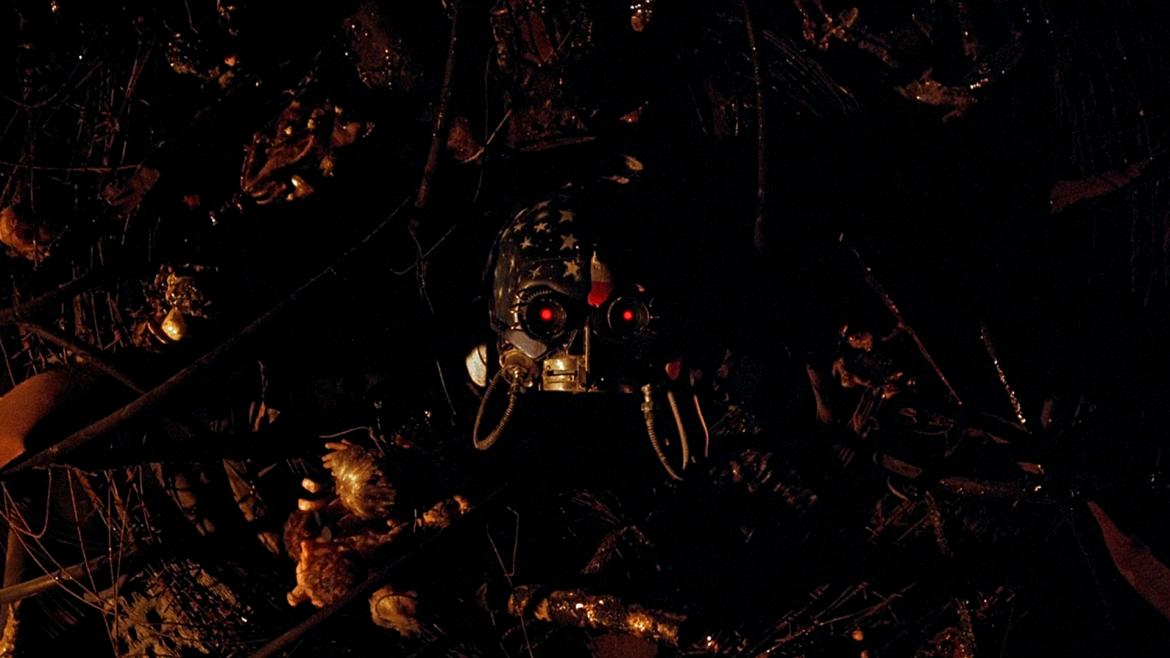 Hardware (Movie Review)
Hardware is an intriguing bit of 90s dystopian horror. In the film, Moses (Dylan McDermott, who apparently doesn't age) gets by in this post-apocalyptic world by scavenging in the irradiated wastelands. He brings home the remains of an experimental cyborg to his artist girlfriend, Jill (Stacey Travis), and it turns out that the cyborg isn't quite as non-functional as he's assumed.
One of Hardware's strengths is the vivid world that it builds. It's rare to see this level of thought put into a film world that doesn't involve hobbits, especially when it comes to horror, unless that world is pivotal for the main thrust of the story. Zombie-fied post-apocalyptic world? You'd better believe that the zombies are going to be the focus of that story. Here, however, the filmmakers have built this sprawling, dystopian, toxic world for our characters to inhabit, and they could have gotten away with doing much less, considering the fact that the main plot revolves around Jill being stalked in her apartment by the M.A.R.K. 13 cyborg. The backdrop isn't pointless however, as the various characters are all affected by their surroundings in ways that inform how they deal with the events of the film. Jill comes across as rather fatalistic, for example, when discussing the government's new anti-procreation laws, which provides insight into some of her actions late in the film. While these efforts do give the film a depth that keeps its slow burn pace from dragging, there are some elements that seem just a little too unrelated for their own good, such as the peeping Tom that ends up amounting to little more than cannon fodder. The cyborg itself is effective as far as early 90s movie robots go.
Stanley directed a number of music videos prior to making Hardware, and that experience shows. Hardware plays out like an extended music video that would have been fitting for any number of late 80s/early 90s industrial bands. In fact, there are a number of ties in the film to industrial and rock music in general, such as a cameo from Lemmy from Motorhead and a radio voice-over by Iggy Pop. In many instances, the flourishes that Stanley uses would lead to a film being incoherent. Перейти поиграть в игровые автоматы https://vulkanoriginal-club.com/ можно по этой ссылке. Here they add to the trippy cyberpunk aesthetic.
Richard Stanley is one of those names that often crop up on lists of filmmakers that genre fans wish were more prolific. Dust Devil is also an outstanding film, but we haven't gotten much since then to indicate how he'd have developed as a filmmaker. Hardware is definitely a product of its time, but not in a way that hasn't aged well, even at 25 years old. It's hard to disagree with the assessment that it's a loss that Stanley hasn't built a deeper filmography for us to enjoy.