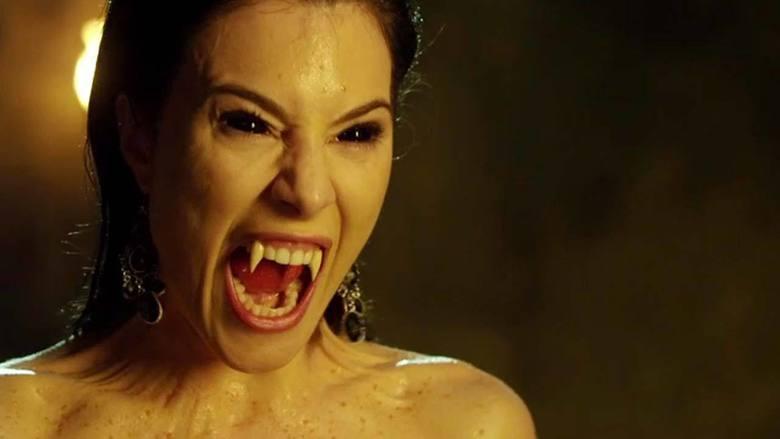 Fright Night 2 (Movie Review)
The original Fright Night, released in 1985, is a horror classic, and it spawned a sequel in 1988. The sequel found Fright Night's protagonist, Charley Brewster, moving on from high school to college, this time battling a female vampire rather than Chris Sarandon's Jerry Dandridge. The inevitable Fright Night remake came along in 2011. Though not much of a financial success, a good cast including Anton Yelchin, Toni Collette, Colin Farrell, and David Tennant ensured that it was a reasonable successor to the story from twenty-six years before. Two years later, Fright Night 2 arrived as a direct to video remake. It's surprisingly decent.

This particular remake is a bit of a mix of the 1985, 1988, and 2011 films. As should come as no surprise, none of the cast from the 2011 movie returns. The filmmakers seem to ignore that film entirely, and it doesn't appear to exist in this universe. Charley (played by Will Payne), his buddy Evil Ed (Chris Waller), and Charley's former girlfriend Amy (Sacha Parkinson) have gone on some type of student trip to Romania to take college courses. It's unclear if they are actual college students or kids in high school, but the chaperone who routinely nags them about being in class on-time leads the viewer to think they aren't actual college students.

Charley's gorgeous art professor, Gerri Dandridge, just happens to be a vampire, and not just your run-of-the-mill bloodsucker; she's the legendary Elizabeth Bathory who bathes in blood to maintain her youth. Naturally, Charley figures this out and has to stop her.

One major difference between the 1988 and 2013 Fright Night 2 is that the latter includes Evil Ed. Unfortunately, this version of Ed is a pale imitation of the nerdy, lovable loser portrayed by Stephen Geoffreys. 2013 Ed is just kind of a dick, and there is no real indication during the course of the movie as to why Charley even hangs out with him.

Peter Vincent is similarly disappointing. It's hard to beat Roddy McDowall's brilliant late night horror host, and the modern reinterpretation doesn't even come close. Vincent is presented as a douchey host of a Ghost Hunter's type program. It makes sense for today's audience as horror hosts are all but non existent, but the character lacks any flair or charisma.

Fright Night 2 does have some positives. It's a great-looking flick. Romania has become an attractive filming location due to low cost and incentives. The movie was likely shot there to save money, but the cobblestone streets and gothic architecture provide a perfect backdrop, and the cinematography is good. Also, the acting from a group of unknowns - I didn't recognize a single actor - is fine across the board.

If you're a Fright Night fan from way back, you probably won't hate this remake/reimagining/sequel. If you've never seen the two '80s versions, track them down; they're a whole lot of fun. And while this latest installment is not of the same caliber as what came before, there's much worse fare haunting Netflix queues.