Clinical (Movie Review)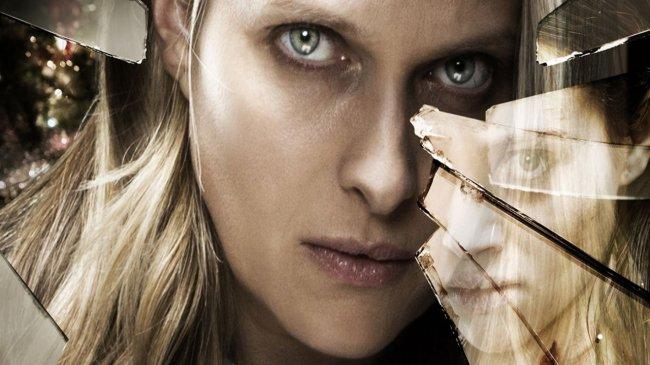 Netflix enjoyed a pretty impressive run of original releases throughout 2016 with titles like Hush, Mercy, I Am the Pretty Thing That Lives in the House and Spectral. They've wasted no time in jumping back into the pool with their latest release, Clinical, which sees the world's largest streaming platform stumbling out of the gate at the start of 2017. It's not as if Alistair Legrand's followup to The Diabolical is going to make you cancel your subscription or anything, but Clinical is essentially the "okayest" Netflix Original horror flick released so far--and there's not a lot of referral power behind that.
It takes some doing to make the sultry glare of Vinessa Shaw as cold and plain as she is here in the lead role. Shaw plays a psychiatrist, Jane, who once specialized in dealing with trauma victims until she herself suffers a traumatic attack by one of her patients, Nora (India Eisley). In one of the movie's most vicious scenes Nora slices her own arms up with a shard of glass before doing the same to Jane. From then on Legrand and Luke Harvis' storytelling slows way down while using flashbacks and cut aways in attempts to add color to the dull landscape they're laying down.
Two years after the attack Jane too is under the care of a psychiatrist and looking to dip her toes back into her own practice out of her home--never a bad idea. When she takes on a new trauma patient, Alex (Kevin Rahm), under protest by her doctor things slowly spiral out of control. By slowly, I mean we are treated to a number of sessions where Alex breathes heavily while trying to remember his trauma (cause is face is all jacked up, ya know), panics, blacks out, apologizes and leaves, but not before making sure we know he'll be back to do the same thing same time next week. three or four of those in a row and the pace begins to drag with very little outside of a few of Jane's flashbacks to ensure we know that she too is still struggling with her own demons.
Much like The Diabolical, Legrand is not shy in letting us know he's got some style, but its his storytelling along with his cowriter that's in need of some tweaking. The pair wrestle with marginally interesting psychology mumbo jumbo throughout Clinical's entirety, never hitting the sweet spot. As the third act kicks in a series of misplaced and poorly conceived "twists" unfold and even if you weren't expecting them they aren't particularly shocking, but instead expected and thusly...boring. Still, it's Shaw's cold--dare i say, clinical--demeanor that holds the film back. Even if it's by design her aggressive "appearing to be emotionless" and blasé attitude keeps the audience at arms length and lessens the work of her co-star, Rahm. By the end the film feels intensely inconsequential as it cuts to black awkwardly leaving plenty of ineffectual questions right as the "action" was hitting stride.
There's nothing offensively amiss within Legrand's sophomore effort, but throughout it's mildly laborious 90+ minute runtime it's hard to shake how detached it all feels. Like a massively overpaid head doctor Clinical often seems like it's just sedating us into a comfortably passive state long enough to distract from its flaws. Two films in I believe that Legrand has the capacity to create something of consequence, but Clinical still needed some time on that couch to sort out its issues.