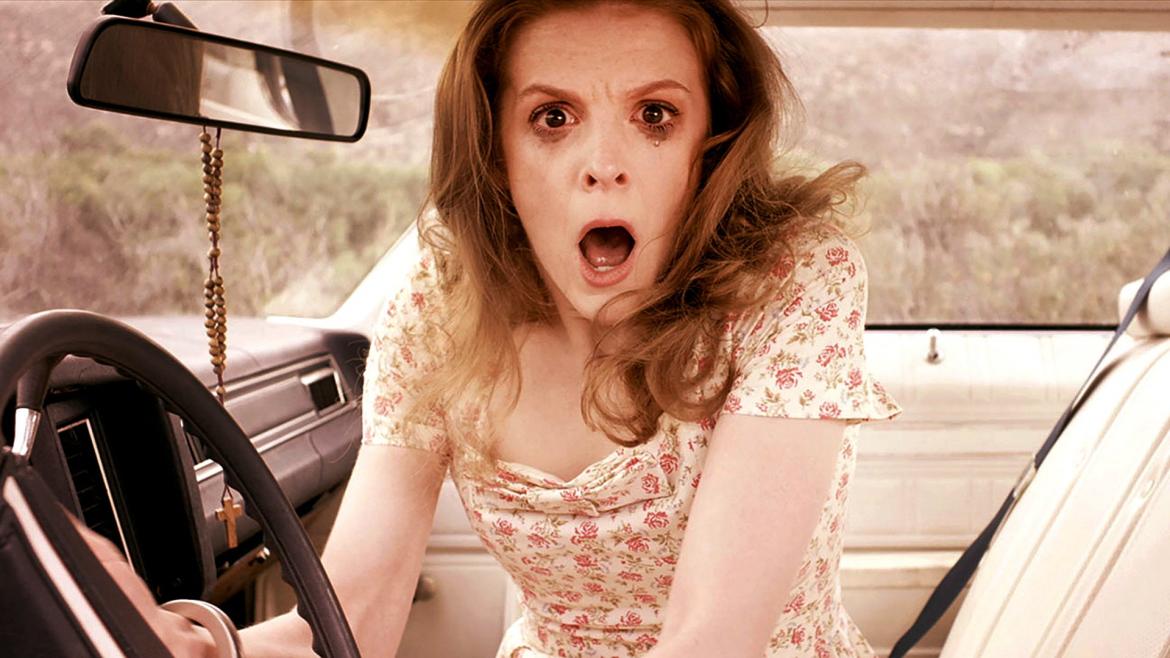 Carnage Park (Movie Review)
Mickey Keating, outside of Steven C. Miller, has got to be one of the busiest genre directors currently working- at least that haven't quite gotten the attention that they are on the cusp of achieving. Keating has filmed and released four movies in the span of three years. Not an impossible feat to be sure especially in the realm of low budget indie cinema, but the span of his work is actually pretty remarkable in its diversity. Keating's latest, Carnage Park, boasts a killer title, two solid genre performers and a rock solid trailer to lure folks in. All signs pointing to Keating moving his chess pieces into position and breaking into the mainstream.
It's 1978 in the middle of the California dessert when Scorpion Joe (James Landry Hebert) and his partner in crime, Lenny (Michael Villar), find themselves on the run from the law after a botched bank robbery with, Vivian (Ashley Bell), as their hostage. Unfortunately for them they luck is about to get even worse as they venture onto the property of Wyatt Moss (Pat Healy), a deranged sniper with a flare for the dramatic and no intention of letting trespassers leave with their appendages- or lives- in tact.
Writing, imagery, and mood. These are all things that Mickey Keating has been dialing in over his last couple of features. Carnage Park finds the filmmaker hitting high points in all three categories before his metaphorical tank hits empty and the film rides fumes to a slow and disappointing end.
Bell, Healy and Hebert all put in a good day's work. Problem is that Keating never lets two-thirds of the trio chew the scenery long enough to confidently carry the last two acts to an explosive finale. Instead as the film plows to its soft midsection Keating never quite finds his footing again. Dialogue is something that the writer/director has been honing over four features and as the dialogue dies down so to does the already thin plot and a lack of anything to be engaged with.
A strong grindhouse vibe help to set the stage through most of the dastardly deeds of the antagonists and protagonists alike, however Keating keeps the bloodshed to a somewhat disappointing minimum. In fact, one might be so inclined to argue that for a film boasting the name Carnage Park that there simply isn't enough carnage. Working on an obviously low budget Keating doesn't fully exploit the dry cavernous landscapes, however the immediacy of the set pieces does work to the film's advantage at times. Budget constraints obviously lend to scenes not finding their logical conclusion, but most importantly the finale which enfolds almost completely in pitch black darkness. Лучшие игровые автоматы на реальные деньги онлайн https://bonusigry.com/kazino-onlajn-na-realnye-dengi/ можно найти, только изучив отзывы других людей. У каждого свои вкусы по поводу слотов, но общее у них есть. Многим нравится ненавязчивая музыка, создающая атмосферу, аккуратный дизайн, тщательная прорисовка. По поводу анимации мнения расходятся: одним нравится, другие считают ее лишней.
With Carnage Park Mickey Keating continues to experiment with his craft. In doing so the filmmaker's unique voice is sometimes lost in the shuffle, while his willingness to adapt in and of itself is character building. Carnage Park may not be his masterpiece- far from it- but it's another noteworthy excerpt in the story of his career.