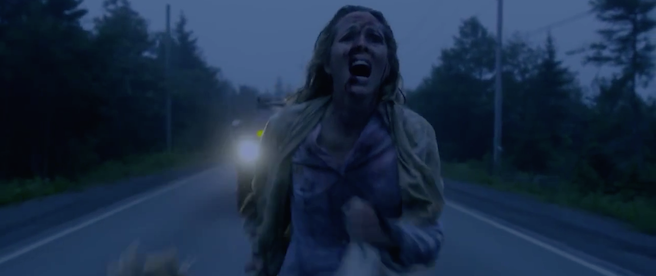 Big Driver (Movie Review)
It's often a debate between Stephen King fans on the quality of adaptations of his work and unfortunately, there is often very little time between these developments or re-visions. Big Driver is one of the more recent productions of a novella from King's grim collection, "Full Dark No Stars."
Tess (Maria Bello, Prisoners) is a popular bestselling author of a series based around a group of older nosey nellies that solve mysteries with their free time. After a meet and greet reading at a book store, Tess takes a scenic short cut home suggested by the book store manager, Ramona (Ann Dowd, The Leftovers.) While on her way home, she experiences a flat tire in the middle of nowhere and due to lack of options, is forced to accept the aid from an overbearing and gruff truck driver (Will Harris, In Time.) Though she is at first grateful for the help, Tess soon realizes he is expecting much more than gratitude for repayment. After he repeatedly rapes and beats her, to what he thinks is her death, he leaves her abandoned in a dilapidated shed. Tess survives her attack and though she returns safely home, she is tormented by the thought of revenge. Consumed by gruesome flashbacks and terror, Tess sets out to exact and brutal justice on her assailant.
For a film backed by Lifetime, a network that is notorious for funding "C-rate," sometimes watchable content, Big Driver is quite a step up. Though the atmosphere and conversion of King's story feels a bit wonky, the overall pacing and illustration of Tess as a not just a helpless victim, but a flawed hero and most importantly as a survivor is engrossing. Maria Bello delivers a complex and engaging performance that bruises and bloodies the audience alongside her, while also championing for her. Writer Richard Christian Matheson (son of Richard Matheson Sr.) and director Mikael Salomon (The Andromeda Strain), spare little in the way of desolation and darkness of the human spirit while keeping just enough room for Bello's character to shine through.
Big Diver doesn't complete with some of its big screen contemporaries in way of larger budgets and studio backing, but does it holds its own and delivers a solid film.