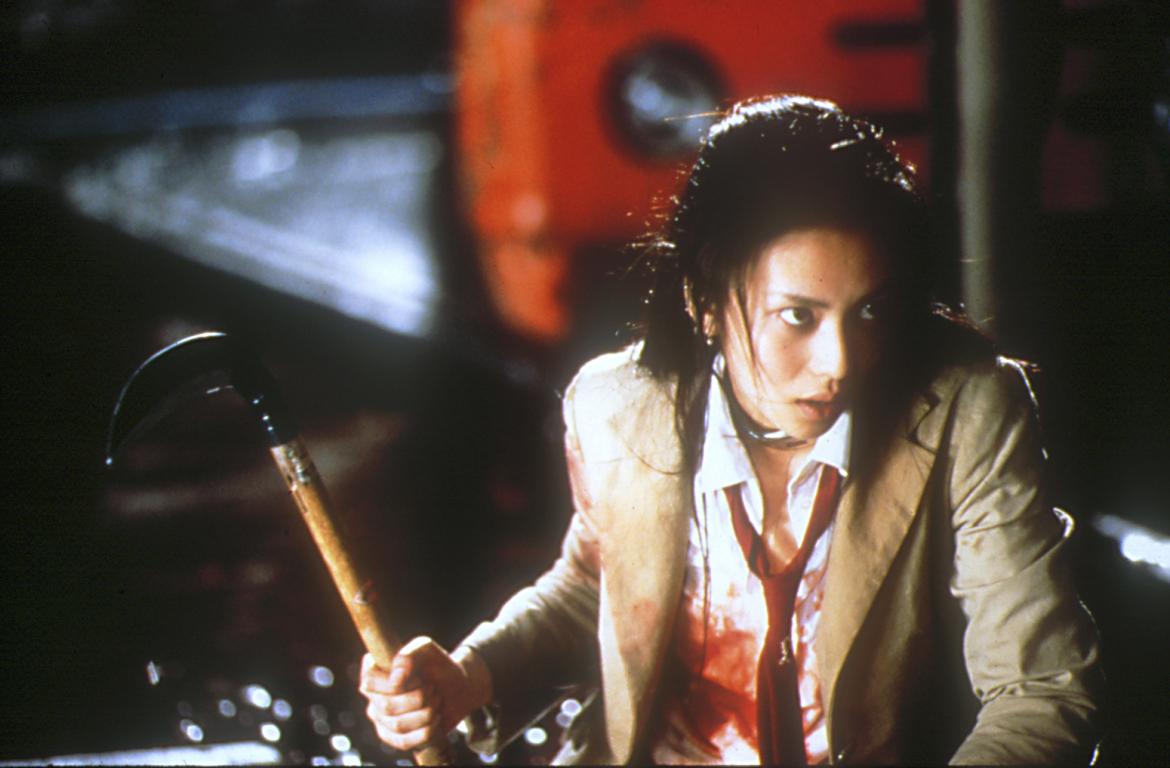 Battle Royale (director's cut) (Movie Review)
Sometime during the year that was 1993 my friend Phil called me and said there was an artistic imperative presenting itself to us. So important was this particular task that it necessitated the two of us hopping a bus to San Francisco to catch a matinee of a Hong Kong film. After he detailed this plan he disclosed that he had already seen the film we were to take the trip for. Being incredulous and something of a slackass I balked. Then before shutting down the idea for good I asked Phil why I would bother trekking 3.5 hours to see a movie he'd already seen; one that had a title that translated to "Hard Boiled"? He said, "Because it is the only movie I have ever seen that made me want to stockpile an arsenal and fuck shit up, just for fun!" Phil loved his action films but in every other way he was basically a pacifist, so hearing him reflect that sentiment about a movie got me on the Golden Gate Transit route no. 80, lickety split. It proved to be a singular film experience, and to this day I hold "Hard Boiled" as the greatest gun movie of all time. But as I aged away from that theatrical watershed I came to minimize the intense visceral thrill I had experienced as simply the perfect marriage of a well made film to my slightly more impulsive 22 year old brain.
So much has been said about Kinji Fukasaku's final film, 2001's "Battle Royale", that the idea of doing a review nearly ten years later seems redundant to say the least. If this were the Christian Science Monitor or The Cheese Reporter a reviewer might have a reasonable chance of breaking some new ground with the audience. Here, at Bloody Good Horror, a bootleg or region free version of the film is no doubt tucked into every reader's DVD collection. So that being the case, this review will be dual focused, chiefly rumination on the film itself, but also an assessment of the film's first official BluRay release courtesy of Arrow entertainment.
For those of you that have Rumplestiltskined your way through Japanese genre films over the last decade "Battle Royale's set-up is this…Japan circa now or the day after tomorrow, youth violence has skyrocketed in response to a financial crisis that saw 10 million Japanese adults out of work. Teenagers everywhere are assholes and Japan is no exception, so rather than rallying behind their hard beset parents the kids start boycotting school, fondling antelope and huffing ethanol or whatever it is adolescent Nihonjin reprobates do during tough times. In response to this Kid-tastrophe, Japan's Parliament passes the BR act which selects 9th grade classes at random for a compulsory Lord of the Flies styled death match. This is actually a self-inflicted wound by parliament given that it puts the future of the sport of Enjo Kosai in peril. Because we can assume that after a hard day of lunching, uh, letching… what I mean to say is legislating, of course; there is nothing an MP likes better than an underage schoolgirl.
Moving on, we meet Zentsuji Middle School Class B as they are being unwittingly whisked off to the island of doom. The kids are gassed and wake up in the care of Kitano, a disgruntled former teacher from their 7th grade year. Kitano is a surly old buzzard who commences instruction on the rules of the game and in the process kills a couple of the snottier students for emphasis. The kids find out from Kitano that the built-in fail-safe of the game is that absent the emergence of a single winner in three days time, they'll all be killed via remote controlled death necklaces. The students receive their guns, are dismissed, and proceed to kill each other off with a surfeit of pubescent melodrama.
After several years off, revisiting "Battle Royale" was a welcome assignment. The film has not suffered for time and the distinction of being the most fun you can have watching 14 and 15 year olds murder one another is still solidly intact. The Arrow BluRay (Region 0) definitely beats any previous release for clarity of picture and sound, and the special features are suitably vast for even the most ardent fanboy. Also included on the three disc set is the original theatrical cut of the film and a booklet jam packed with insider info.
The director's cut of the film is some 8 minutes longer than the theatrical and features mostly extended dream sequences and flashbacks. Theses additional scenes do add greater motivation to some of the characters' actions but the added content doesn't exactly have an "Apocalypse Now Redux" effect. To be certain BR and Apocalypse' are completely different animals, but that doesn't stop Fukasaku's swan song from being in its own way, every bit as hard to shake as Coppola's insane jungle jaunt. Играть в онлайн казино Пин Ап https://casino-pinup.com пройти регистрацию на официальном сайте. Pin Up casino это не только игровые автоматы, но ещё и ставки на спорт, шикарная букмекерская контора с возможностью поставить экспресс. Игровые автоматы с джекпотом, быстрые выплаты и адекватная служба поддержки. What makes it so you ask?
The best I can I can come up with is this…My dismissive opinion of the magical "Hardboiled" experience of 1993 was set in stone until, as a more discerning 31 year old man, I saw "Battle Royale" and felt the same kind of charge. I marveled at the irreverent black comedy that seemed to speak to the wealth of possibilities for a filmmaker who was unencumbered by endless test screenings and royalty ratings. I loved that 70 year old Fukasaku could bring us a believable allegory about adults projecting their failures onto their kids in the most unforgiving fashion. I celebrated that (Kou Shibasaki as) the roundly maligned "slut" Mitsuko got to have her revenge on her accusers. I reveled in the sheer banshee chutzpah of Chiaki Kuriyama as the ball stabbing Chigusa. And I still can't say enough about the brilliant turn by Takeshi Kitano, using deadpan humor to radiate the pain of a fallen mentor who has made the choice to betray himself and his students. Most of all, I really connected to the film's glorious over-the-topness. From the preposterous quality of the concept to the audacious action and larger-than-god classical score that mirror only too well the frenetic and histrionic nature of the teen universe, the film puts everything in precisely the right place.
More simply put, in my most professional estimation "Battle Royale" is just monumentally fucking cool as well as genuinely fucking moving. And happily this new BluRay box set from Arrow appears to give the film the kind of deferential treatment it has long been denied. If you love this film, pick this up. If you don't love it but know someone that does, give them a late Xmas gift.