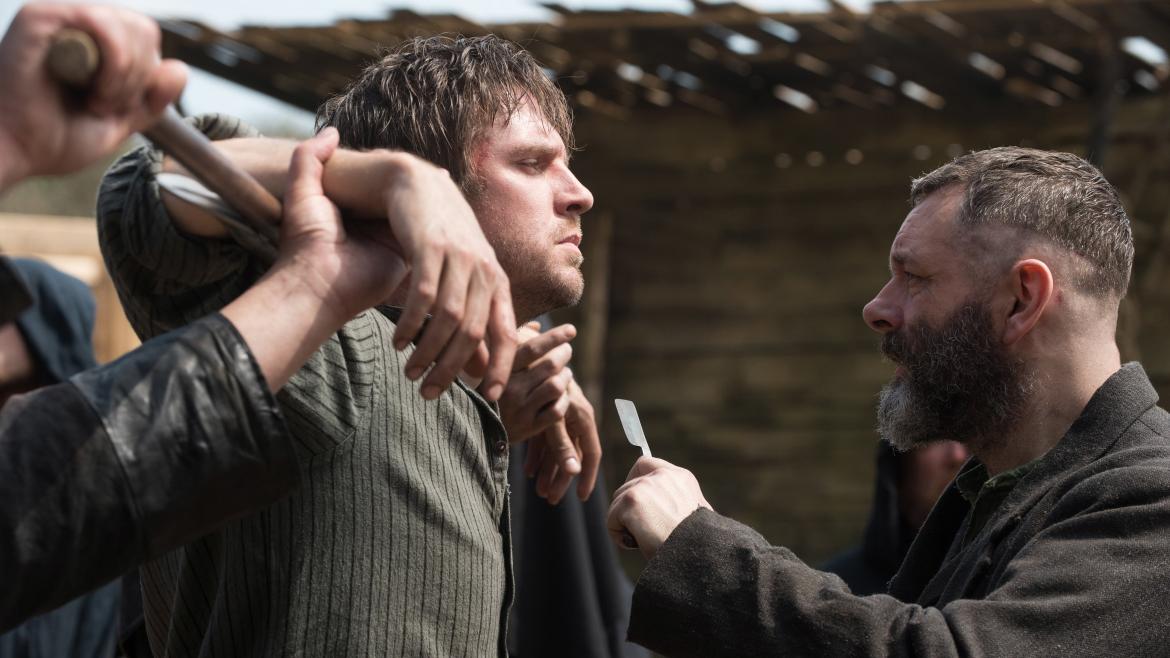 Apostle (Movie Review)
Gareth Evans almost single-handedly recontextualized the mechanics and intensity of the modern action/martial arts film. Then he, with the help of Timo Tjahjanto, left many jaws on the floor with the short form insanity they delivered in Safe Haven, their entry in V/H/S/2. Stepping back into the cult arena with Apostle, released on Netflix, does Evans continue to deliver the same level of bone-crunching insanity? Sorta...kinda.
Set in the early 1900's Apostle centers on Dan Stevens as he scowls a course as Thomas, a man presumed dead who returns home to find that his sister has been kidnapped and held for ransom by a cult on a secluded island. Thomas narrowly avoids discovery as he makes landfall, but must tread carefully as he searches for signs that his sister is still alive. The cult's leader Malcom (Michael Sheen) knows that an intruder is amongst them and the film sets up a chess match. Will the cult suss out the intruder or will Thomas to rescue his sister?
Apostle is a significant left turn for Evans when compared to his work with The Raid films. It feels instead like a spiritual extension to Christopher Smith's Black Death. Anchored primarily by mounting dread and lush scenery, Evans lets the setting do a lot of the talking. The early 1900's vibe oozes a sense of despair and poverty, which is projected effectively on the cast. Nearly everyone looks to be in desperate need of a meal and a refreshing shower. Along those lines, Evan's really stamps his trademark on the film as peppered in bits of foreshadowed technology designed explicitly to dole out maximum punishment make the auidence squirm.
Stevens, as our best chance for a surrogate, has the needed effect of simply reacting to the cult's bizarre traditions, trying to navigate the information as it's slowly rolled out on-screen. The real star and scene stealer is Michael Sheen. Sheen has all the likable traits of someone who could draw in followers with a commanding voice and engaging presence. Yet, so little is done to fully develop these characters in favor of veiling the mysterious nature of the cult's beliefs. Additionally, the focus is more on the moves being made by Malcom, Malcom's right hand men, and Thomas to move toward each of their end goals that the film doesn't play toward its most interesting aspects that revolve around the supernatural alluded to in the background.
Apostle often doesn't live up to the lunacy one might expect from the man who delivered such bone shattering intensity in The Raid. Still, the film's looming dread, mysterious setting, and a wonderful performance from Michael Sheen are more than enough to forgive its sins and spare Evans a date with the Heathen's Stand.