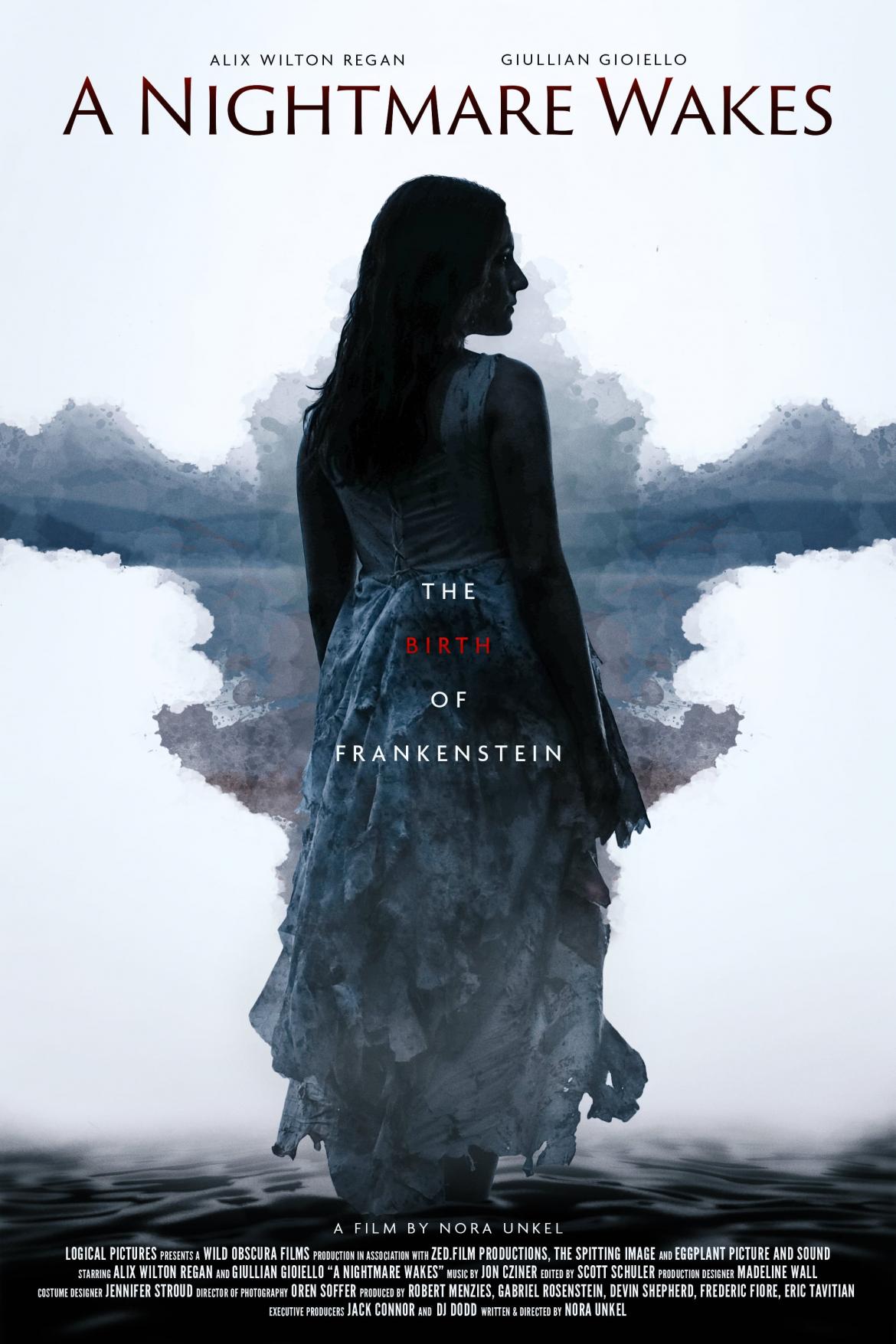 A Nightmare Wakes (Movie Review)
Screened as a part of the 2020 Salem Horror Fest. Check out their line up and find more information about passes by visiting their website here. Thank you to the Salem Horror Fest for providing Bloody Good Horror access to their lineup.
---
The story of the events surrounding the writing of Frankenstein (Or, the Modern Prometheus) have become just as noteworthy as Mary Shelley's Gothic novel. In 2017, Mary Shelley from Saudia Aradian filmmaker Haifaa al-Mansour saw Elle Fanning portraying the eponymous figure during the period when the novel was conceived. When there's an entire Drunk History episode dedicated to the period, you know there's some historical significance. Now with A Nightmare Wakes writer and director Nora Unkel takes a more fantastical approach to the material.
Set on the banks of Lake Geneva on the French border with Switzerland, A Nightmare Wakes opens with Mary Godwin and Percy Shelley (Alix Wilton Regan and Giullian Yao Gioiello) in the throes of a tryst. The couple spend their time with Mary's step sister Claire (Claire Glassford) and Lord Byron (Philippe Bowgen) engaging in all your favorite early 19th century tomfoolery. As Mary's desire to write continues to grow she begins to pen the novel that will make her married name famous even two centuries later. But as Mary continues to write and deal with domestic constraints, she begins to see her characters manifest into reality and upend her life.
Unkel's film draws from a long tradition of melodrama and suffering female bodies housed in a domestic setting. During the film's opening act the audience quickly becomes aware that this will be a punishing journey for both Mary and us. Mary experiences a miscarriage and a few scenes later she is subjected to a drunken sexual assault from Percy who is mourning the death of his first wife and their unborn child. Shortly after, she and Percy marry which is revealed to be a mostly transactional decision. Mary realizes she is once again pregnant and it is prescribed that she cease writing or performing any strenuous activities. We float in a lethargic, listless malaise with Mary as she awaits the birth of a child so that she may feel the joy of continuing to work. But not before she is made to suffer again and again.
Like numerous other works about creators, A Nightmare Wakes positions Mary as a martyr to her craft. She is made to suffer so that she can bring forth a novel we know to be canonically significant. It's a trope that as presented easily teeters on the edge of masochistic. The character's capacity to create isn't viewed as a process but rather as an epiphany through pain. In this world, Mary's ability to write is presented as an instinctual brilliance almost like a fugue state she enters. This is most garishly represented in the comingling of menstrual blood and ink, a visual motif the film returns to frequently in moments of hallucination.
To begrudge a film like A Nightmare Wakes for portraying the casual cruelty of prosaic gender roles would be unfair given the complexity of the situation the film is attempting to explore. Indeed, the film is not explicitly an attempt at accurately recreating the events that transpired. However, by falling back on familiar creative archetype stories the film sidelines the more interesting and ambitious elements present. A Nightmare Wakes never quite strikes the balance of biopic tendencies with fantasy elements, resulting in a punishing film that doesn't earn the martyrdom it attempts to bestow on Mary Shelley.

Screened as a part of the 2020 Salem Horror Fest