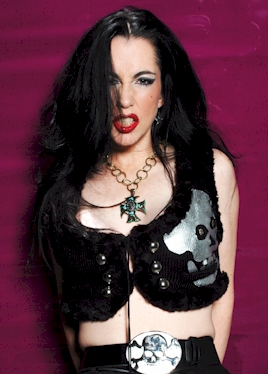 Debbie Rochon in "Pretty Bloody" Doc
In the spirit of the recent film offered up by the BGHorror podcast "Poultrygeist", I thought I would share some thoughts on the uncontested jewel of the Troma universe, Debbie Rochon. While Debbie is probably best know for the work she has done with the Troma camp, she will also be familiar to fans of Fangoria radio, and those who have attended the tri-annual+ Fangoria's Weekend of Horrors conventions. Debbie is everywhere.
Visit her IMDB page and you'll find she has a total of 159 titles on her acting resume, including 4 films in pre-production, 2 films actively filming, 8 films in post-production, one completed, and 143 films released. Oh, and one in-development credit. She has a history of doing at least one film per year and has done as many as 19 in that qamount of time (there are 18 titles released in 2002 alone). She's like Ron Jeremy only super hot, and sexy, and not quite so tragic, and with less hair... and now I'm sick to my stomach.
A quick perusal of her official site turns up the info that Debbie recently appeared in a documentary titled "Pretty Bloody: The Women of Horror". Apparently it debuted in February 25th on the "Space Channel". Check the synopsis and trailer below, and don't forget to pay your homage to the queen by going out right now and renting any one of her 161 films (!). You won't be disappointed, as long as you mostly just watch her scenes and fast forward through the rest.
From 1950s horror hostess Vampira to modern icon Buffy the Vampire Slayer, the 60-minute documentary demonstrates how women have shaped the face of horror – and converted more and more female fans – over the years. Through movie clips and interviews, it looks at how women-generated horror differs from that of men, and explores the strong sexual current that permeates female horror.