Concert Review: Warbringer, Lazarus A.D.
It was in places like this that heavy metal began. A small-time bar out in the sticks with a stage, where the old Peavey PA has a significant hum and half the gathered crowd was there to watch the NLCS. It was in places like this, where billiards tables were pushed out of the way and the walls were undecorated, where bands made their name under dim, yellow-hued incandescent lighting. (Lighting so poor that only black and white photos were exposing properly.) These were, and are, the proving grounds. This is where it begins, with stages too small to accommodate an entire drum kit and small, dedicated crowds.
Diamond Plate, the up and comer out of Chicago, started things off. Given only a short time to perform, the band picked their cuts carefully, starting with new single "Generation Why?" To get to the show a little early was to see drummer Jim Nicademus going through his warm up routine, which served as an impressive appetizer to the band's first live track of the night. The quartet pounded out the song, playing tight and fast, giving just a glimpse of their emerging talent. It was they launched into the impressive, shambling, varied epic "Relativity" that Diamond Plate brought their big gun to the table. Keep an eye on this band. You'll hear their name again.
Something called Landmine Marathon was up next. Their set was a virile performance of hostile songs, but their distortion-addled sound was victim to the generally poor sound quality. It all sounded like a mess, which made it difficult to judge what was really going on. There might be some good music here, but it was impossible to tell.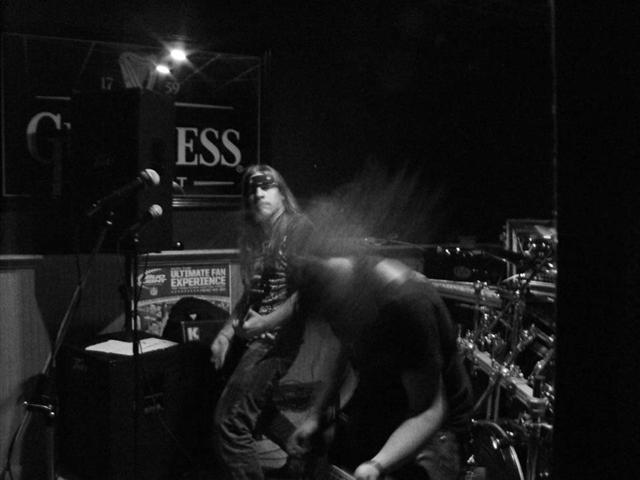 Having covered two albums and one previous concert for this site, I have run out of superlatives for Lazarus A.D. Even with the shaky sound quality, the band's throaty, rumble-of-thunder guitar remains paramount. Their passion is undimmed and their talent unparalleled. How the world hasn't discovered Dan Gapen's prolific guitar talent, especially as he brings it out during cuts like "Light a City (Up in Smoke)" is both dumbfounding and frustrating. To watch Ryan Shutler go into his paroxysm of double kick percussion and windmill headbanging during "Revolution" is to witness a sight heretofore unseen in metal. This is all fronted by Jeff Paulick and Alex Lackner, the rhythm section that facilitates all the virtuosity around them.
What becomes clear as the band crushes one home run after another, be it the battering ram set opener "Last Breath" or the showcase pounding of "Absolute Power," is that no one cares more about the music of Lazarus A.D. than the band themselves. That likely sounds like a stock, expected statement, but there's more to it. The band is not simply reciting their music, but becoming immersed in it, allowing the songs to overwhelm both the stage and the floor.
Not to make it about me, but just as a corollary point. I went into this show determined not to destroy my neck; I knew I was flying to the West Coast and back all in the next 96 hours, and cramming myself into an undersized chair in an artificially chilled, pressurized cabin with strained muscles would not improve my flying disposition.
It didn't matter. The impossibly infectious groove of Lazarus A.D, and the musicians' devotion to their craft, sucks you in and transfixes your attention, releasing adrenaline into your blood and making you a part of the show.
Lazarus A.D. killed it on this night. Executed their music to perfection and left the crowd asking for just one more song. I will say this with the risk of losing my objectivity; if you have a single metal iota in your soul, seek this band out. They deserve your support, and you deserve their music.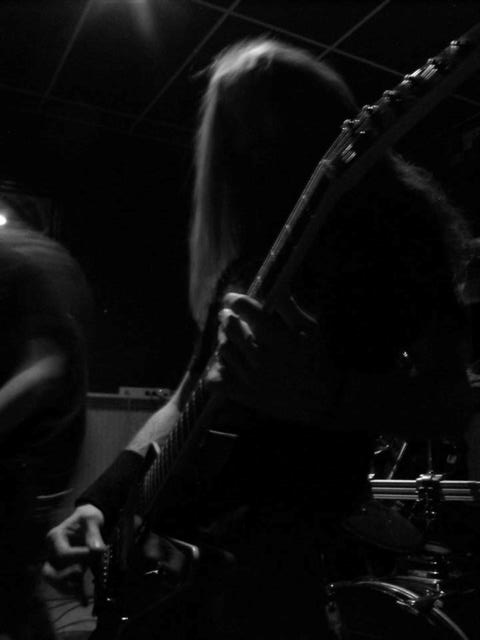 If it is possible to be a party thrash band, then Warbringer is that band. Lyrics about destruction and chaos be damned, the boys in this California speed metal outfit know how to have a good time on stage, and that magnetism draws the crowd in just the same.
It is an interesting paradox to see the members of Warbringer lope about prior to their set; they seem like innocuous, unassuming metal fans, listlessly pacing to the bar and back again. Something happens when the lights hit, however. John Kevill comes alive, becoming a human synthesis of the best days of Chuck Billy and Steve Souza. New drummer Carlos Cruz had incredibly large shoes to fill with the departure of Nic Ritter, but the kid pulls it off with fury and aplomb.
This new album cycle of "Worlds Torn Asunder" sees Warbringer gleefully engaged in the game of high-speed thrash. Refusing to experiment with the formula they have nailed down in three efforts, Warbringer churns out one thrash anthem after another beginning with new single "Living Weapon."
The defining characteristic of Warbringer on stage is their ability to win over the audience in short order. Each time I have encountered their live show, the crowd becomes enamored with the combination of Kevill's enthusiasm and John Laux's hyper-riffing. Laux himself thrashes about the stage (pardon the pun,) molding himself into his contortionist power stance, hair shielding his eyes from view.
This is the purest, truest revival of thrash from its golden age, whether it's old school cut "Shoot to Kill" or new fan favorite "Shattered Like Glass." Their show is both celebratory and participatory, and their hold on the crowd is complete. No greater example of this happened than during "Living in a Whirlwind," where undaunted by a mic cable that gave out, Kevill barreled into the crowd as though he was trying to find the endzone, inciting the night's most frenetic mosh pit.
Splitting their time between all three albums, Warbringer rocked through "Enemy of the State," a crunchy "Abandoned by Time" and as a parting shot, the frenzied, furious "Combat Shock."
Said and done, a night of thrash revival out in the sticks at the nameless bar with the tiny stage was a smashing success. This tour is not to be missed for metal fans new and old. Find it near you, enlist your skeptical friends in the road trip, and check it out. You will be rewarded for your time.