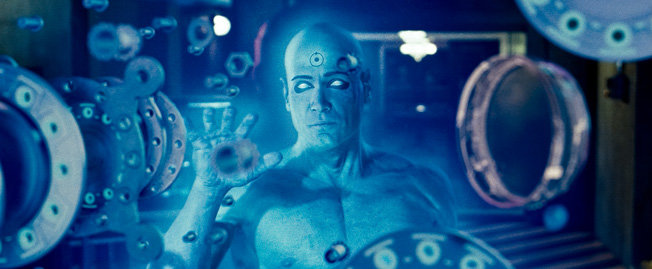 Box Office Special - All Eyes on Watchmen
In what was the thinnest release date of the year thus far, and "Madea" has managed to pull off a second week at number one. She was down considerably in total revenue, but hey, a win is a win. One of this week's new releases, the 3-D Jonas Brothers concert film, came in at number two, while the other, "Street Fighter: The Legend of Chun-Li" bombed all the way down to number eight — though it's per screen numbers weren't nearly as bad as the total made it seem. Running down the rest of the top five were "Slumdog Millionaire," "Taken," and "He's Just Not That Into You."
The story of interest to most horror fans however, is "Friday the 13th." Now in its third weekend, and without a challenge from any new horror fare, Jason has all but fallen off the map. With less than $4 million this weekend, "Friday" fell all the way to number 11. It's almost shocking that two weeks ago, everyone was patting each other on the back over such a strong opening. In reality, "Friday the 13th" won't even sniff the success of the other most recent Voorhees vehicle — "Freddy vs. Jason." That film did over $82 million domestically, while at the rate it's going, "Friday the 13th" won't crack $65. A lot of things could account for this, but the explanation I like best is that this "Friday" didn't really have much success with genre fans. While some horror aficionados may have turned out more than once for "F vs. J," word likely spread quickly that this "Friday" was not a must see, so some horror fans didn't even turn out a first time.
Looking down the road, it's tough to avoid the big story on everyone's minds for next week. The once thought impossible, long-rumored, much-ballyhooed "Watchmen" finally drops. And aside from the scorn and derision of a legion of fans if things go sour, there's a lot riding on this film for all parties involved. Industry-wide, this will be our first real blockbuster of the year. Everyone's riding high on fat box office returns, but "Watchmen" will be the first shot at real gaudy opening numbers.
For Warner Brothers, this will be the culmination of a lengthy and risky development process that included a legal battle. Success will mean everything else can be forgotten, failure could mean that someone's head ends up rolling. And for director Zach Snyder, this will be the moment when we find out if he's the next Michael Bay or just the next Paul W. S. Anderson (not that either of those wouldn't be good). Snyder's had all the early success a director could ask for, and if he can keep it going with an incredibly challenging film in "Watchmen," he's likely to be minted for life.
It's hard to say where the ceiling is here, but if I had to guess, I'd say something in the neighborhood of $65 million. That would firmly establish "Watchmen" in the neighborhood of some of the most successful superhero films to date. There's certainly a chance it could go higher, and frankly it might need to if it's going to be called a success, but at over 120 minutes and featuring no major stars or characters recognizable to those unfamiliar with the source material, it's going to be tough.