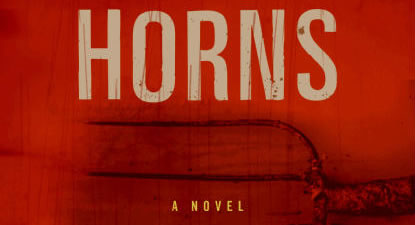 Book Review: Joe Hill's HORNS
Joe Hill's 2010 novel, Horns is one hell of a trip.
Ig Perrish is a heartbroken 26 year old reeling in the aftermath of his ex-girlfriend's murder. To dull the pain of her absence and in an attempt to escape the weight of the condemnation and false accusations of his hometown, Ig drinks himself into oblivion out by the foundry in which his ex was murdered. When he awakes the next morning – he has a terrible headache and it's not just from the booze. Though he cannot remember what exactly happened the night before, he does have one souvenir: a set of freshly protruding horns. Terrified that he is losing his mind, he immediately asks his casual partner and roommate if she notices them. Not only does she notice them and she doesn't seem to think they are all that odd – in fact she's more concerned with divulging all of her darkest and most repulsive feelings to Ig. Naturally concerned with his sanity and health, Ig immediately heads to his doctor. While there, yet without the expert help of his doctor, Ig begins to understand the full extent of his predicament and just how helpful his new appendages might be.
Realizing that his horns can make people admit and even act upon their deepest desires, Ig sets out to find his beloved's killer and bring them to justice. Along the way we're given the background of Ig and his childhood love, Merrin – from their first messages of Morse code across church as preteens to them consummating their feelings in a 'magical' treehouse as teenagers, and even their eventual breakup and the last time they see each other alive. Alongside these memories we are also introduced to Ig's family, mostly his older musical prodigy and television star of a brother, Terry, who he looks up to greatly and Ig's unlikely best friend Lee. Though a bit of an outcast growing up and not from the same group, Lee and Ig cross paths when he is wrongly praised for saving Ig from drowning after a dare at the foundry. Feeling indebted to Lee, Ig spends the rest of his adolescence trying to repay Lee by giving him everything from gifts to friendship, but not Merrin. Though both Lee and Ig are in love with Merrin, she only reciprocates those feelings for Ig though the three of them become and stay close friends.
As Ig becomes more comfortable with his new abilities and more overwhelmed by the ugly truth of the events surrounding Merrin's death, he starts to doubt his trust and love for everyone. But Ig soon finds out that sometimes being evil really isn't all that bad. Everyone appreciates the Devil at some point, right?
Overall, Horns is crisp and sharply written. Hill spares no details in the transformation from magical naivety of childhood to the dark realities of adulthood; all while juxtaposing the bitter sweetness of Good and the tempting pleasure of Evil. Ig and the supporting characters are all tangible and believable and consistently changing with each word. Hill weaves reality and fantasy effortlessly while developing a plot that is grounded and fascinating.
I finished Horns in about 2 days and probably would've done less had I not slept. It was one of my favorite reads in a long time and would whole heartedly recommend to everyone. Everywhere. All the time.
4.555 outta 5
The movie adaptation, directed by Alexandre Aja, is also out this month and is also really great. Be sure to check out Casey's review of it!