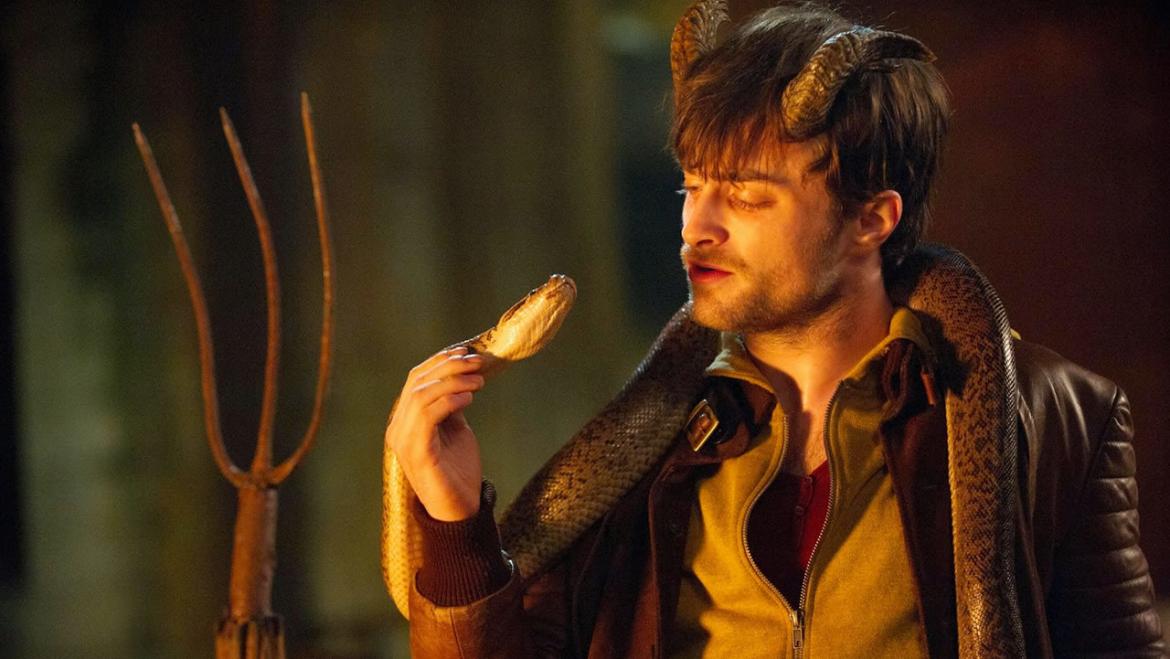 Horns (Movie Review)
Fiction fans are familiar with the age old plight of novel to screen translations. You finish a book that caught you up completely, a book that you finished in three days flat because you couldn't put it down. Then the announcement comes that they are indeed making a movie of your favorite novel, and near instantly your happy little day dreams turn to worry. There's no way they're going to pull this off.
Such was the case with Joe Hill's "Horns", a novel released in 2010. The story was a complicated one; Ig Parrish has turned to a life of drinking and depression, but for good reason. His life long girlfriend has been murdered. Unfortunately for Ig, the entire town believes for certain that he's the one that killed her. One morning, awake after a night of trying to drown his sorrows, Ig wakes up with a monster headache. He also wakes up with a pair of horns growing out of his head. As he ventures about the town, trying to find an answer to his new condition, he finds that his horns are growing, and with them, the urge of perfect strangers to tell Ig their deepest and darkest truths about themselves. All of it is shocking, as one might expect, until Ig figures out that he can use his new found power to get to the truth behind who really murdered his girlfriend, Merrin.
An odd tale for certain, it's easy to see how a fan of the novel could worry about how the tale would translate to the big screen. It leans heavily on monologue and internal strife, so the movie would need to have a strong lead though could convey the weight that comes with those powerful horns. After watching the film, it becomes clear that Daniel Radcliffe was Ig Parrish all along.
The character of Ig is troubled and disturbed, for obvious reason, and you can feel every bit of his turmoil in Radcliffe's performance. Juno Temple puts in a great performance In the role of his girlfriend Merrin, selling the qualities that Ig loves about her, coming across at times as ethereal and something just a step beyond human. Truthfully, "Horns" has a great cast, all of whom showed up to work once the cameras start rolling. The only role that gave me pause from the very start, is that of Lee Tourneau, played by Max Minghella. Through no particular fault of his own, Minghella simply doesn't seem to fit the character from the book that he's portraying. It takes until the end of the film for the portrayal to feel natural.
Despite the natural book-to-film translation woe, director Alexandre Aja manages to surpass expectations of what a "Horns" adaptation might look like. Невероятные приключения и ошеломительный каскад ярких эмоций ожидают всех, кто захочет поиграть в игровые автоматы онлайн на реальные деньги . Запуская азартные слоты с настоящими ставками, гости виртуальных казино имеют прекрасные возможности для получения хороших выигрышей. В таких интернет клубах можно замечательно отдыхать и развлекаться. "Horns" is a very stylish film that takes some risks outside the usual Hollywood formula. It plays high on the fantasy aspect of the story, giving us a movie that feels dream like at one turn, down to earth at another, tragic in portions, but ultimately redeeming.