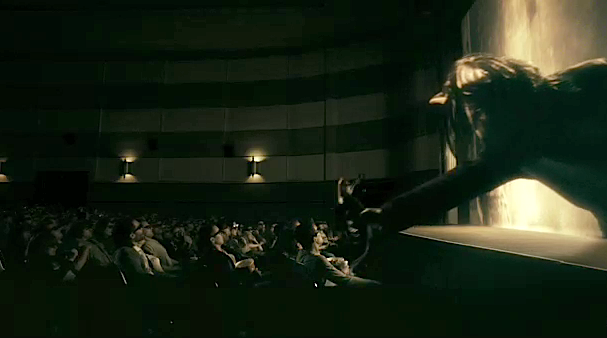 Tricks & Treats at the Box Office
October 31st is not just a day for trick or treating, it's also a day to reflect on the year in horror. With Halloween at our backs and Thanksgiving in Christmas looming before us, there will be no more theatrical horror releases in 2010. Sure, we might have some big budget affairs, such as "Skyline," or indie horror releases, such as "Heartless," to look forward to, but as for things that go bump or monsters that prowl, the time for expectation is largely over.
Of course, the good news is that studios saved two of their biggest horror releases for the two weeks before Halloween this year: "Paranormal Activity 2" and "Saw 3D." The pair in many ways represents horror's past and present. The seventh "Saw" film to arrive in seven years is also the first to enter 3D, a sign that the series has truly run its course, creatively speaking. Meanwhile, "Paranormal Activity 2" follows up on the shocking success of its predecessor, not by flipping the script, but instead by doing more of what worked so well the first time around. On one of the smallest budgets of the year, that film focused again on atmosphere and the tried-and-true jump scare over gross out effects or gore.
The returns for each film also illustrate a series in decline and the potential for a new cycle to ascend. In its opening weekend, "Paranormal Activity 2" posted a fairly incredible $40.7 million total. That was easily good enough for a first-place finish, and even ranked in the all-time top 20 for R-rated openings. "Saw 3D," opening a week later, also managed a first-place finish, but with a much more sedate estimated $22.5 million. "Activity 2" wasn't far behind with $16.5 million in week 2. For "Saw," it was the 5th best opening of the seven films in the series, though a definite upgrade over "Saw VI's" middling performance of $14.1 million. Of course, with 3D ticket prices generally 25% above traditional prices, this week's opening fares only slightly better at around an estimated $18 million.
One thing to keep an eye on is the overall trends for Halloween weekend. In 2008, there were seven horror films that made more than $20,000 at the theater on the weekend of Halloween. Those seven films totaled $16.7 million. In 2009, there were 10 films that grossed more than $20k, and they totaled $31.4 million -- a jump of nearly 100%. This year we dropped back down to eight total films, but the gross jumped another 25% to $39.7 million. It would seem that Halloween has become a more reliable movie-going weekend, which could lead studios to compete more heavily for a share of the horror-fan dollar. For horror-fans like us, that hopefully means more and better choices, which is always welcom news.
If you'd like to dig in, the horror box office details can be found here for 2010.