The Top Ten Metal and Rock Albums of 2012 - M. Drew
Let's get right to it with the awards, shall we?
As ever, here were the rules:
1) No live albums
2) No greatest hits albums or other compilations
3) No covers albums
Everything had to be a straight up studio record of new material.
This year's "Little Band That Could" award goes to Tamerlane, a local band that I saw in a total dive in Upstate New York. Give these guys a chance, they've got a load of personality and a bundle of talent.
This year's "Album I'm Still Hooked on From Last Year" is Powerwolf's "Blood of the Saints" which gets more and more fun the more I hear it.
And now, the Honorable Mention list, which contains an awful lot of really good records that competed for the top ten this year. It was hard to cut a lot of these albums from these final list, please know that I enjoyed you all. It would have been easy to do a top twenty or twenty five and feel confident about it. In or order:
- SHEAR – "Breaking the Stillness," KREATOR – "Phantom Antichrist," VAMPIRES EVERYWHERE! – "Hellbound and Heartless," THE CORY SMOOT EXPERIMENT – "When Worlds Collide," PROTOTYPE – "Catalyst," SOUNDGARDEN – "King Animal," MUNRUTHEL – "CREEDamage," SKELETAL REMAINS – "Beyond the Flesh," DESASTER – "The Arts of Destruction," RAM – "Death," NOTHNEGAL – "Decadence," DR. ACULA – "Nation," DZ DEATHRAYS – "Bloodstreams", and a special nod to THE 69 EYES – "X" which finished 11th in a ten album field, and easily wins the award for "Most Fun Album of the Year."
Without further ado, these are your winners:
10) Goatwhore – "Blood for the Master"
Best Track – "When Steel and Bone Meet"
R.I.Y.L. - Long-haired Metallica, Overkill, powerhouse thrash metal
The least likely of all entries. If you had told me at the year's outset that Goatwhore would turn the corner and release a really accomplished record, I wouldn't have believed it. Nonetheless, here we are, and "Blood for the Master" is a highly competent effort that emphasizes riffs and grit over all else. Double bonus points for being the band name that got the most strange looks from others whom I mentioned it to, a title well contended for by Sexcrement and Fetus Stench, among others.
9) The Sword – "Apocryphon"
Best Track – "Apocryphon"
R.I.Y.L. - Black Sabbath, Deep Purple, Kyuss
Quite possibly the best American metal working today, The Sword's fours albums have been consistently excellent and "Apocryphon" is no different. The Sword sacrificed speed on this record in favor of groove and drive. It's a different, but still enjoyable execution on their part, and a throwback to "Age of Winters" and the records that influenced it.
8) The Casualties – "Resistance"
Best Track – "My Blood. My Life. Always Forward"
R.I.Y.L. - The Misfits, The Clash, Megadeth's early albums
Okay, fine, nitpick and say this isn't a metal album. What it is, is a pristine showpiece of the kind of music that helped forge the tenets of modern speed and death metal. Punk from A-Z, the Casualties exist to keep a scene both preserved and alive, and "Resistance" does a remarkable job of both Dig out your denim vests and spikes and get to listening. It's pretty fun to boot.
7) Brendon Small's Galaktikon
Best Track – "On My Way"
R.I.Y.L. - Iron Maiden, Judas Priest, good clean guitar work
Sure, this is a side project. And yes, it was a side project that resulted from some idle studio time because of a Dethklok contract delay. Don't care. And yes, this is a better record than the resulting "Dethalbum III." Loaded with rhythm, drama, big riffs and four part guitar harmony, Brendon Small's self-released pet project is significantly better than many band's primary product.
6) Cradle of Filth – "The Manticore and Other Horrors"
Best Track – "Siding With the Titans"
R.I.Y.L. - Cradle of Filth. Cop out, but it's true.
Cradle of Filth has always been a band I've respected and as I've aged, come to increasingly enjoy. Still, none of their albums has ever cracked my top ten list until this one. A mature but energetic blend of Cradle trends old and new, "The Manticore and Other Horrors" sees Cradle assembled their most cohesive effort in a long time. Paul Allender dominates this record, and his off-kilter style is worth the price admission alone.
5) Meldrum – "Lifer"
Best Track – "Blackened Blue"
R.I.Y.L. - Pantera, White Zombie, Drowning Pool
There are an awful lot of angles at work here, but I'll refer to my complete review for all the reasons why this record is both interesting and important. What's really important for this particular moment is that sludge metal, so successful in the mid to late nineties, is nigh on a dead subgenre. Hearing it here, in such excellent recreation, does my heart good. Bittersweet though the album's background is, it carries the legacy of one woman a whole genre. A must for metal collectors.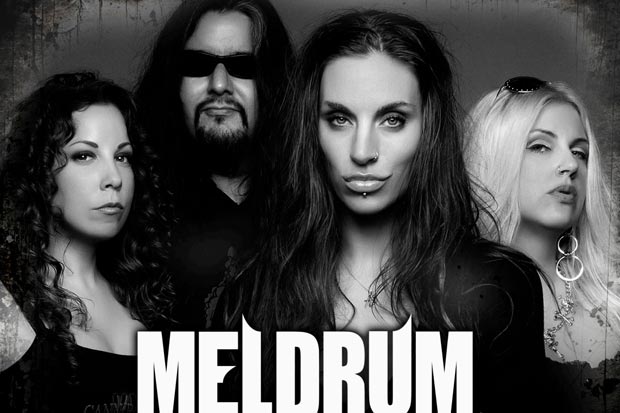 4) Exumer – "Fire and Damnation"
Best Track – "Fire and Damnation"
R.I.Y.L. - Slayer's "Seasons in the Abyss"
2012 was a monumental year for throwbacks and nowhere was that more true then it was for Exumer. Three German thrash bands released critically acclaimed albums this year, and Exumer's trumped both Kreator and Accept. Channeling the thrash spirits of old, Exumer injects some of their own personality and venom into the proceedings, proving that their album is more than just a retreat of days done by. Come for what's classic, stay for what's new.

3) Cancer Bats – "Dead Set on Living"
Best Track – "R.A.T.S"
R.I.Y.L. - Madball, Sick of it All, the old-skool
Raw. Every year it seems, on e album makes the top ten cut based on pure, unadulterated or filtered raw power. Last year it was Indestructible Noise Command's "Heaven Sent…Hellbound," and this year it's Cancer Bats "Dead Set on Living" that populates that spot. Visceral, loud and endlessly energetic, Cancer Bats reinvented themselves and simultaneously paid homage to all the bands they love. Excellent work.
2) Graveyard – "Lights Out"
Best Track – "Endless Night"
R.I.Y.L. - Led Zeppelin
This is the second consecutive year that Graveyard had finished at number 2 on my list, but that's hardly a failing. As it is, their consistent quality must say something. "Lights Out" was this year's only album that elicited an emotional response from me, as the music is so well coordinated and orchestrated that you can't help but feel drawn into it. A perfect blend of analog warmth and vocal pacing, "Lights Out" is another blockbuster by a brilliant band.
1) The Admiral Sir Cloudesley Shovell – "Don't Hear It…Fear It!"
Best Track – "iDeath"
R.I.Y.L. - Black Sabbath, Yes, ELO, Clutch
This year's champion is not nearly in the same mold as previous ones. Normally, I take this hallowed space to celebrate the precision and craft of the champion album. Contrary to all that, The Shovell goes off in tangents, lose themselves on walkabout, showcase a total musical attention deficit disorder and are generally scatterbrained. And it's impossibly wonderful. Their ability to create and drop mammoth riffs at seemingly random times, all while maintaining at least a skeleton of traditional blues-based metal, is a thing to be behold. Find this, buy it, and revel in the haphazard excellence of it all.