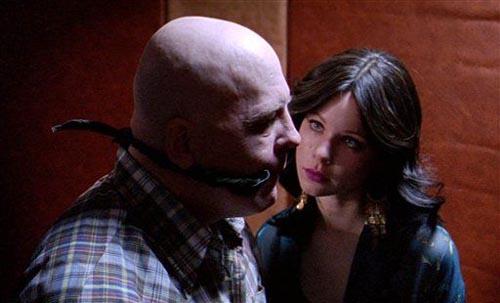 Winter Of Frozen Dreams (Movie Review)
For the past two-and-a-half hours, I have been sitting anxiously on the couch in my living room, furiously drinking bottle after bottle of Diet Lipton Green Tea with Citrus, and attempting to translate my thoughts and feelings regarding Eric Mandelbaum's 2009 psychological murder mystery "Winter of Frozen Dreams" into an easily digestible collection of words and sentences. As you may already have guessed, my mission to adequately organize these opinions hasn't gone nearly as well as I had hoped, leaving me no choice but to approach this review as if it were a mysterious yellow alien standing in the middle of my backyard at midnight. In other words, I'm just going to have to wing it.
In terms of overall quality, "Winter of Frozen Dreams" isn't that bad. Director Eric Mandelbaum has done an admirable job of turning a dry, cinematically lifeless story about a prostitute's mission to financially enrich her life into a moderately enjoyable albeit deeply flawed 90 minute character study. Unfortunately, at the end of the day, Mandelbaum and his team of screenwriters really don't give us too many definitive answers to the countless questions left unresolved. You're ultimately left wanting more, and not in a good way.
Undeniable cutie Thora Birch stars as Barbara Hoffman, a former biochemistry major who drops out of college to make some quick cash as a sexually suggestive "massage therapist" with an admittedly strange clientele. Upon returning home from work one chilly December evening, poor, misunderstood Barbara discovers a battered, bloated corpse lying in the middle of her kitchen floor. She, apparently, has no idea how the guy got there or who, exactly, went to such great lengths to end his life. After convincing her gutless fiancé Jerry (Brendan Sexton III) that they need to ditch the body as soon as possible, the two trek into the winter wonderland and dump the body beneath a drift of snow. With his feet sticking out. Merry Christmas, everyone.
Racked with guilt and worry and eager to start a fresh, new life with his bride-to-be, Jerry reluctantly tells the local authorities about the dead guy, which immediately launches a full-blown investigation into who Barbara is, what she's up to, and why she's hooking up with so many guys around town. As the detectives assigned to the case begin to unravel the mystery behind this shady prostitute's true motivations, the people closest to her realize that they have absolutely no clue who Barbara Hoffman really is. Sadly, the world may never know.
Based on the novel by the same name, "Winter of Frozen Dreams" sells itself as a true story, and after some amateur online sleuthing, it would appear that the film has its roots in reality. That said, a fact-based tale does not an interesting movie make. Don't get me wrong -- the story itself is utterly fascinating, especially when you take a moment to consider all of the people Barbara Hoffman harmed in her self-centered endeavor to make a buck off the weak and lonely. However, this sordid tale doesn't translate very well on-screen, and often comes across as a dark and dreary Lifetime Original Movie that somehow managed to break free from the melodramatic shackles of basic cable. The results are definitely a mixed bag. Азартные заведения становятся неотъемлемой частью игроков в сети интернет, одним из самх распространненых игровых порталов является казино флинт онлайн , на площадке выдаются бонусы за регистрацию и депозит, а также регулярно проводяться турниры.
In terms of performances, "Winter of Frozen Dreams" is lined wall-to-wall with some truly memorable moments. Thora Birch, Brendan Sexton III, Dan Moran, Keith Carradine, Adam Ferrara, and Dean Winters all do fantastic work, and lend a air of believability to what could easily have been a sleazy, overblown erotic thriller had it landed in the hands of someone looking to exploit this premise for all its worth. Try as they might, none of them can prevent the film's anti-climatic conclusion from derailing the entire train.
Although my gut instinct is to lambaste Eric Mandelbaum for delivering a dark and dreary motion picture that unfairly denies its audience the answers they seek, my overall opinion of "Winter of Frozen Dreams" is favorable. Your own personal enjoyment of the film will vary greatly, I'm sure. As long as it's approached as a character study wrapped around the framework for a generic Sherlock Holmes mystery, disappointment may be altogether avoided. It also provides a valuable lesson to the young and naive: If a prostitute wants to marry you, immediately check your food for foreign substances. That alone is worth the price of a rental.