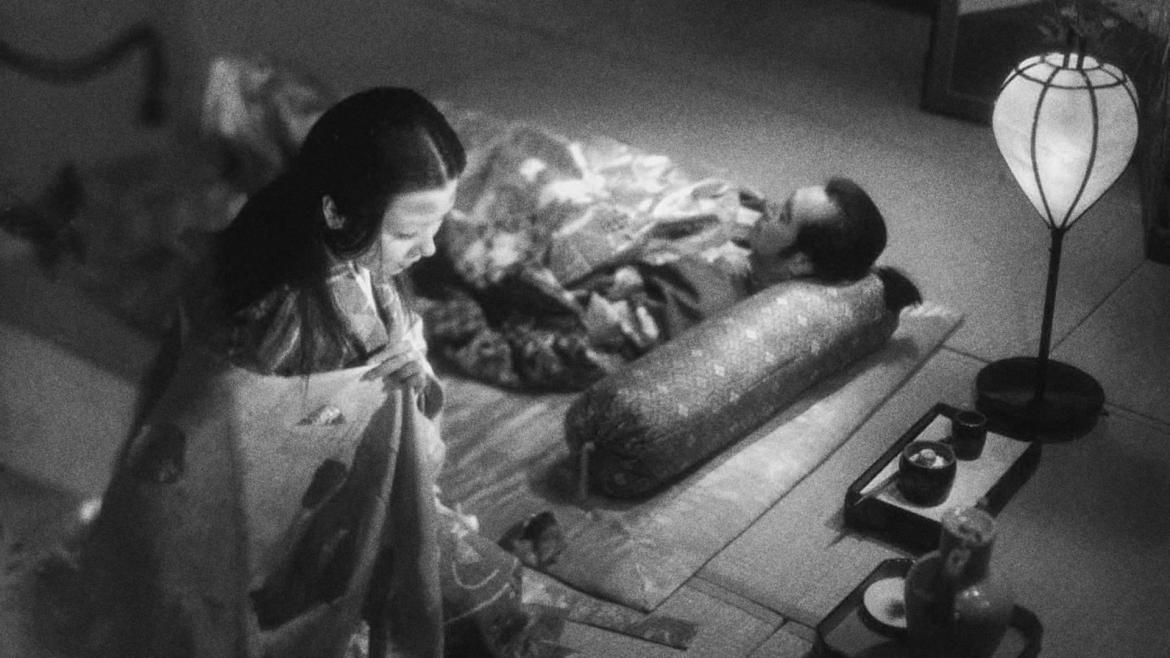 Ugetsu (Movie Review)
Kenji Mizoguchi has frequently been grouped alongside Kurosawa and Ozu as one of Japanese cinema's premiere auteurs. His films are often noted for their eloquent long-take tracking shots, social realist subject matters and their sincere yet brutally honest portrayals of women and the socio-cultural forces of repression that they encounter. Though Mizoguchi had a long career making studio silent films many film critics regard the films he made in the 1950s as his paramount achievements. Mizoguchi's ghost story film Ugetsu represents but one of the director's several now classic films produced at this time. As Phillip Lopate notes in his essay for the film's Criterion release, these films hold a mirror up to Japan's past, examining and critiquing notions of a unified national identity from a then contemporary post WWII perspective. Adapted by Matsutaro Kawaguchi and Yoshikata Yoda from three short stories, Ugetsu is a meticulously crafted landmark piece of cinema that keenly examines the dissolution of the individual in wartime, gendered violence, and the ethereal, fleeting desires of humanity.
Set in 16th century feudal Japan Ugetsu follows the struggles and ambitions of two families in a landscape ravaged by a civil war, leaving resources scarce and lives of the common folk in ruins. A potter named Genjuro (Masayuki Mori) seeks to profit from the two competing armies, traveling to a nearby town to sell his wares while his wife Miyagi (Kinuyo Tanaka) begs him to remain at home with her and their young son. Tobei (Sake Ozawa), a farmer, dreams of becoming a samurai and begs either army to take him on as a vassal. However he is shunned for his groveling and poverty all the while being chastised by his wife Ohama (Mitsuko Mito) for not focusing his energies on labor at home. Hoping to make enough money to purchase armor and a weapon, Tobei assists Genjuro in his pursuits offering to help transport a large load of pottery to market. The two families set out on a small boat just as a plundering army attacks their village. After encountering a ghastly omen on the lake, Genjuro returns Miyagi and their son to shore while he, Tobei and Ohama continue on. Once at the market Genjuro and Tobei are met with chance encounters that fulfill their desires and lead to some horrific conclusions for them and their wives.
Ugetsu represents a certain circle of "art-house horror" that revels in the process of creating atmosphere and the intangible mood this is capable of generating for an audience. And while the film is populated with ghosts—some of which are not revealed as such until the end of the third act—it is perhaps best viewed as a film that finds horror in its mood and tone more so than its specific subject matter. Ingmar Bergman's Personae is another clear example that comes to mind. Though a plot synopsis for that film would imply a psychological drama it is Bergman's execution that makes the film something else entirely. In Ugetsu it is in fact the moments of violence against the families by the soldiers that prove to be the most horrific episodes. Indeed the film sees the civilians, farmers, and artisans as objectified spoils of war and dispensable resources to be consumed for momentary gratification. Throughout the film Mizoguchi employs a combination of locked down framings and a constant swaying and pitching camera. At times the camera hovers alongside its subjects or will spring vertically before descending back to earth. While this lends a detached, unwavering gaze at the events and choices often associated with a realistic aesthetic the cinematography also works to punctuate the surrealistic sensations of violence that offers no respite.
Though the film is full of grim depictions of a harsh existence, Mizoguchi also embraces the cathartic experience of acceptance, contrition, and reconciliation. Genjuro and Tobei's narrative arcs, despite being unique in their motivations, are used to reflect and comment one another. Upon meeting Princess Wakasa (Machiko Kyô) at the market, Genjuro is invited back to her palace where he is literally bathed in compliments and sexual pleasure. Prior to this episode his pottery was merely a means to a financial end that granted him the opportunity to buy more comfort for his family. However, under the Princess's hand Genjuro is capable of voicing his passion for his product calling each of his pieces his "children." Outside of the warzone and isolated in royalty Genjuro is capable of seeing his labor as an act he can have pride in. In a similar way Tobei finds a more complete satisfaction after realizing his dream of becoming a samurai through shady circumstances. However, the cost of both of their decisions resurfaces and drains all pleasure from their new lives. But Mizoguchi knows the very real elation this fulfillment is capable of generating and he makes no attempt at denying this. Rather, Ugetsu seeks to articulate the complex draw of escapism from a horrific world and the hypocritical yet very real drives of idealism.