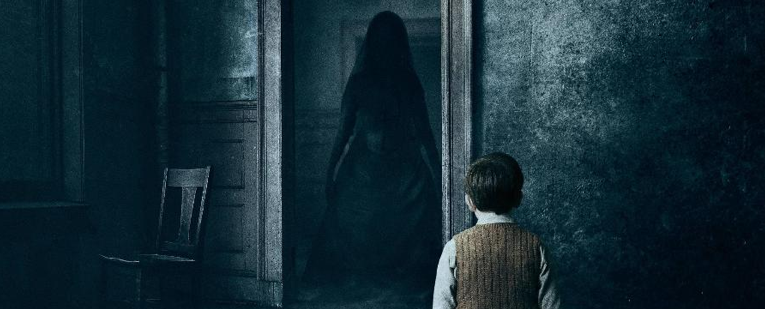 The Woman in Black 2: Angel of Death (Movie Review)
The Woman in Black 2: Angel of Death begins with the onslaught of WWII, as young schoolteacher Eve Parkins (Phoebe Fox, One Day) escapes with evacuated school children and headmistress Ms. Hogg to a countryside retreat called the Eel House. Upon arrival, a tire on the bus goes flat. Eve ventures around the deserted town of Crythin Gifford and is terrified by the only inhabitant, who warns her that the children she brought to the island will never leave. Ignoring the warning, the group continues onward. At the Eel House, Eve and Ms. Hogg find the accomodations desolate and dilapidated but have no choice but to set up boarding for the children. The first night in their new home, Eve is tormented by a nightmare that awakens her, drawing her to explore the cellar and introducing her to the Woman in Black.
The next day Eve has to rescue Edward (Oaklee Pendergast, Wer), a recently orphaned child of whom she has become protective, from two classmates who locked him into the upstairs nursery – and after leaving the room, Edward carries around a deteriorated doll he has found. That night, one of the children who was bullying Edward is found drowned on the beach. While mourning the death and despair surrounding the house, Eve is visited by the dashing pilot Harry Burnstow (Jeremy Irvine, War Horse), whom she met on the train. He listens to her worries and they decide to investigate the cellar to look for clues regarding the Woman in Black's identity.
The basis for the sequel revolves around the torment and revenge of a maternal spirit mourning the loss of her child. Двое парней решили заняться сексом парами. Они подцепили на улице двух девушек и поехали домой. Отлично вписались в русское порно худые девки. Смотри, как участвуют в порно худые здесь. Девушки брали за щёки пенисы парней, а потом заставляли их сладко страдать от глубины сочных пилоток. It's simple enough and illustrates the story coherently, but in spite of being written by Jon Croker (screenwriter for the first film) and Susan Hill (author of the original novel), the sequel lacks the intensity of its predecessor. Relying on mood and the atmosphere of its dreary English countryside setting, director Tom Harper (Peaky Blinders and War Book) provides very few scares and doesn't even invite the Woman in Black to her own party. Decently acted and digestible dialogue do very little to carry the film on its own. The material is just not able to build the terror and unnerving scares that the original was able to deliver effortlessly.