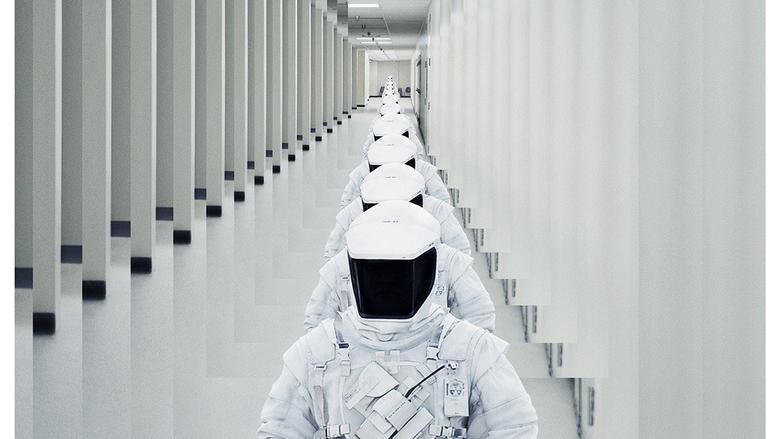 The Signal (Movie Review)
With the rise in accessible technology to the public, there has been a considerable rise in independent Science Fiction filmmaking. It has never been easier to realize filmmakers wildest thoughts and dreams on camera than it is today. 2014's The Signal is a perfect example of this. Made with a slim budget of $4 million; writer/director William Eubank was able to get a lot of heavy Sci-Fi with legitimate sets, visual effects and a solid cast most prominently featuring Laurence Fishburne and Lin Shaye. Unfortunately having the ability to make an impressive and interestingly conceived Sci-Fi thriller doesn't always conclude with a quality film.
The Signal begins following three friends, MIT students who're transporting Haley (Olivia Cooke) across the country because she's moving to California. This has greatly troubled her boyfriend Nic (Brenton Thwaites) who already has enough problems with his debilitating muscular dystrophy and near expulsion from MIT because of a nefarious hacker going by the code name NOMAD. Jonah, their third wheel, is also an MIT student and nearly met expulsion as well from the same hacker and is very motivated to find and confront him. Lucky for them NOMAD appears to be located in a remote part of Nevada, conveniently on their way to California. Once the trio arrives at the site they've tracked NOMAD to, they're surprised to find an abandoned house in the middle of a desert. Jonah and Nic investigate only to hear Haley's screams from the car outside and rush to her aide, just in time to see her fly into the night sky before they go unconscious. Nic wakes up in a sterilized underground laboratory run by Wallace Damon (Laurence Fishburne) who begins running tests on Nic as he rebels and other revelations come to light.
At a runtime of 97 minutes many people might think that The Signal is a brisk Sci-Fi jaunt that might have some dynamic elements at play, especially if you see the rather compelling trailer. But unfortunately director Eubank really indulges himself throughout the film with frequent flashbacks, slow motion action sequences, and drowned out screams that all come from the Zack Snyder playbook. It consistently kills momentum and makes the intriguing twists in the story neutered disruptions to the boredom. Even some of the most compelling elements to the story play out like a 300 fight scene mixed with visual aesthetics of Neil Blomkamp's Elysium. The film itself becomes a chore to finish and consistently drops the ball though it's got great shooting locations and is getting good performances from its cast.
Speaking of the cast it's comprised primarily of a duo of up-and-comers with Thwaites and Cooke, as well as two veteran's in Fishburne and a cameo by Shaye. Both Thwaites and Cooke have been in recent major releases that have fared well at the box office, Oculus and Ouija respectively, and both do well in this. Thwaites' Nic is grieving from his muscular dystrophy diagnosis throughout but doesn't let the pain show, though Eubank gives us plenty of flashbacks to dwell on. Cooke's Haley is determined to get to California even if she's concerned for Nic and what this distance may do to their relationship. They both turn in solid performances that give their characters life. Fishburne is his usual sturdy self throughout, nothing spectacular but nothing poor either. His presence is much appreciated and he lends a bit of gravitas to the Damon character, but it's an intentional barren canvas he's forced to paint and it doesn't seem like there was ever anything in the script he could fully utilize.
There are moments throughout The Signal where you can see real creativity and work shine through. The performances are consistent and earnest throughout, the twists that come along halfway through the film add some life and juice to a script that gets desperately tedious and melancholic. Though despite its flurries of intrigue and fun, The Signal is a dreadfully boring film that's exciting ideas aren't original or interesting enough to keep the characters compelling or the audience engaged.