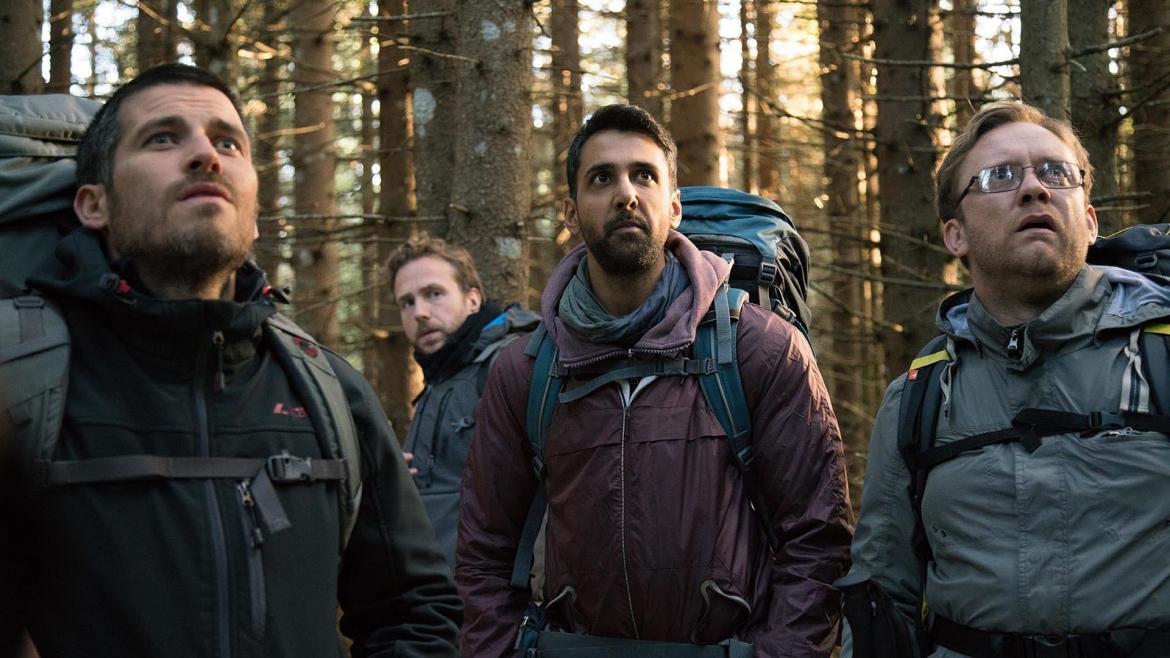 The Ritual (Movie Review)
The Ritual gets off to as strong of a start as almost any horror flick in recent memory. Just moments after introducing us to a group of five aging college buddies planning a "lads' trip," the film plunges two of them into an unbearable, yet utterly plausible nightmare. As the rest of the group waits outside, Luke (Rafe Spall) and Rob (Paul Reid) head into a liquor store to pick up a bottle, only to stumble upon a robbery in progress. Luke, hidden from the robbers' field of vision and clutching their intended purchase, watches as the criminals confront and then murder his friend.
Director David Buckner (of V/H/S and Southbound fame) draws excruciating tension from small gestures like having Luke slowly reposition the bottle, as if to use it as a weapon. Spall subtly yet unmistakably conveys every internal tug toward action and the insurmountable fear that ultimately keeps him rooted in place. It's a brilliant introduction yet the twists and turns that take us further from that convenience store transforms The Ritual into a somewhat disappointing exercise in diminishing returns.
Six months later, we rejoin Luke and his three remaining friends on their vacation, a hiking trip through Sweden that Rob had longed to do. The chemistry between these four actors is impressively authentic, their playful ribbing and group dynamics instantly relatable. However, lurking underneath their easy interactions is a darkness tracing back to the opening. Luke has become somewhat withdrawn and, while his friends assure him Rob's death wasn't his fault, their words have an undeniably hollow ring. One twisted knee later and our group diverts from their predetermined route in search of a shortcut. What they find takes them – and the movie's narrative – on an unpredictable journey through the horrors of Swedish folklore.
Where The Ritual ends up is ultimately what makes it so unsatisfactory. After the opening, The Ritual becomes a still-welcome, almost Blair Witch styled mystery. However, that eventually gives way to a CGI fest with little regard for the old horror axiom about keeping your monsters in the shadows. There's a certain appeal to the giddiness with which the film plunges ahead with this twist, however, its connection to where we begin, to what took place in that convenience store, feels flimsy at best. Worse is that the film never really gives us the payoff to Luke's arc, at least not the one that it frequently teases and the one that we, as viewers, hope for. It's hard not to feel that such strong characters and such an unforgettable set up deserve a more fitting conclusion.