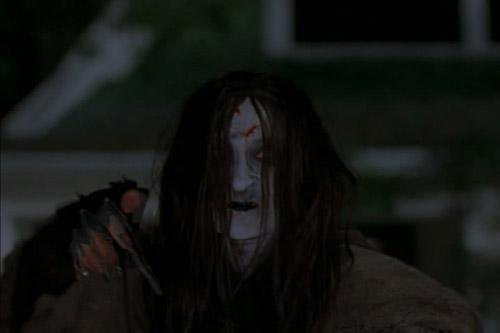 Spliced (Movie Review)
Towards the tail end of Gavin Wilding's involuntarily silly 2006 horror flick "Spliced" (aka "The Wisher"), Mary, the film's insanely irritating protagonist, comes to a startling conclusion: The only way she can defeat the otherworldly creature that's slowly destroying her life is to illegally download a bootleg copy of the movie she believes set this bloody series of events in motion. Within a matter of seconds, Mary has procured a decent copy of the movie, which she watches just before the murderous villain in question tosses a large tree branch through the window. And while this may sound extremely goofy and ethically unsound, it's pretty much par for the course.
There are a lot of things that don't make sense in "Spliced". The title splashed across the Region 1 release of the film is a little confusing, though it's easy to understand why the distributor decided to change it up before unleashing this hemorrhoid upon the world at-large. After all, "The Wisher" shares a similar plot with Robert Kurtzman's "The Wishmaster", a film Wilding has apparently watched once or twice during his lifetime. The central premise is almost identical -- a weird-looking individual grants wishes that generally result in murder or mayhem -- though the paths they take to reach their respective conclusions are quite different.
The film's unsympathetic protagonist is a seriously troubled girl named Mary (Liane Balaban). When she's not renting horror movies against her emotionally-stunted parents' wishes, Mary enjoys sleepwalking through the empty streets of her practically-deserted hometown. The kindhearted therapist at her high school (portrayed with unabashed boredom by the late Ron Silver) believes that all of her problems will disappear with the aid of a little prescription medication, a suggestion that Mary is highly reluctant to follow. In order to ease her angst-ridden mind, she agrees to attend a screening of the world's most popular horror movie, a ridiculous little ditty entitled "The Wisher", with her closest friends.
After the debut of the movie-within-a-movie's pasty white monster, Mary suddenly becomes violently ill and abruptly flees the theater. Convinced there's something wrong with their friend, the girls decide to call it a night. However, on the way home, Mary discovers that her abusive father has died in a fiery car crash, an accident everyone wants to blame on poor Mary. Before too long, our irritable heroine comes to the realization that anything and everything she wishes for miraculously -- and violently -- comes true. In order to unravel the mystery surrounding these blood-soaked encounters, Mary must face her fears and dive head-first into the sinister world of "The Wisher".
Wilding has a knack for delivering pictures steeped in illogical, incoherent content. "Christina's House", for example, is full of loose ends and good, old-fashioned cinematic stupidity, which is the only reason I can remember anything about it. "Spliced" is, essentially, no different, though it's a whore's hair more enjoyable than its predecessor. Adding insult to injury is the film's supposedly youthful cast; the majority of these "teenagers" are nothing more than twenty-somethings posing as high school students, with varying degrees of success. Balaban is probably the worst offender, as she looks just a few years younger than her on-screen parents. Normally this sort of thing doesn't bother me, but here it's hopelessly distracting.
If you're in the market for a shoddy, derivative horror flick that doesn't require much brainpower, "Spliced" is ready and willing to serve you. It could, I suppose, make for an interesting drinking game: Every time Mary becomes overpowered by her unique brand of teen angst, everyone in the room is required to take a shot. This might make the film's countless flaws and hideously lethargic performances easier to process, especially during the scenes featuring former 98 Degrees singer Drew Lachey. Otherwise, Kurtzman's own interpretation of the subject matter is just a few shelves down from "Spliced" in your friendly neighborhood video store. Take a few steps and save yourself the agony.