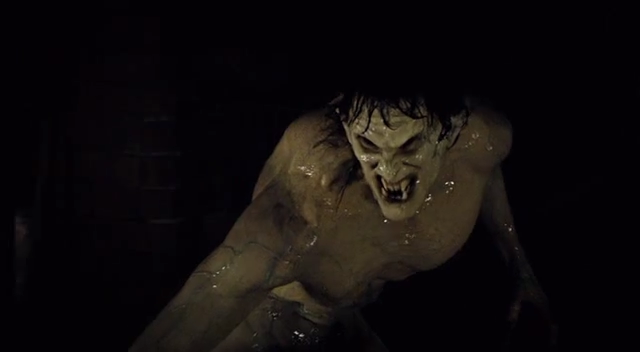 Outcast (Movie Review)
When "Outcast" opens we first meet Mary (Kate Dickie) and her teenage son, Fergal (Niall Bruton), who appear to be nomads. Moving into a new home as we encounter them, and seemingly exhausted from travel. Fergal is noticeably frustrated from attempting to make new friends and failing, yet he seems to make a fast connection with his fiery and attractive neighbor Petronella (Hanna Stanbridge). Their developing relationship becomes the main thrust of the story, which becomes intertwined in withcraft, monsters, murder, and Irish folklore.
The biggest strength "Outcast" has going for it is an incredibly strong cast. Most notably Kate Dickie as Mary. Dickie commands the screen and is perfect for the role of over-protecting mother. Her conflict with Hanna Stanbridge's Petronella gives the story more weight at its conclusion, even if it is rather predictable. Also strong performances are given by James Nesbitt as Cathal, the hunter of Fergal for very dubious reasons, and James Cosmo as Laird, the vacillating watchful eye of the endeavor. Yet Fergal himself, Niall Bruton, is very difficult to relate to or empathize with. His circumstances seem well understood but his lack of commitment as a character hinders any attachment for us. For instance his beastly alter ego is somewhat controlled throughout the film, and it seems as if Fergal understands what it's capable of, but he takes no precautionary measures and distrusts his mother. Its counterproductive to the plot and nature of the characters being portrayed.
Problems with the film come in bunches during the third act though, as mythologies and accents inhibit the viewer from understanding what is actually going on. This hunt that Nesbitt's character is hell bent on seems to be to secure some sort of power related to tattoos, but what power? How does it involve killing his son/monster? It's convoluted and not helped by the thick accents of the cast.
This is briefly alleviated however when we get a glimpse of the Beast itself. A tall, strong werewolf/corpse/hulk hybrid, the monster is a welcomed reprieve from the myths and rumors we've seen in the shadows throughout. Definitely a strong addition to the werewolf cannon, even if it could possibly cross over into other subgenres as well.
There are pacing issues, an excessively overbearing score, and problematic dialogue throughout; but by the end I was rather pleased to have sat through this thoroughly flawed but engrossing flick. Monster lovers should be sated as well as drama enthusiasts that like some added gore.