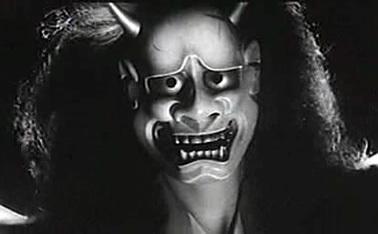 Onibaba (Demon Woman) (Movie Review)
J-Horror is pretty well beaten into the ground by this point. With films like "Ringu", "Ju-On" and "The Eye" spurring American remakes, sequels, sequels to the American remakes and blatant rip-offs, the genre is pretty much dead. Personally, I know if I have to review another film with that wet ghost girl with stringy hair I might just swear off horror films forever. But J-Horror wasn't always about cell phones, video tapes or that goddamn ghost girl. There was a period of time when Japanese horror was something else entirely. Whether there was a man stomping on cardboard cities in a giant rubber monster suit, a piano devouring schoolgirls or a giant rocket-powered flying turtle, Japanese horror used to be unique. "Onibaba" is another Japanese classic from this era, and is one of the most unique horror films I've seen in a long while. While it's not for everyone, those who are looking for a deep, nuanced film owe it to themselves to check this one out.
To say that "Onibaba" is based upon the myth of the Japanese demon of the same name, would be doing it a bit of a disservice. While the titular creature does indeed make an appearance (think of it as Japan's version of the Old Hag), "Onibaba" is a quiet, reserved film, focused mostly on life in war-torn, feudal Japan. Kyoto has been burned to the ground and the empire has been split in two. The film follows a mother whose son, Kichi, has been sent off to war and her daughter-in-law who lives with her. With the razing of Kyoto, civilians have had to flee for their life and now live in the tall grass fields surrounding what's left of the city. With the economy in shambles, our protagonists have taken to hiding in the tall grasses and killing passing samurai and selling their equipment and weaponry on the black market for just barely enough food to get by. Lucky for them, they happen to have settled near a mysterious, ageless hole, which serves as the perfect hiding place for the collection of corpses they've collected.
It seems as if this will be all our protagonists will know, until Hachi, a soldier in Kichi's unit, returns to the grass field with news. After dining on some much needed millet, Hachi informs our protagonists (we'll get to why I'm not naming them soon, it's intentional), that the two were jumped by some farmers and Kichi was murdered for his equipment. Chalk it up to karma. Regardless, Hachi soon joins the pair in their murdering ways, helping them dispose of even more wayward samurai. Eventually, Hachi and Kichi's widow start to meet at night, driving Kichi's mother to some desperate acts to keep the two apart.
Let me get this out of the way first, "Onibaba" will absolutely not work for everyone reading this review. While I wouldn't say that it's a slow film as I never found myself bored or waiting for something to happen, it's definitely a very deliberate, methodical film. In order for the film to have the impact that it does, it first needs to establish the day to day rituals of the characters. For example, you wouldn't really get the importance of Kichi's widow not being there in the morning to gather water, if her morning routine and it's importance wasn't established. "Onibaba" epitomizes "show, don't tell" and it takes screentime to show instead of telling.
It's also very subtle, which can turn some viewers off. Through most of the first hour and a half, the film explores some incredibly deep issues such as women's role in Japanese society, religion and morality, sexual politics, the impact of war on society and even the atomic bomb attacks on Hiroshima and Nagasaki. However, it's all extremely subtle, to the point where it can very easily be missed by the inattentive viewer. To illustrate, we are shown many juxtapositions between Hachi and the female characters in the film. None is more clear than how they are treated upon trying to trade-in their spoils of murder. While the females have to beg, plead and turn-down offers for prostitution to get an extra bag of millet, Hachi receives an extra bag for nothing, in addition to a jug of sake and poultry. Blink and you miss it. Pay attention, and you'll be treated to some interesting, bold commentary, especially for a film coming out of this era.
That said, if you can get on board with a quiet, subtle film, you're in for a real treat here. "Onibaba" is a masterpiece of film-making. The cinematography and visual style is an absolute treat, with almost every still from this film looking like a composed whole. With the entire film taking place in a field of tall grass, huts or within a deep hole, lighting is the key to what sets the mood. The light from the moon will glint off of the tall grasses at night, casting shadows over everything. When the Demon Woman herself appears, her mask and bright robes catch the moonlight and stand-out as one of the most visually arresting and memorable images I've seen in a film recently. The soundtrack and scoring compliments nicely, being understated and borderline silent for most of the film, but picking up and being loud when it needs to make an impact.
The storytelling itself is also top-notch. Being so quiet and understated, most everything is imparted to us either visually or through some incredibly subtle, ambiguous ways. The ambiguity is an incredibly nice touch, as most film's today won't allow for any ambiguity, yet alone end up being completely up for interpretation and debate at the end. Pretty much every supernatural twist in this film could be easily explained simply through natural causes and circumstance. Большинство девушек не понимают, зачем мужчины обращаются к шлюхам, ведь заняться сексом в столице можно и на бесплатных условиях, например, предварительно сходив со спутницей в ресторан. Проститутки города Сочи с сайта сочи3икс имеют большой опыт, предоставляют широкий спектр услуг – они позволяют кончать себе на лицо и в рот, обеспечивают доступ ко всем своим дырочкам, любят и умеют работать язычком. On the flip-side, things that appear to be natural in origin, can very easily be interpreted as being supernatural. In the end, it's all up to you to figure out what happened. Was there really a demon woman? Or was it all a bunch of crazy circumstances? It's a really cool touch and one that makes me want to sit down with some friends over some coffee and just dig in. That doesn't happen much.
When it comes down to it, "Onibaba" is a true gem of a film, even outside of the genre. In many ways, it's more similar to an Ozu classic such as "Tokyo Story" or "Early Summer" than a horror classic like "The Shining" or "Dawn of the Dead". It deals with some serious, mature issues and treats the viewer intelligently and never holds their hands. As a result, what you get out of this film depends largely on what you put into it. If you go into it thinking you're gonna catch something like "Paranormal Activity", or because you're looking for something light to watch on a lazy Sunday afternoon, you're going to hate it. However, if you're sitting down with the intent to lose yourself into a film and really get engrossed, it'll be up there with some of the true classics of all time. If nothing else, you'll shudder whenever you see that mask. Damn is that thing creepy.