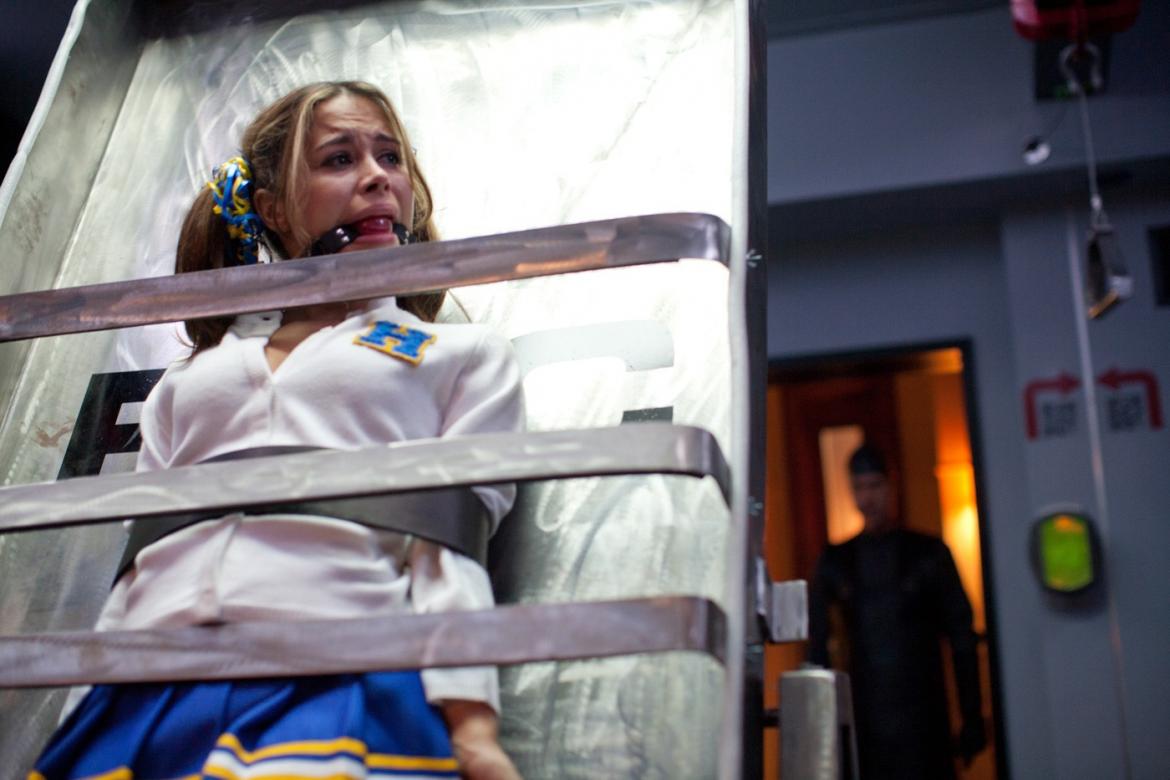 Hostel: Part III (Movie Review)
Direct to DVD horror franchises aren't known as a staple of quality. Oftentimes they mix and match various elements of the respective franchise with out of this world possibilities, or just mail it in with more of the same. "Hostel: Part III" however is the rare entry into this diluted subgenre that utilizes its predecessor's ridiculous premise, and amps it up with intimate character details for a wild ride through the underbelly of Las Vegas.
Four friends have absconded to Las Vegas, Nevada where they plan to treat Scott (Brian Hallisay) with a weekend he'll never forget as a bachelor party gift. Best friend Carter (Kip Pardue) has seemingly fronted the operation, being the well to do business man/wild man of the quartet. Mike (Skyler Stone) is along for the ride in order to escape his 30 lbs overweight wife for a spell, and Justin (John Hensley) is the groups cripple who's making the best of it surviving with a metal cane. After a mysterious cab ride to meet up with two girls at a "freaky party", it's revealed to be a full on bachelor party experience for Scott. Carter has even paid one of the escorts to sleep with Scott, fully aware of his impending nuptials and past brush with infidelity. One member of the group is abducted beginning a rampant search for him and his date. The film then begins to unravel a new layer of mystery at every turn. Leading to a wild and outlandish conclusion full of blood, betrayal and revenge.
The first two "Hostel" films were frightening partly because of their remote and isolated location. By transplanting the story to Las Vegas, the game has changed completely. The threat is in your playground and not across the world. The casinos, women and drugs are prevalent sure; but the impending danger of The Elite Hunting Club keeps you guessing at to how they'll strike in such a large environment. Though this familiarity with Vegas tropes allows the film to give us a vague, though informative, perception of who these main characters are. "Hostel: Part III" does sacrifice some of its xenophobia in order to provide new thrills, but the ones it does provide are executed quite wonderfully.
More layers of the club are revealed as this time the kills are not singularly for personal pleasure, they're performed in front of a live audience as if Wayne Newton was the next act. They are even allowed to bid on different aspects of each show. A 2 minute over/under prop bet for "begging for the victim's family" was such a dark and unique twist. Again this is made possible because of the setting in Las Vegas. The commentary is obvious and absurd, but it fits in perfectly with the tone of the film.
The narrative makes a few initial twists that shock, but then settles into a more predictable finale. This doesn't hinder the enjoyment, it just illustrates exactly what this movie aims to be and drops all pretense that it's anything beyond an escalated daytime soap opera with blood and gore. Some of the finale works better than the rest, but overall it's a thrill ride worthy of any summer action vehicle. The pace change ups the stakes and keeps things moving briskly to a fitting and fun conclusion.
Having just come to Netflix instant, and not liking the second film in the series all that much, I wasn't expecting much out of "Hostel: Part III". But director Scott Spiegel and his crew were able to create a lively, energetic and fun trash-fest that kept me guessing and entertained.