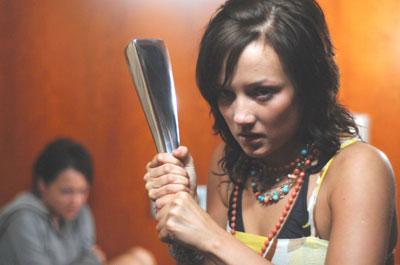 Donkey Punch (Movie Review)
It's not hard to imagine how the premise of "Donkey Punch" was concocted: over a couple of drinks while discussing the titular sexual maneuver — which one suspects and hopes is apocryphal. The genesis feels so obvious because at first blush it seems as if it was calculated only to generate buzz and draw attention. In that sense, it was quite the idea, as once one moves beyond the provocation of the film's title, what he finds is a rather generic potboiler – which isn't necessarily a bad thing. Because as a seaborne thriller, shot with seven actors, in one location, with virtually nothing in the way of effects "Donkey Punch" packs a high level of both tension and lurid enjoyment.
In many ways, the film's title — which calls forth a blend of sex and violence — evokes both its plot and its themes. We open in Mallorca, Spain, where a trio of nubile young British ladies are setting out for a day and night of wild fun and poor decisions. The friends — Lisa, Tammi and Kim — make a show of drinking and dressing to attract some male attention. Their plans succeed famously as the girls meet up with a group of young sailors who have recently landed on the island. The boys take them back to a yacht on which they serve as staff, and a day of drinking and abusing drugs begins to bleed into a night of abusing drugs and having group sex.
The film's set up culminates with the first burst of outright violence — that would be the donkey punch — which leaves its recipient dead. To this point, writer and director Olly Blackburn has succeeded in walking the film up to the edge of what some might call softcore pornography. In fact, this first act feels throughout like a fantasy sequence, thanks in no small part to the appropriate lighting and sound choices. The island's gorgeous vistas, combined with the party atmosphere, create a haze of the carefree that will be familiar to anyone who's consumed MTV's version of Spring Break. Death shatters this fantasy, completely, and once its lost, the fantasy quickly morphs into a nightmare.
As the remaining characters must begin to evaluate their own priorities, the audience is asked to begin making sense of a group that has participated in some morally questionable activities, which in turn set the stage for someone to go way over the line. There are distinctions between good and evil to be sure, but each time we get a grip on who falls into which category, the story begins to shift, if only slightly, revealing a new kink in the plot. It's a simple premise, but in presenting viewers with six characters forced to make hard decisions in extreme circumstances, "Donkey Punch" succeeds by not making the resulting actions seemed forced.
The primary obstacle that prevents "Donkey Punch" from rising to the level of more accomplished thrillers is an uneven pacing. It's something of a catch-22, as the film draws us in with quickly escalating sexual tension that leads to even more quickly escalating violence. But in achieving this, a peaks and valleys effect is created. In some of these valleys, scenes linger just a little too long with characters who, while we don't dislike them, aren't exactly going to sweep audiences off their feet. Each time that the film begins to truly slip, however, Blackburn brings us back with a sequence or set piece that shocks, or in the case of my audience, leads to outright gasps. Once the cast begins to dwindle, the action comes at a much more even pace, and the film cruises into a finale that isn't so much a climax as it is a conclusion.
While many viewers may be able to see the film's ending coming from some distance, that doesn't make getting to the finish line any less enjoyable. Indeed, it is to Blackburn's credit that he allows the film to go there, while dressing the voyage with just enough violence, gore, and surprise to make the proceedings interesting. "Donkey Punch" will by no means make anyone's all-time favorites list, but for those willing (or even downright excited) to look beyond the salacious title and premise, there's an adventurous, and yes, raunchy, indie-thriller on the other side.