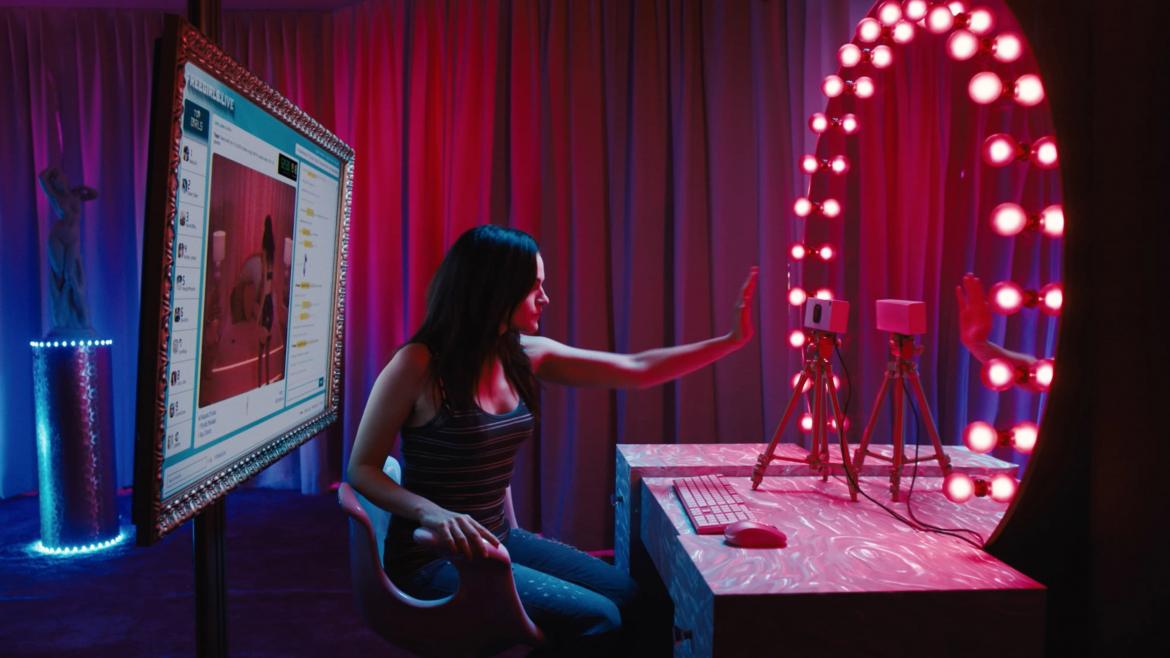 Cam (Fantasia 2018) (Movie Review)
Since horror movies about our digital lives are all the rage now it seems about damn time that one finally come down the pike that channels Black Mirror almost to a fault. This time instead of rolling our eyes at the problems of stuffy teenagers Cam introduces us to the oft maligned profession of a Cam Girl. So, ya know, maybe don't bring the kids to this one.
Lola, who's real name is Alice (played perfectly by a fearless Madeline Brewer of Hulu's Handmaid's Tale), is a cam girl with three specific rules for her online interactions; she doesn't do public shows, she doesn't tell her watchers that she loves them, and she doesn't fake her orgasms. Lola is focused on trying to work her way to the top girls on the site she cams for and does so by using edgy techniques that often involve faking suicides and sticking to specific themes (which she tracks via Calendar). However, just as she's cracked the top 50 she awakes to find that she's locked out of her account and there's someone else running her show that looks, sounds and acts like her, but isn't her and is less strict about her three most important rules. Alice's life is turned upside down trying to figure out what is going on and dodging the adverse affects that the fake Lola is causing due to her online interactions.
CAM does not solely take place on computer screens, but many key scenes do involve digital interactions with the virtual Lola that's taken over Alice's show. Director Daniel Goldhaber and writer Isa Mazzei do well to pace Alice's investigation by doing away with the most obvious solutions leaving the rest of the film to take on a surreal nightmare that is supremely engaging thanks in large part to Brewer's performance. She's also working with a sharp script which was honored along with the film itself as Best First Feature and Best Screenplay as part of the 2018 Fantasia Film Festival. The complex portrayal of the cam girl industry and its associated stigmas is bravely tackled here by both Goldhaber and Mazzei. The success in terms of conveying female empowerment is fragile especially when you consider the entire industry is women using their bodies for men's enjoyment, though Mazzei is able to flip the perception by giving Brewer and the other girls agency over their bodies and their persona in a subtle and complicated way. It's a wonderful balancing act that plays out from beginning to end.
Where the film stumbles the most is length. It's a mean and lean film and it flies by, but one can't help but wonder if it were even shorter would it have been even more effective-and any shorter than it is now barely qualifies it as a feature film. Many scenes feel integral, but others feel slightly out-of-place or not developed as cohesively as they could have been. Regardless, as the film enters the final act its placement as a feature-length Black Mirror episode gets hammered home in a delightful Twilight Zone way that isn't over done.
As our online lives continue to fuse with reality more and more through the growth of social media platforms and digital professions the leveraging of that tech into surreal horror is fascinating. CAM takes a taboo corner of the Internet and smartly weaves it into a unique and chilling vision that audiences should want to log on and upload to their consciousness whenever possible.
Screened as part of the 2018 Fantasia Film Festival.