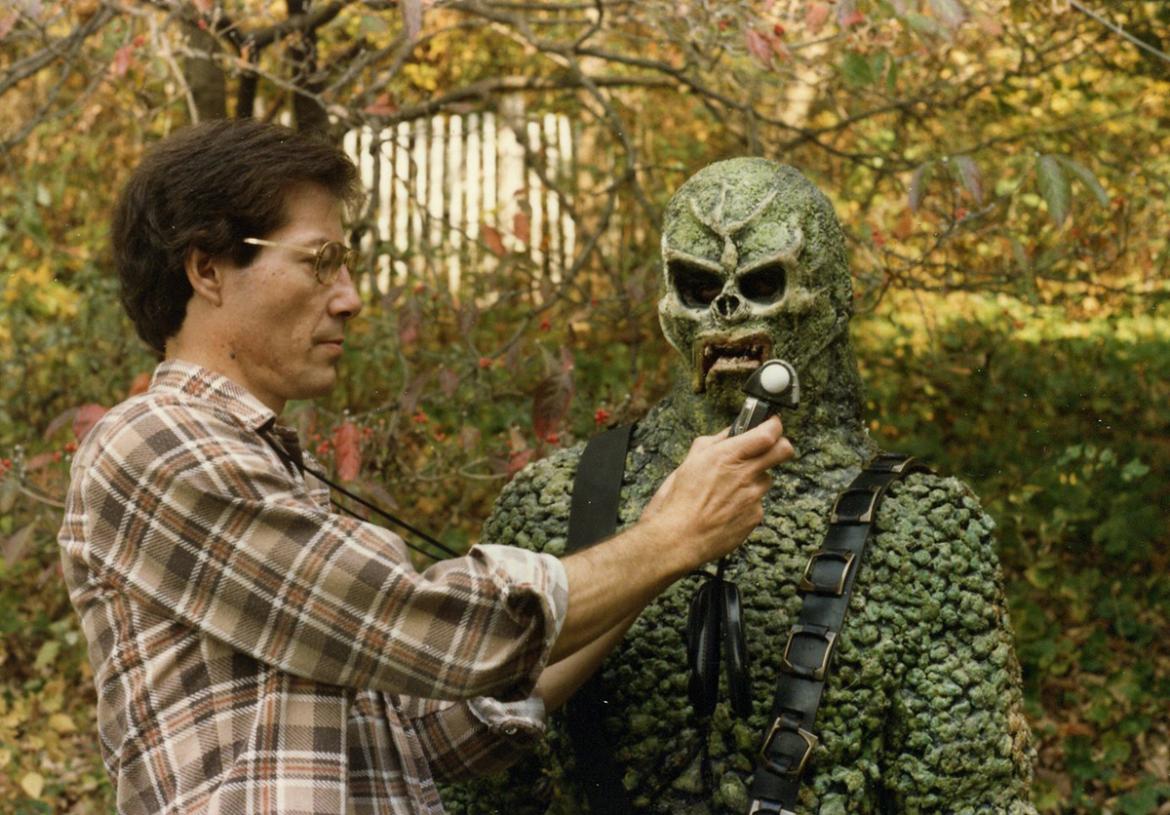 Blood, Boobs & Beast (Movie Review)
Don Dohler was just about the last guy on earth you would expect to have a cult following. He was a geeky, mild mannered, conservative man whose favorite film in life was "The West Side Story". He had played around for years with the idea of filmmaking, but beyond some short films shot on 8 millimeter, nothing had really come of it. That was until his 30th birthday. He started the day at his desk, doing the same mundane work he had done for years. He ended it with a shotgun to his head, and a new outlook on life.
After the robbery that day, which Don was lucky enough to have survived, he decided it was finally time to get off his butt and make a feature length movie. He had been talking about it for years, but as he says in the documentary "Blood, Boobs & Beast", when you're young you always think you have enough time to do things. He went around his small town in Maryland looking for investors, and after solidifying the money, went out to shoot "The Alien Factor", his feature length directorial debut.
In what some would call a small miracle, that film actually went on to make money. Enough money so that Don was able to make two more films in the next 4 years, 1980's "Fiend", and 1982's "Nightbeast". Both were family affairs, with Don's wife and children acting as both production assistants and actors. These were low budget films to the max, complete with rubber monsters, too-red blood and questionable acting. In the booming video market of the early 80's however, Don Dohler was a success.
You might be surprised at the cult following that Dohler has, but a quick Google search will show you just what you've been missing out on. Early portions of this documentary are heavy with interviews featuring the likes of Hollywood heavyweight J.J. Abrams, B movie King Lloyd Kaufman, and plenty of special effects and comic book artists... all who seem to have been influenced by Dohler's cinema in their own strange ways.
Sprinkled throughout the retrospective on Don's career is present day footage of Don circa 2005, while he was shooting his last feature film, "Dead Hunt". We learn that in 2001 Don teamed up with now former police officer Joe Ripple, a figure as interestingly out of place in the horror genre as Don. The two made a handful of films together, including "Alien Factor 2", "Vampire Sisters", and Don's final film "Dead Hunt". Joe has taken over directing duties from Don because as he puts it, "Don doesn't like to deal with people, and I don't mind doing it".
Their relationship sets the stage for the main conflict of the piece, this concept of the "B Movie Formula". Don's early films were almost idealistic in their clean-cut nature, featuring limited amounts of blood and nearly no nudity. At some point during the middle of his career, a faithful run-in with Lloyd Kaufman taught Don that in order to make money in the horror indie market, one has to follow the formula... "Blood, Boobs & Beast". Joe, who is not shy about the need for nude scenes in their films, became the cheerleader for this idea, often insisting that more nudity or gore be injected, much to Don's obvious dismay. When he talks about 2004's "Vampire Sisters" and its lurid softcore aesthetic, his disappointment is fiercely evident. Towards the end when we see a cancer stricken Don listening to Joe excitedly pitch his idea of a teaser trailer for "Vampire Sisters 2", it's almost as if in that single moment you can see Don's passion for movies finally extinguished for good. The next scene is a cue card announcing Don's death.
In some ways you might want "Blood, Boobs & Beast" to be a very intellectual deconstruction of the formula, its merits, underpinnings and history. What you get here however is about as far away from that as you can be. Instead, the documentary becomes an intimate portrait of an endearingly naive man who spent his life making low budget science fiction films with seemingly little rewards. Even through all the tragedy he seems to have been handed - the death of his first wife from cancer, taking care of his handicapped aunt, his own diagnosis - Don's love of what he does never fully burned out. Each time he began to doubt what he was doing, no matter how long his hiatus turned out to be, he always came back to it. Ultimately, it was only cancer that was strong enough to stop Don in his tracks.
The special edition DVD of the documentary from TROMA also comes packaged with 1982's "Nightbeast", one of Don's classic monster movies and a hoot in its own right. Whether you should watch the film before or after the documentary is up to you, but personally I found the experience of watching it afterwards incredibly fulfilling. It's sad that "Blood, Boobs & Beast" is the first time I've ever heard of Don Dohler. Much like "American Movie" or "Horror Business", it's hard to watch the film and truly understand what drove Don for all those years. There are subjects and conflicts that this piece could have delved deeper in to, but in the end it seems like a truly fitting tribute to one of the most famous filmmakers nobody's ever heard of. Recommended for anyone who considers themselves a horror fan.